Everybody knows that choosing a job as a software developer, quality assurance, or any it-enabled job; you enjoy is crucial to living a happy life. Many desirable benefits and decent income influence whether you will like or not like your job.
Hello Friends, let me tell you some compelling reasons why Evince Development's employees love working with us.
Why People Love To Work At Evince Development
1. Opportunity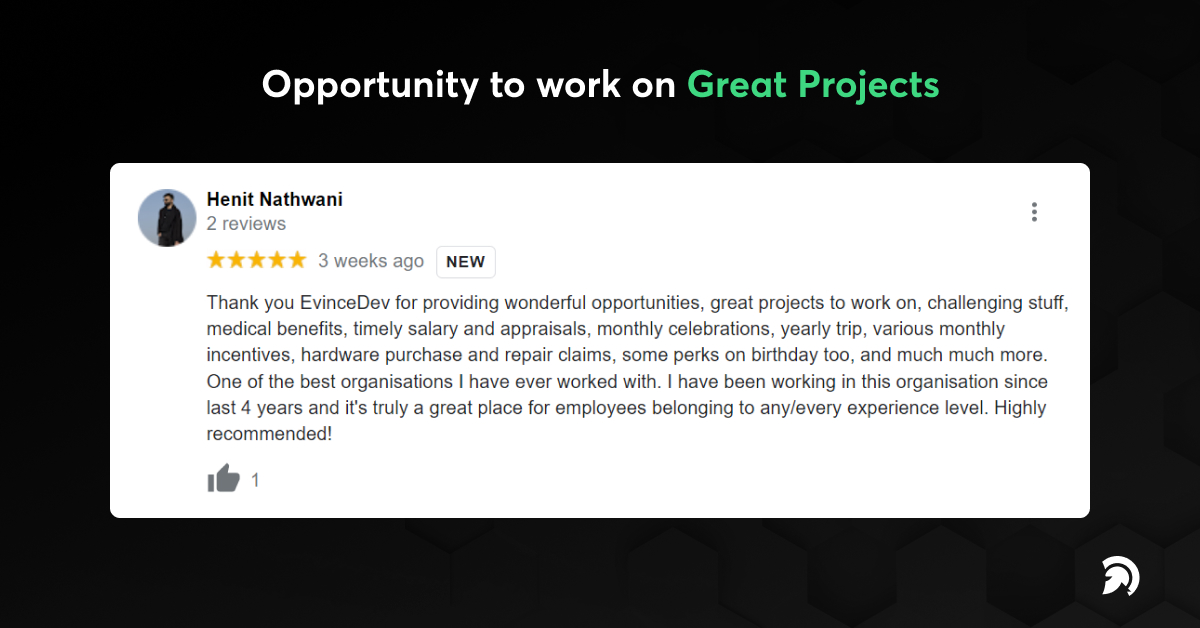 A Technical role usually relies upon sharing expertise through conversation, assessment, and persuading; however, the responsibilities may vary based on the area of work or Company. Employees at Evince Development get the opportunity to collaborate with top technical expertise. You'll constantly be interacting with other talented people and developing relationships.
2. Medical Benefits
We do care for our Employee's Health. So, we are not just giving them Leave Benefits but as well Financial Support to them. Yes, you heard it right! We are giving all Full-time Employee Healthcare coverage to fight any Medical Emergencies which can drain any human's money and morale. It ensures that employees have direct exposure to primary medical care to enhance their health and well-being. Regular preventative screenings, specific treatments and operations, and specialized medications are part of this medical benefit.
3. Better Family Time & Social Life Balance
According to labor law, every salaried employee is entitled to a minimum paid leave yearly for family and social life balance. In Our Company, we enjoy leaves very much to enjoy every beautiful function, social gathering, or occasion. Also, in any emergency, Company will allow you to take the leaves.
An individual employee may not have to use all of their annual leave, and depending on the situation, it would have the employee with an unused leave balance at the end of the year. That's where Evince Development compensates employees for unused paid time off and gives leave encashment.
4. Referral Bonus
Suppose you are getting paid by referring your friend; That sound's more exciting, right? Yes, In our Company, A referral bonus is a cash incentive that encourages workers to recruit from their networks, and it's usually part of a more comprehensive employee referral scheme. A referral bonus is regularly offered when an employee is hired and stays with the Company for a set period.
Evince Development gives a considerable sum as a referral bonus for a successful referral based on the candidate's role and expertise.
5. Gratuity Benefit
Saving money is very hard nowadays. So, If you could save some portion of your income and at the end of your service resignation, you could save a hefty of money for yourself. Our Company helps to achieve this by Gratuity benefits. It is a defined contribution plan that is one of the numerous retirement benefits provided by the employer to the worker upon his departure from the Company.
6. Leave Comp-Off
This benefit aims to encourage work-life balance among Evince Development employees. Every employee likes to work five days a week to spend enough time with family, and the Company also gives five days working for work-life balance. If any employee finishes his work on weekend or holiday, he can take a leave against the work done on off day.
7. Spot Recognition Awards
Spot Awards are intended to honor exceptional achievements as they happen. It is a one-time award that managers at Evince Development offer to individuals or teams for outstanding performance or when they show corporate behaviours and values.
8. Incentives
Everyone desires to and enjoys being appreciated. And the great thing is that Evince Development praises its employees via monthly Incentives based on their Performances for their efforts, and accomplishments. They continue to perform effectively, and it helps them stimulate their efforts and pushes them to work harder to attain their objectives.
9. Fun Time
Annual functions, tours, picnics, trips, get-togethers, and other team outing ideas are essential for any organization to boost morale and develop collaboration. It provides a low-key environment for team members to mingle outside the workplace. Evince Development organizes team-building events, functions, and other outing activities to help employees fulfill the Company's objectives and get refreshed.
Let's visit some of the recent Picnics.
10. Interest-Free Unsecured Loan
A "prerequisite" is a benefit provided by a company to an employee depending on his job title. For tax purposes, such a benefit is classified as a salary.' Similarly, an Evince Development interest-free or concessional loan is taxed as a "prerequisite" for an employee.
11. Open Door Policy
A transparent workplace embraces its employees' work and effort and triumphs and fosters trust between management and staff, resulting in healthier, more employee engagement. Evince Development is more open with its employees, and as a result, they are more effective in various areas, including higher employee engagement, a better business culture, and transparency. It develops a form of comfort that helps employees to interact freely & makes employees feel respected and stimulates creativity.
12. Equal Opportunities
Every employee is unique. Some people require a little nudge, and others require constant boosts in confidence. Others require a spark from time to time. Some employees have acquired more flexibility, and others have not. Equal treatment is not necessarily the same as fair treatment.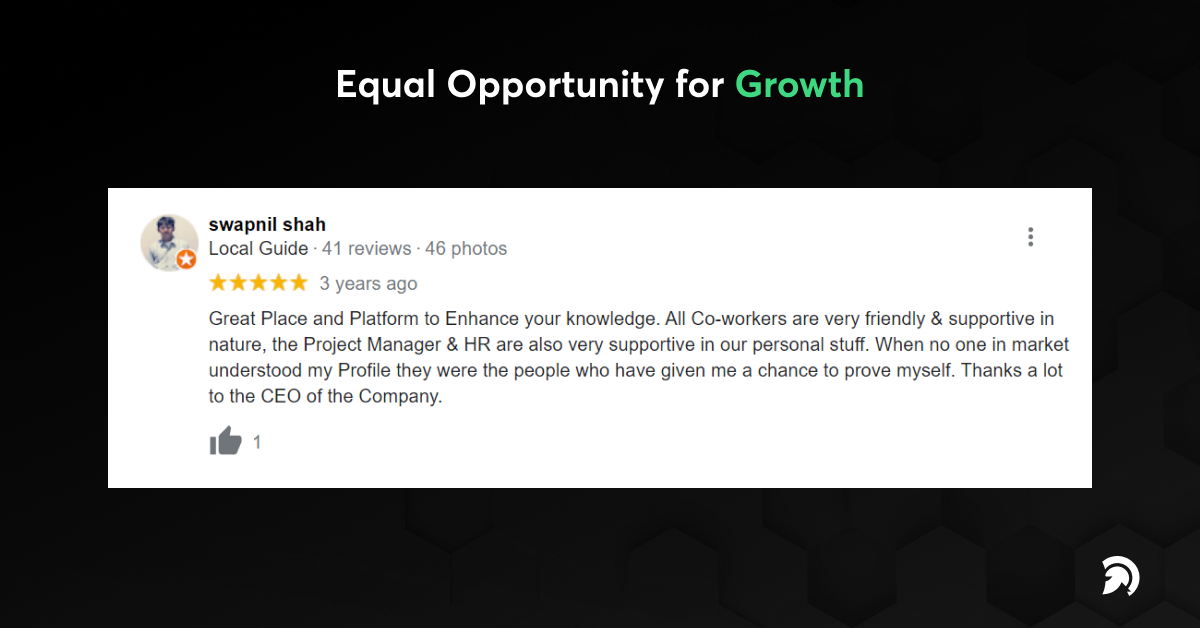 Employees care when they know that a reward or consequence is based on what is correct, not merely written, under unique circumstances. Employees at Evince Development are given equal opportunities to grow depending on their abilities, behavior, and other factors.
13. Fulfill High Technology Requirement
The plan aims to ensure that the gadgets are purchased, maintained, repaired, and upgraded to meet job requirements successfully and efficiently. Employees at Evince Development Pvt. Ltd may buy laptops, PCs, Macs, phones, and hardware and seek repairs for current company-provided gadgets under the Gadget Reimbursement policy.
14. Birthday Celebration
"Mera Birthday Aaa Raha hai, Mera Birthday aa Raha hai".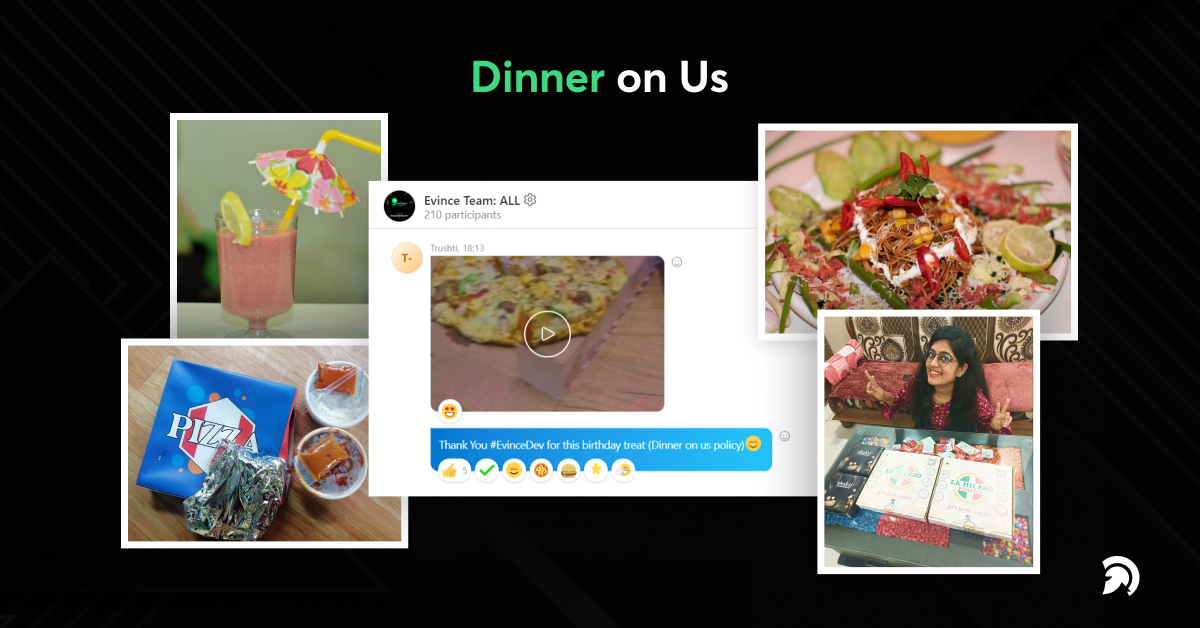 Now, You need to worry about your birthday dinner menu, not the bill. Evince Development helps employees make this a wonderful moment on their Special Day. The Company has a slight 'Dinner on Us' policy that reimburses a portion of your celebration expenditures to add to your joy. This policy The Dinner on Us policy covers meal costs for your special Birthday Occasion.
Final Words
Finally, when you enjoy what you do, you will feel a sense of fulfillment and belonging. When you enjoy your job, your working hours tend to fly by. You can quickly leave the office feeling optimistic at the end of each workday because your Company's values fit with your own or you feel appreciated for your efforts. While not every day will be perfect, having a job you like, as Evince Development employees do, can help you retain a happy attitude even in the most challenging times. Join Evince Development for better growth.