Amid cold chills, adventurous thrills, and fun frills, it was the time of the year when our tech-wanderers moved their never-ending exploring attitude away from our screens into a beautiful place.
And December month is the perfect time for a great adventure with wintry chills- one that you can reminisce about all year long. Setting up the right pace for 2021, Evincian hopped on a fantastic trip on a fine misty morning.
Everybody was so excited about this trip. 😎 Let me come back to you starting this journey. Almost 80% are new joinee, never visited the office, and have never seen each other. Yes, at EvinceDev, employees come from different corners of India, not only Gujarat. Yes, you read right; we have a Diverse-culture tradition. "विविधता में एकता" seen in Evince culture.
Evince planned trips based on various teams and departments. Also, you have the freedom to suggest a picnic spot where everybody can chill. Yes, literally on this trip, we all got chilled because "bovaj Thandi hati." The marketing, Graphics and QA team participated. And they finalized the most chill spot; that's Jaisalmer.
Departing from Ahmedabad by bus, we started our journey by remembering maa goddess Ambe. "Bolo Ambe Maat Ki Jai"
Yes, the journey begins! You all heard that journey ke end pe pahuchhne se jyada maza journey me aata hai. Yes, that also happened with us.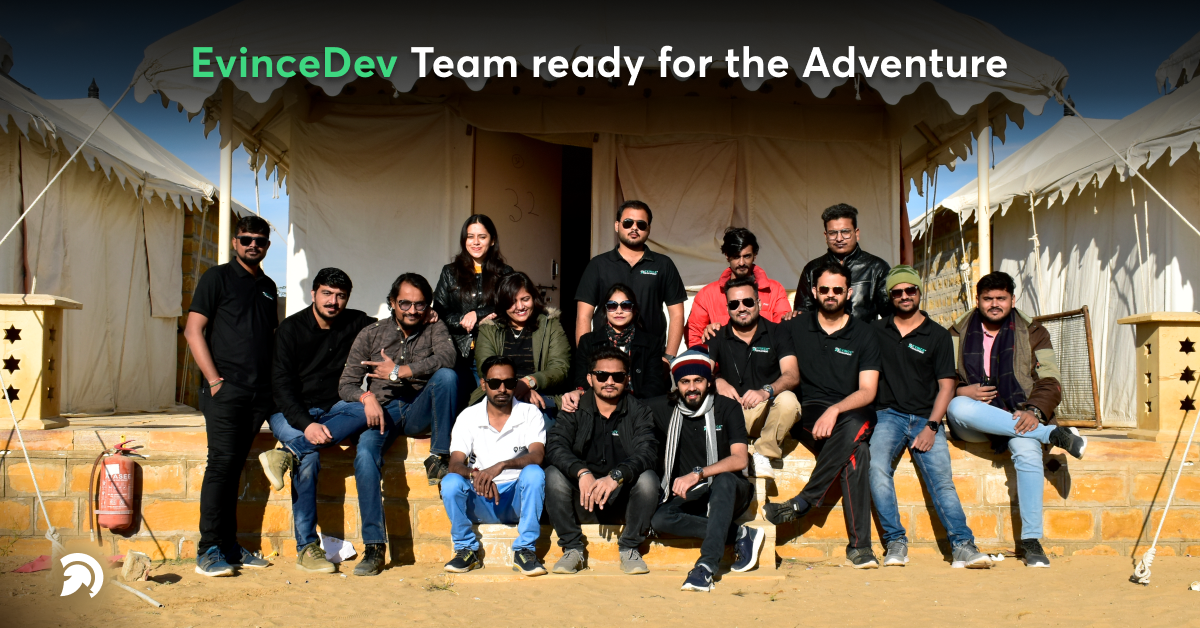 Music is the Travel Buddy for everyone – Favorite songs playlist that's the perfect starting of an exciting picnic. We got a very comfortable tempo traveler AC seating bus with a fantastic driver. Thanks a ton to Rushabh, who did not take even one power nap and gave the very most outstanding company to the driver. 
Day 1 – Calling it a Day with Dancey Beats.
After reaching our spot, that's Rojani Resort. We checked in, freshened up, rested for a while, and got ready to explore the beauty of Jaisalmer.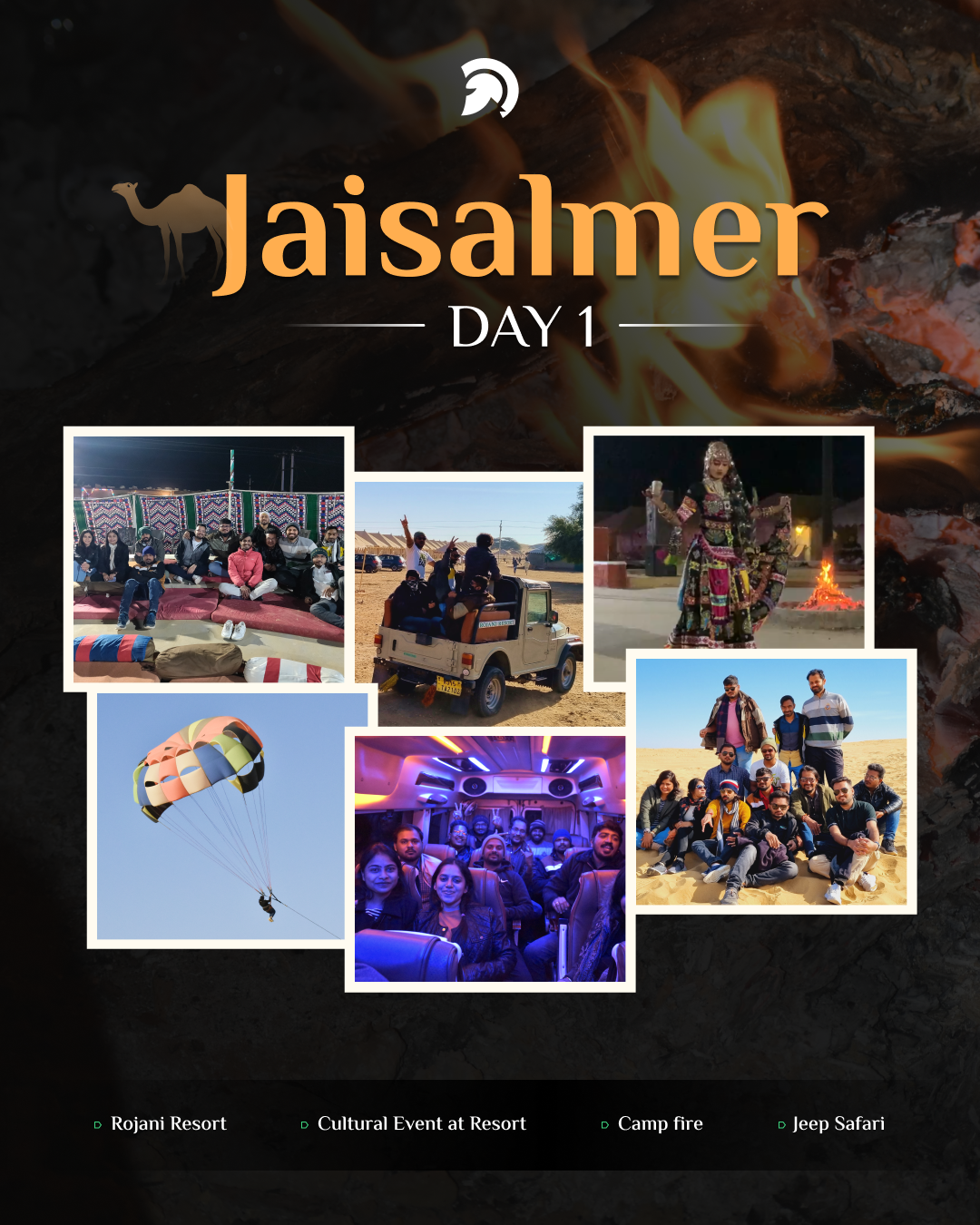 We had lunch and we went on a jeep safari directly after lunch. Photo sessions, an adventurous Jeep Safari in the Desert, and a lovely sunset at the Desert made our day more thrilling.
What could be a better mood setter when the sun has set its zenith in a La La-like scene. Guess it, right? – Cultural Event at Resort & Dance! It was fun shaking a leg or two with hundreds of folks, and Evincian also danced with them. No one can say no to lively music that gets your feet tapping. We also enjoyed pakode, bhel, chai and coffee as evening snacks. When night fell, we sat around the campfire and let the stars and light do the talking!
Day 2 – A Day of Fun, Food, and the Bright Sunshine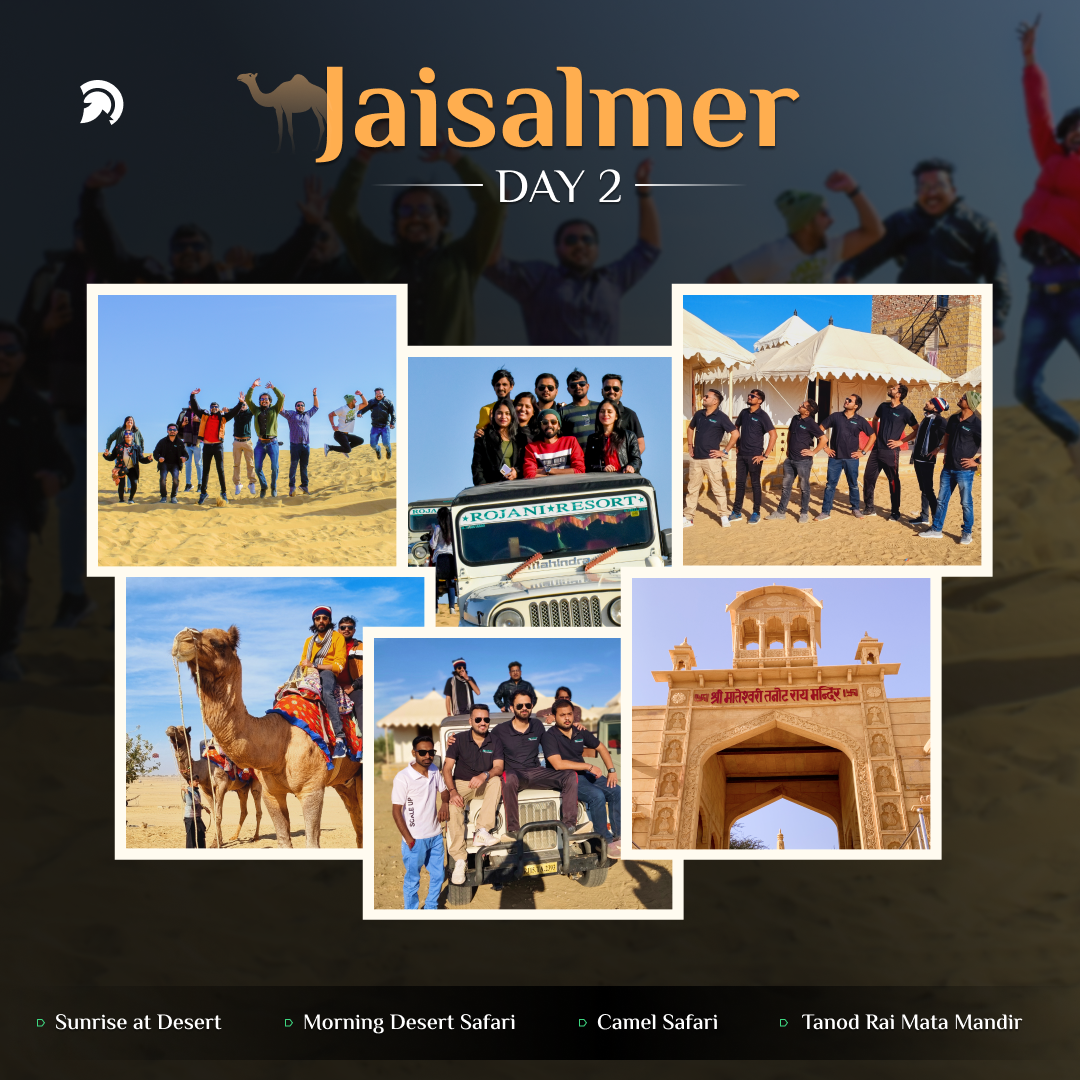 Our day began with smiles and lively conversations, kudos to the perfect sport that is winter! We had a breakfast buffet to soothe our food cravings and added a tingling spice to the chilly day.
We went for a road trip to Tanod Rai Mata Mandir extended to Pakistan Border Visit. Our exit from an exciting tour served as an entry point to somewhere else, much like a map. Morning Desert Safari, Camel Safari, parasailing, and more were among them.
As the day unfolded, Road Trip to Jaisalmer, Jaisalmer City Shopping, Street Food and roaming around the city and the calming breeze helped to hold our nerves illuminated our end of the day.
Now, it's time for a road trip to reach back to the origin. It's not an end here. We all enjoyed Dance beats while returning. Carrying dust in our boots and memories in our hearts – The Trip 2021 was a rendezvous worth remembrance!
Thank you, Evince Development, for organizing a very adventurous and lovely trip that converts unknown people (most joinee start with WFH) into office buddies.