Evaluating the cost of an eCommerce website can help you understand your most crucial overhead. Whether you're considering shifting your conventional business online, making your first move into eCommerce, or simply making sure you're not already overpaying.
eCommerce website development cost is a crucial aspect to consider when starting an online business. With the increasing trend of online shopping, starting an ecommerce business has become an attractive option for entrepreneurs.
In 2023, 20.8% of retail purchases are expected to be conducted online; by 2026, that percentage is projected to reach 24%. The global eCommerce industry is predicted to reach a valuation of $6.3 trillion by the end of 2023, with an expected growth rate of 10.4% in eCommerce sales.
There are various ecommerce business ideas to choose from, such as an online clothing store, a grocery delivery service, a furniture retailer, and many more. The cost of eCommerce website development depends on several factors, including the complexity of the website design, the type of eCommerce platform used, and the level of customization required.
It is essential to carefully consider your budget and the desired features of your website before starting the development process to ensure the successful launch of your ecommerce business. So, let's consider how much it will cost to build and manage an eCommerce website in 2024.
What To Consider When Assessing The Cost Of An eCommerce Website?
A website is comprised of many significant elements, and each one affects the final price. You may choose the ideal online eCommerce platform for you and the add-ons you can afford by knowing how much you want to invest in advance. You can find yourself overpaying if you don't have a defined budget.
We'll respond to the concern right away:
Hosting an eCommerce website in 2022 can range from $40 to $4000 per month, including setup costs of $1,500 to $30,000 for the website's design.
Why such a vast range?
It's hard to provide an estimated value without knowing the catalog's size, the customization needed for your yearly sales, and your overall requirements.
Small eCommerce companies might get by with essential plugins and free Shopify templates. Customization & added hosting services like security and redundancy will be required for larger eCommerce companies.
But do not panic. We'll break down the choices for each expense you'll have to make below and show you where you can reduce expenses and where you should spend more.
Top 8 Factors Affecting Cost Of eCommerce Website
Even if the primary eCommerce website pricing factors make it easier to estimate the cost of developing a website, you must also consider the ongoing expenses associated with website ownership.
To ensure that you are ready for the costs associated with an eCommerce website, we'll go into more detail about these costs below.
1. Domain Cost for your eCommerce Website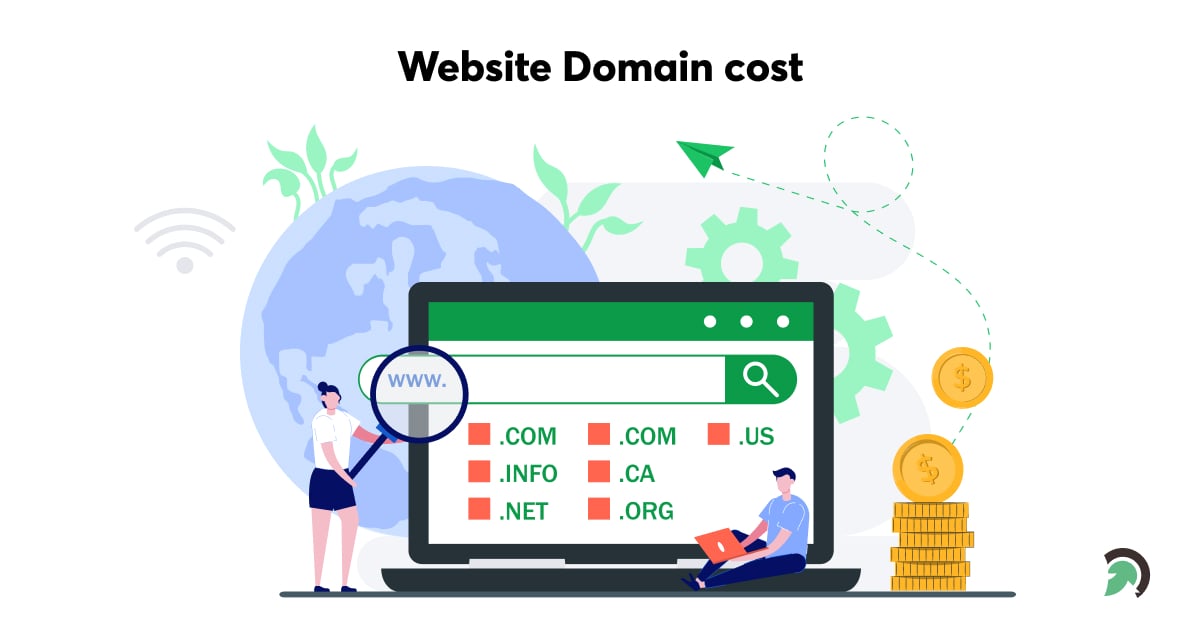 A successful eCommerce website starts with a memorable domain name, and your domain name serves as the web address for your business. You cannot build an eCommerce website without it because it is an integral aspect of your entire brand.
It's crucial to set up the domain to renew itself automatically. This way, even if you use a credit card with a close expiration date, you at least receive an email reminding you that you have to re-up your purchase when your domain expires.
You may utilize your bank account information with domain name services, eliminating the need for expiration dates.
However, the mode of payment you select is just for your convenience and has no bearing on the final cost.
Cost: $0.95 – $12 / year
2. Web Hosting cost for your eCommerce Website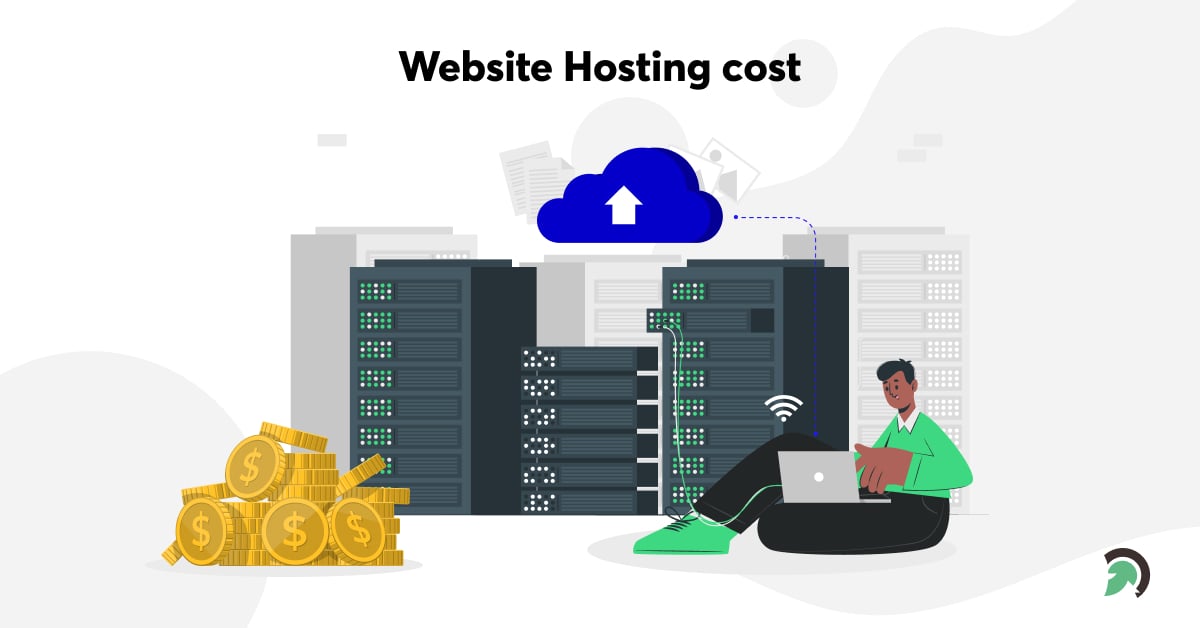 Your website lives due to hosting. No one can access your website if your hosting is unavailable. The complexity and load of the website affect its cost. Additionally, the kind of web hosting you select might have an influence:
The least expensive option is shared hosting, which has simple maintenance but several restrictions and security issues.
As a form of shared hosting, VPS hosting offers benefits including high scalability and cost, as well as superior IT security and customizable features.
A qualified system administrator is necessary for dedicated hosting, which gives you complete control. The more experienced the system administrator you hire, the more smoothly your server will function on dedicated hosting.
Cloud hosting, which uses a network of servers and exhibits exceptional reliability and many other fantastic features, is also available.
Cost: $75 – $10,000 / year
3. Website Design or Theme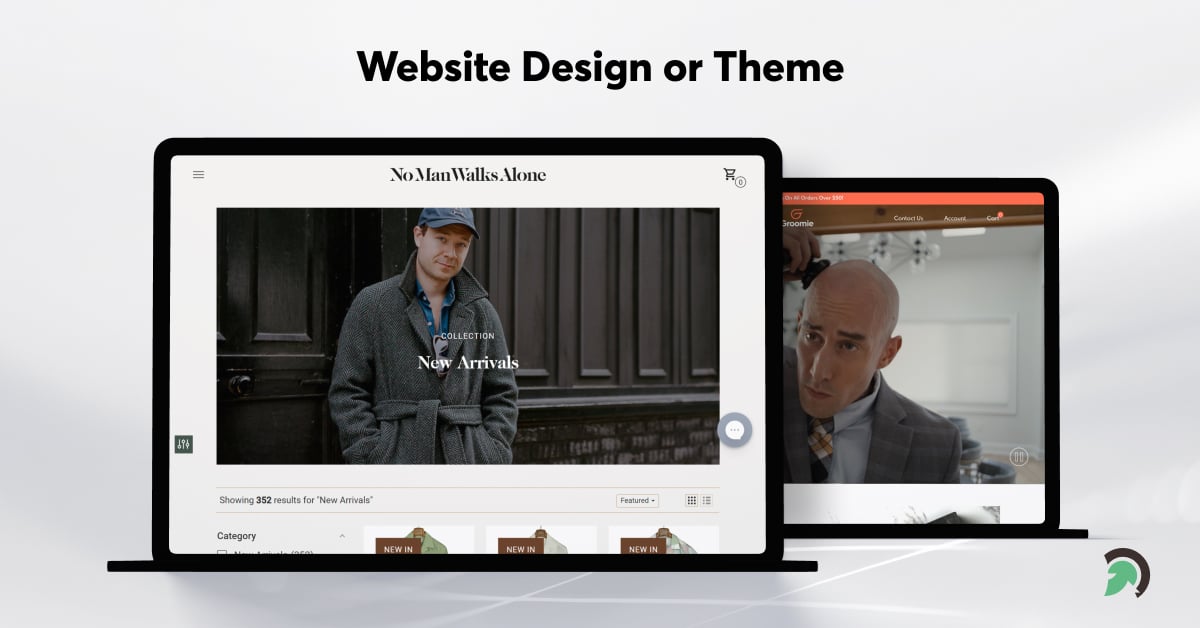 It's wise to make your eCommerce site attractive now that it is hosted on a domain. It involves picking a layout, revising your branding, adding product glamor images, and planning the basic structure of your website.
Either use an existing theme or template or create an eCommerce website from scratch that is exclusive to your store.
Lower cost designs
Most SaaS systems provide marketplaces where you can quickly purchase themes and templates for your website. They provide easy-to-update website templates and pre-designed product pages.
Even some free themes for more well-known platforms like Shopify and BigCommerce could be available. Though utilizing one of these popular templates might not be sufficient to make your store stand out, these templates might not be the ideal match for your eCommerce business. To ensure you (and your consumers) receive what you need, consider investing in more customization.
Website Design = $0 – $250
Customization Costs = $1,000 — $5,000
Higher cost designs
You may choose a custom design with custom functionality to offer your website a competitive advantage. It is undoubtedly expensive, but it may be a game-changer for big firms with extra demands and a vast enough customer base.
Custom eCommerce Website Design = $5000 and higher.
4. eCommerce Website Features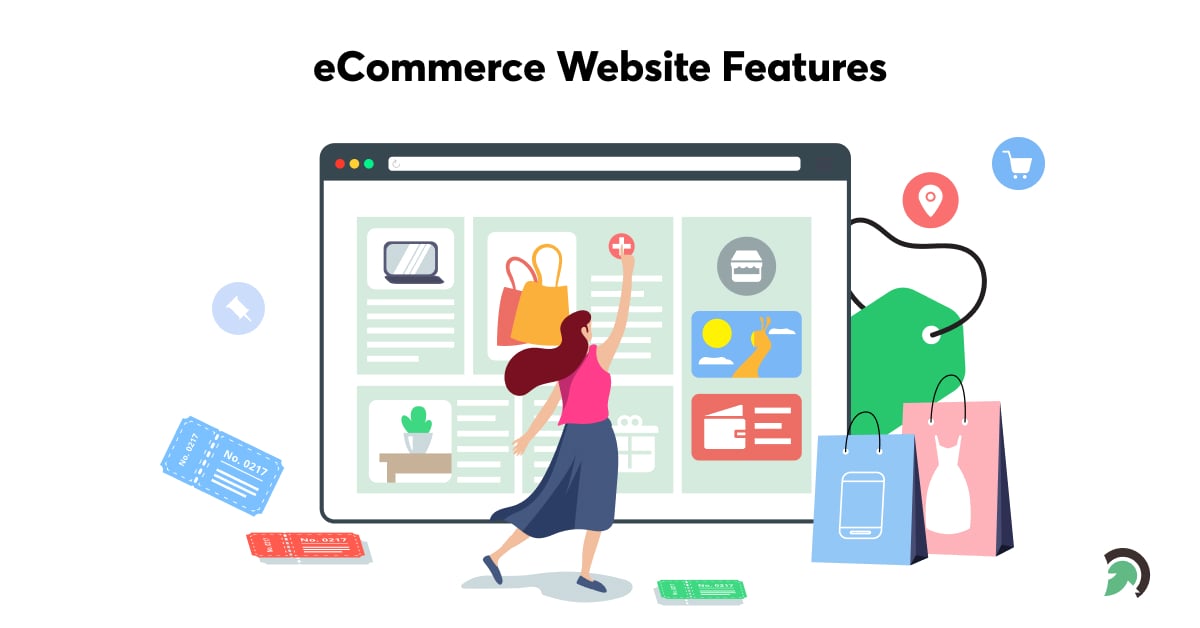 Assuming you're building an eCommerce website, you'll need all the related functionality. Some features include shopping carts, checkout methods, consumer identity protection, and customization.
You can also showcase images of the same item or videos illustrating how to utilize particular products. It includes specification papers, MSDS sheets, and other materials with some products in addition to the product listing, which is required by law.
Making all that determination can take some time, so it's preferred to consult a web designer or developer about the best course of action for your website.
However, considering these ideas in advance is still a good idea. Making a simple eCommerce site for your consumers requires a lot of work.
Cost: $2000 – $25,000 / year
5. eCommerce Website Content
Without relevant content, a website is worthless. Even if your website is built with basic information, the content has to be changed and updated frequently to engage your customers, showcase new products and services, and remain at the top of search engine results. You may use content management services for guaranteed results rather than trying to manage content yourself.
Post informative and helpful information on your website for a chance to convert interested visitors into happy clients! The ability to provide engaging content, such as articles, guides, insights, etc., may boost client trust and increase your reputation. This price varies on an annual or monthly basis.
Cost: $50–$200 per article.
6. eCommerce Website SEO & Marketing
Your business won't succeed even if you have the most stunning website. Due to this, it's crucial to incorporate SEO into the development of your eCommerce website. It is simpler to start with an optimized site and build upon it. You may save money in the long run if your design includes SEO functionality from the beginning.
The majority of SEO companies will charge a monthly retainer.
SEO company cost: $2,500 – $10,000 monthly.
If you are a Google Savvy person, you should be aware of Google Product listing for eCommerce Business. Utilize Social media to boost eCommerce Product sales. You can have a detailed overview with our Social Media Guide for eCommerce Business.
7. eCommerce Website Maintenance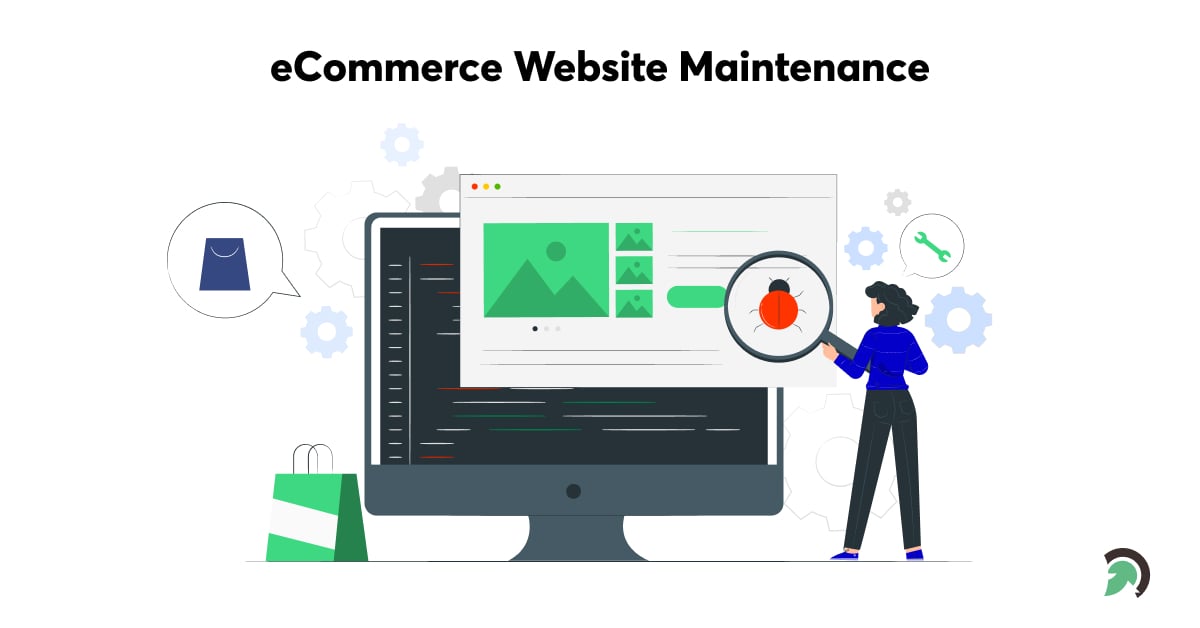 Your website needs maintenance to remain in top condition, just as construction workers fix and maintain roads.
eCommerce website maintenance includes addressing bugs, adding new features to specific sections of your site, and keeping it running. Website maintenance is crucial, even though it could cost a bit more than you'd want to pay, and you might not immediately notice its advantages.
Without regular website maintenance, problems will eventually arise on your site. It might show as a glitch with the checkout process, a visual error on the product images, or even inaccessible pages.
Ensure you have a technical expert who will maintain your website functioning daily, no matter what happens.
Cost: $600–$12,000 annually
8. Size of eCommerce Business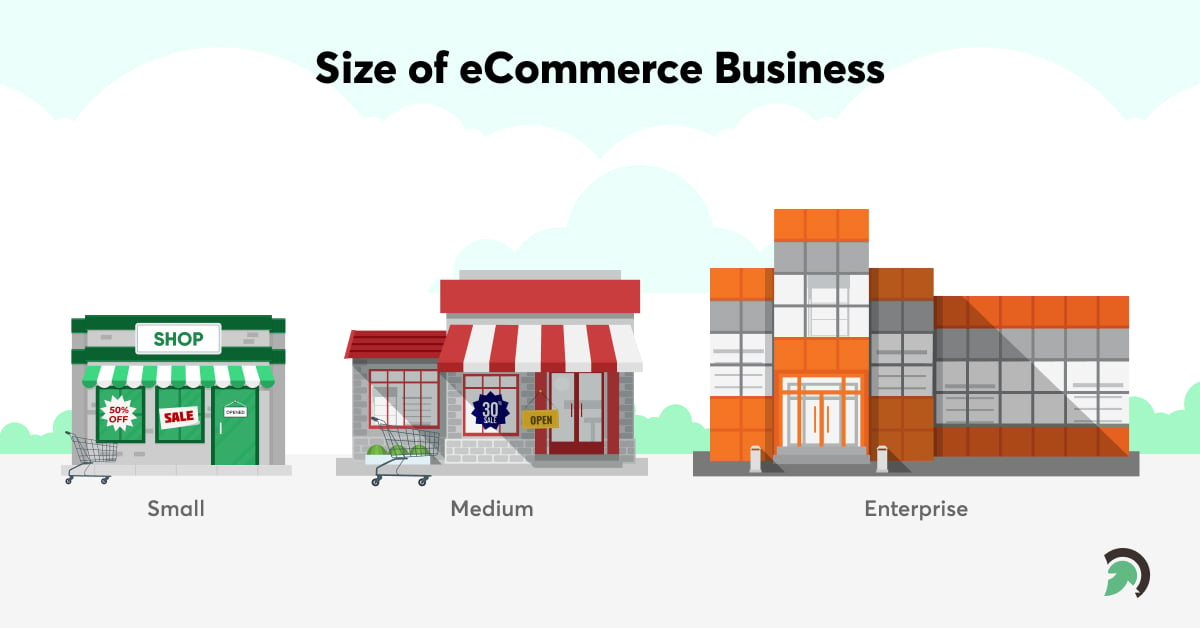 Small to Medium
Some eCommerce website development services start at around $20 to $30 per month on the low end and provide various plans based on your sales volume and the features of the eCommerce websites you want. A short comparison of some of the more well-known eCommerce platforms is provided below:
Cost of a Wix eCommerce site: The Business Basic plan, which costs $13 per month when paid annually, is the minimum need for running an eCommerce site on Wix. It does not provide extra features like custom reports, support for different currencies, and auto sales tax calculations but offers a host and a free SSL certificate.
Cost of a Shopify eCommerce site: When paid annually, the basic Shopify plan is $29 per month. It doesn't come with extra features like duty and import taxation or custom pricing by market, but it does include hosting and a free SSL certificate.
Cost of a BigCommerce eCommerce site: The essential BigCommerce website costs $29.95 per month, payable monthly or yearly. It includes free hosting as well as an SSL certificate. You'll need their Plus package, which costs $79.95 per month, for businesses with yearly sales of more than $50,000.
Enterprise
The setup of your eCommerce website cost will increase with its level of customization. However, large companies may need to spend money on a more customizable platform if they have a broad, diversified product catalog or unique purchasing processes like wholesale purchases.
These platforms (like Magento) demand coding and programming skills, making it difficult for the typical business owner to set them up. Your eCommerce website development will come at an extra setup cost, and maintaining and upgrading the site will be ongoing costs.
Setup cost = $5000 and up
Monthly cost = approx $2000/month
eCommerce Website Cost Factor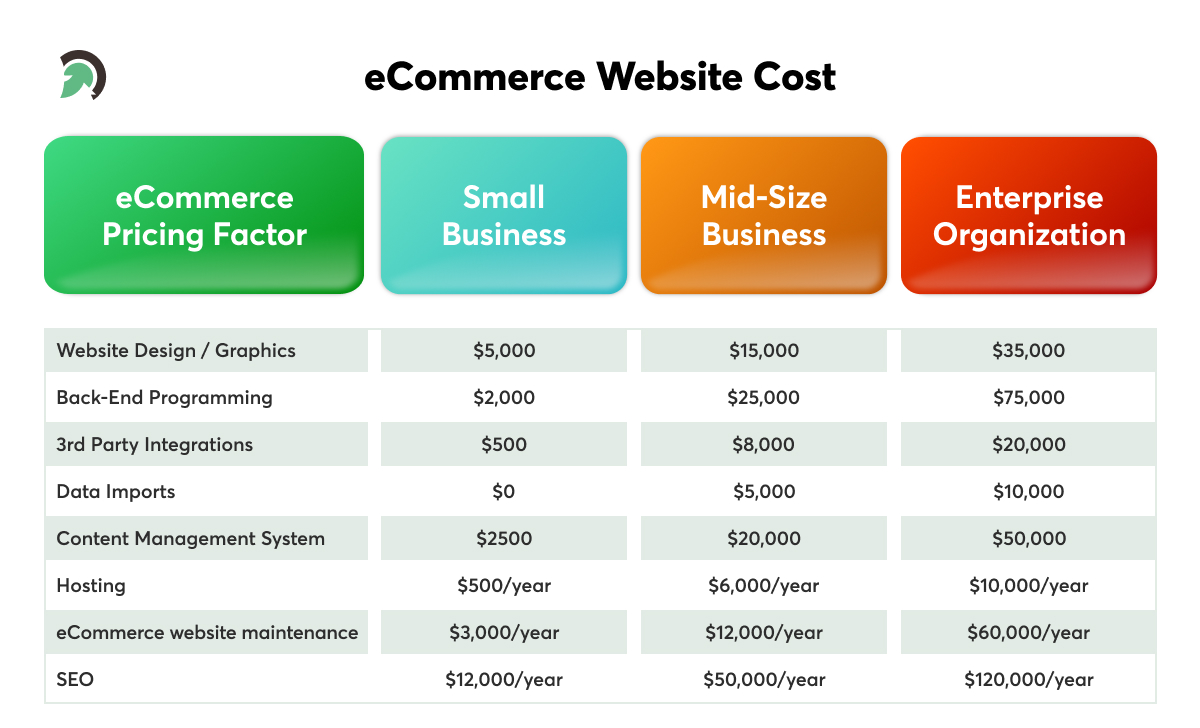 See the chart for a breakdown of eCommerce website costs, including Website design, development, and maintenance, as shown below. Keep reading about these costs for building and running an eCommerce website!
Steps To Developing An eCommerce Website
It is essential to adhere to the following steps thoroughly to craft a solution that resonates with your target audience:
Step 1: Define your eCommerce Business Model
Before diving into the technical aspects of eCommerce website development, it's crucial to define your business model. There are four primary models to choose from:
Business-to-customer (B2C): This model involves selling products or services directly to individual customers. It's the most common type of eCommerce business and includes online stores like Amazon and eBay.
Business-to-business (B2B): B2B eCommerce caters to businesses selling products or services to other companies. It often involves bulk orders and customized pricing.
Customer-to-customer (C2C): In this model, individual customers can sell products or services to other individuals through a platform such as eBay.
Customer-to-business (C2B): C2B eCommerce allows individual customers to offer their products or services to businesses. This model is less common but is gaining traction.
Step 2: Choose a Hosting and Domain Name
When you're picking a website name for your business, make sure it's a name that fits your brand and is easy to remember. It's usually a good idea to use your business name as the domain name.
In simple terms, your domain name should be something that catches people's attention and reminds them of your brand.
Also, it's crucial to choose a web hosting company that can handle the number of people visiting your website and ensure it runs smoothly, especially if you're running an online store.
So, remember to choose a catchy and relevant domain name and find a trustworthy web hosting provider to keep your website working well.
Step 3: Choose an eCommerce Platform
Now, it's time to choose an eCommerce platform to help you run your online store. There are some popular options to consider:
Shopify: It is an easy-to-use tool for creating your online store. It offers extra features that make selling online a breeze. You can sell through the website, social media platforms, and more. It's a top choice for many because it's so user-friendly.
Wix: It is like a builder kit for websites. It lets you create your store by dragging and dropping elements. It offers various templates and design options. To use it for selling online, you'll need to pay a bit, but it's worth it. Wix gives you tools to track orders and sell on different platforms.
BigCommerce: If you have big plans for your online store, BigCommerce is the way to go. You can tailor it to fit your requirements, and it comes with powerful features like tools for better online visibility and selling internationally.
Step 4: UI/UX Design
The UI/UX design step is like creating a blueprint for your website. It's where a designer designs how the buttons, icons, logos, and everything on your website will look and work. The developer will utilize this design to build the actual website.
This step usually costs more for your eCommerce website. The cost can change depending on the animations and the number of web pages you have.
To make sure your eCommerce website is easy to use and keeps customers coming back, follow these tips:
Put essential things in easy-to-reach places, like the left or center, where users can easily tap or click.
Keep the checkout process simple and short. Long and complicated checkouts can make people give up. Use a clear font, give things space, use simple colors, and make buttons and icons easy to understand.
Make everything on your site look and work the same way. It makes your website more organized and easier to use.
Ensure your website is easy to navigate. Icons should look like what they do so users can easily find what they're looking for.
Step 5: Intuitive Navigation and Site Structure
An intuitive navigation and site structure is crucial for guiding customers to the products they seek. It would be best to ensure people could find the stuff they wanted to buy without any trouble.
Before your website goes live, it's good to test everything to be sure it works well. Try to see if it's easy to find products and buy them. Categories, search bars, and filters make shopping easier for your customers. So, test everything to give them a smooth and stress-free shopping experience.
Step 6: Search Engine Optimization (SEO)
Every website aims to get noticed by the right people. That's where eCommerce SEO comes in. It helps your website show up on search engines like Google.
Search Engine Optimization (SEO) is necessary as it brings in visitors without you having to pay for ads. To do this, you need to tweak things like the website's links, words, and other vital parts so that they show up when people search for things online.
It's a good idea to plan your SEO strategy right from the beginning rather than trying to fix things later. When your SEO is strong, more people can find your website, which means more potential customers. So, use the right Search Engine Optimization (SEO) strategy to make your website more searchable and boost your sales.
Step 7: Coding and QA Phase
The coding phase is the most cumbersome step of building your eCommerce website. It's where all the technical work happens, which can be costly and time-consuming.
This phase usually eats up about half of the total website development budget. It involves two parts:
Frontend Development: Think of this as the part where the website's look and feel are created. Frontend developers use the designs from the UI/UX step to build what visitors will see and interact with. It's like crafting the visible part of the website.
Backend Development: Here, it's like the behind-the-scenes work. Backend developers create the engine that powers the website. It handles things like storing data, processing orders, and ensuring everything runs smoothly. This part is hidden from the users but crucial for the website to function.
After both frontend and backend work is finished, there's a quality assurance (QA) test. It is where experts check to ensure everything works correctly and meets all the technical and business requirements. It's like giving your website a final checkup before it goes live.
Step 8: Product Launch and Feedback
Creating your product is just the beginning; you must launch it to the world. This step involves getting a place on the internet to put your product, like renting a store space in a mall.
You'll need to buy things like a hosting platform (the place where your website lives), a domain name (your website's address), and SSL encryption (this keeps your site secure).
Once your product is online, you'll need to listen to your customers and improve based on their feedback. It's like tweaking your product to make it better. Feedback is critical, especially if your product is just a basic version (MVP).
Launching and adjusting your product can cost around 30% of the web development budget. It's like the cost of setting up and running your shop in the digital world.
So, remember, launching is just the beginning, and listening to your customers is vital to growing your product into something exceptional.
How Can EvinceDev Help Build Your eCommerce Website?
Building or upgrading an eCommerce website can seem overwhelming, and you'll want a reliable and experienced partner to take on this responsibility. In eCommerce website development, EvinceDev is the perfect fit.
Whether it's crafting a customized website, working with platforms like Shopify or Magento, or adopting an agile development approach for quicker project delivery, we've got you covered.
Throughout the development process, you'll be informed about progress through regular check-ins and weekly demonstrations. We provide comprehensive services for responsive design, development, and ongoing maintenance.
Here's how EvinceDev can make a real difference in your upcoming eCommerce project:
eCommerce Strategy and Consulting: Connect with our eCommerce experts to formulate the most effective strategy for your business. Receive realistic cost estimates and practical plans to boost your online store.
Custom eCommerce Storefront Design: Our designers create visually appealing templates that drive more sales and enhance your brand image. We'll help your store attract the right kind of attention.
Custom Shopping Cart Development: Goodbye to high shopping cart abandonment rates. Our custom shopping carts engage customers and guide them toward completing their purchases.
CMS Development: We can develop and integrate a Content Management System (CMS) into your eCommerce site, simplifying content management. We can even implement headless eCommerce for added flexibility.
3rd-Party Integrations: eCommerce websites have many moving parts, often requiring third-party plugins to fill in the gaps. We can assist with both the development and integration of these plugins.
Dedicated ERP System: We'll create a centralized solution to bridge the digital and physical aspects of your eCommerce business. An Enterprise Resource Planning (ERP) system ensures your fulfillment and functionality align seamlessly.
Don't hesitate to contact us for your eCommerce website development needs. EvinceDev is here to support you in taking your eCommerce business to the next level.
Conclusion
Based on the features you want for your business to flourish, you may be able to establish an eCommerce website for less than $1,000. An online store has various features, so you can select your needs and pay for them.
If you undertake the research in advance, you won't be unpleasantly surprised by the upfront fees or ongoing expenses. Your online presence offers an excellent chance to grow your customers and boost your revenue.
At EvinceDev, an eCommerce website development company, get free costing for your eCommerce website before deciding whether your business should invest.

FAQ
How much does it cost to make an eCommerce website?
The cost of an eCommerce website will vary according to the level of design complexity, any custom features or integrations, the eCommerce platform you select, and the experts you are hiring. A fully functional eCommerce website costs between $5,000 and $50,000.
What are the main factors to consider when choosing an eCommerce site?
Seven factors to think about while selecting an eCommerce platform include:
Costs and payments
Integrations
SEO friendliness
Responsiveness to mobile devices
Customer support
Security
Scalability
How much does it cost to build a simple eCommerce website?
Depending on your requirements, a simple website might cost between $100 and $500. It is evident that several factors, including the cost of the website platform, hosting, templates, add-ons and plugins, eCommerce website development tools, and interactive multimedia, affect the final price of an eCommerce website.
How much does it cost to build an eCommerce website from scratch?
The estimated price to build and design an eCommerce website from scratch is between $10,000 and $250,000. The project's complexity and the platform you choose (Shopify, WordPress, Magento, etc.) will ultimately determine the cost of the website.
How much cost is it to make a Shopify website?
The average cost of designing a Shopify website is in the $10,000–$20,000 range, although more involved projects can cost up to $100,000. Shopify web design offers a variety of unique layouts. For simple Shopify eCommerce sites, different pages created for product pages, category pages, and blog pages are required.
How many hours does it take to build an eCommerce website?
A website takes between 150 and 500 hours to build. If you are having a technical expert develop your website, there will be several steps in the process like project research, design, development, and website maintenance.