The Google Shopping platform enables people to browse millions of products across businesses of all sizes in seconds to get the item they're searching for.
Google Shopping is set to alter how people purchase things, with a motto that aims to assist users in "choosing the ideal products, deals, and places to buy."
Rather than instantly going to Amazon to look for a product, customers may use Google to find the lowest pricing online or in local shops.
In 2022, it will be essential to understand Google Shopping, especially if you're a retailer. Keep reading to learn more about how free product listings run, why they're essential, and how you can get involved.
How Does A Free Product Listing Work?
Even if a merchant isn't running a Google Ads campaign, Google Shopping allows them to display their products for free in an Amazon-dominated market.
Merchants may use free product listings to promote their products across Google, not only on the Shopping page.
An eCommerce product can appear in Google Search, Images, or Lens product results. In the same way, businesses aren't paid the price to be included in the Google Search index; Google similarly offers a free service for displaying products online.
Retailers can select between two types of free listings: standard and enhanced.
Standard Listings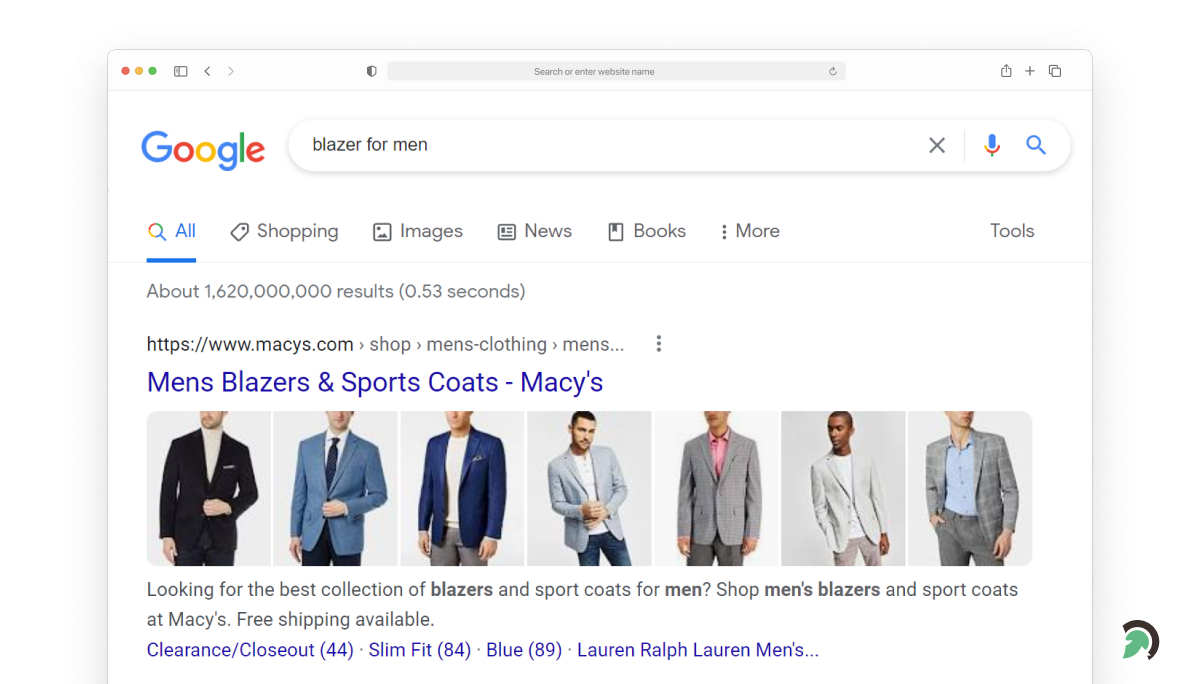 Standard product listings feature product descriptions that are appended to a search result.
This listing option requires minimal product information and is available across Google; however, traditional listings do not appear in the Shopping Tab.
From the Google Search results page, this standard listing provides a thorough product description, ratings, reviews, pricing, and availability.
Enhanced Listings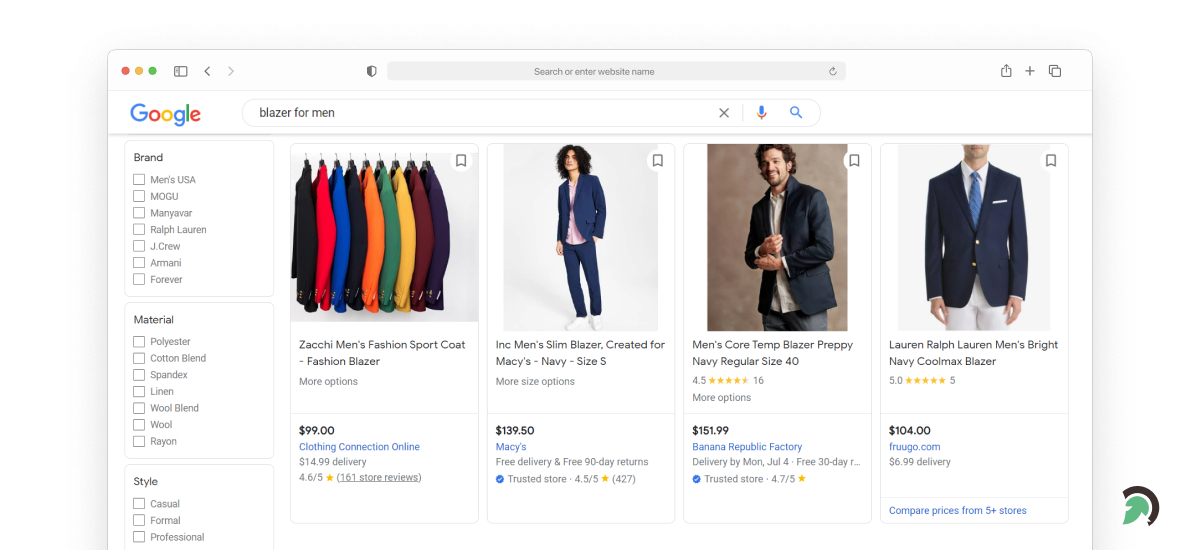 Enhanced listings need more than a typical listing's basic product information to include more specific product information.
This listing option mandates additional information from the store for the listing to be more eye-catching and engaging for the Google Shopping tab.
It includes a visually appealing image, ratings, extra style alternatives, pricing, a link to directions to the nearest store, stock, and a store comparison option.
Where Do Free Listings Appear?
Customers may view products from your store throughout Google with free listings. Your products may display in various Google locations if they qualify for free product listings.
The Shopping tab (shopping.google.com)

Customers looking for products like yours can see your free listings on the Shopping page, which provides visual experiences. Customers are sent to your website to finish the purchasing process.
In all nations where the Shopping tab is online as a free products listing, it is accessible on desktop and mobile.

If you've opted in, your in-store items may display in free local listings on the Shopping page. Customers may use these free local listings to determine if the product they're looking for is available in the local retail shop. Store hours, routes, phone numbers, product pricing, availability, and estimated distance from the customer might all be included in your free local listing. In most nations where the Shopping tab is active, it is available.

If you've opted in, your Buy on Google items may also display on the Shopping tab. It is a product that is accessible in the United States.
Google Search (google.com)
1. Rich Results

When users use Google Search to look up information about products, merchants, and brands, rich results might appear alongside the search result. It displays a few lines containing product information (pricing, availability, and product reviews) to give consumers additional helpful information. 
It is available worldwide on desktop and mobile.
2. Popular Products (Apparel and Accessories)
When consumers search for clothing and accessories on Google, they frequently want to see more noticeable results. Your most popular Apparel & Accessories items may be eligible to appear in more visual listings, including a product list carousel that corresponds to the category and is relevant to the user's search. Customers may look at the items offered by various brands and stores, with links to retailer and brand websites where they can learn more.
It is only accessible on mobile in the United States.
3. Shopping Knowledge Panel
The Shopping Knowledge Panel is a search field that collects product-related information, product data offers from stores selling the product, and product reviews are included. Your product may even be qualified to feature in this experience if your product data feed matches the searched product.
It is available on mobile and desktop in the US, India, Chile, Australia, Brazil, Japan, Colombia, Argentina, Mexico, Canada, and South Africa.
4. Google Images (images.google.com)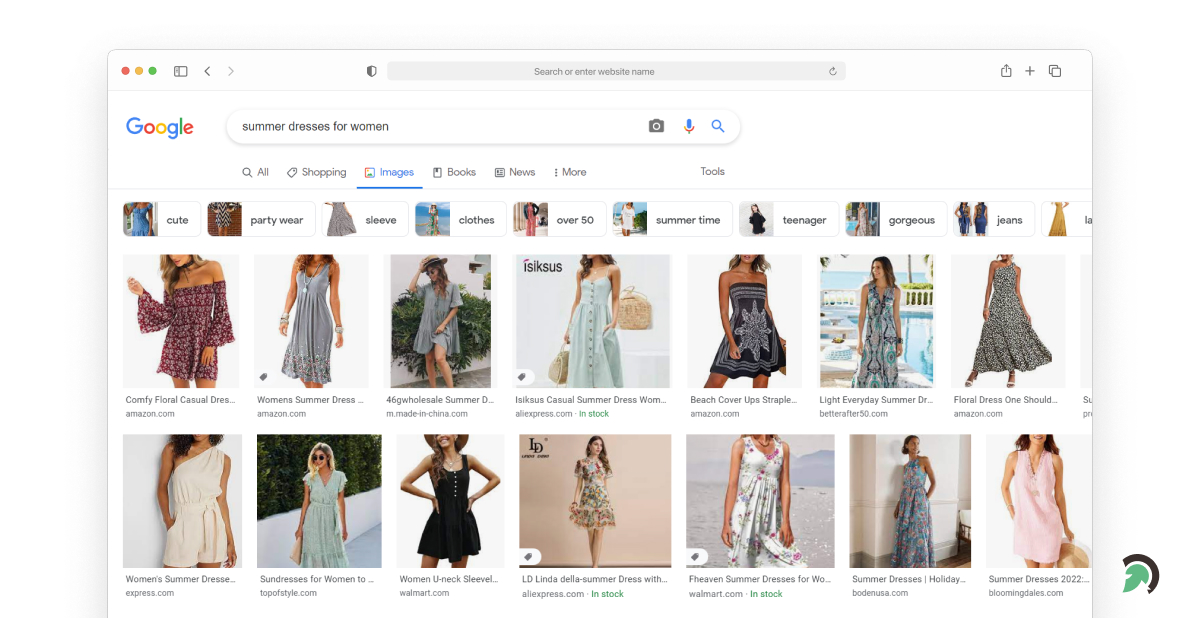 Customers searching for items and businesses on Google Images may come across images labeled "Product." It indicates that the product seen in the image is available for purchase. After engaging with it, customers will view full product snippets (including price, accessibility, reviews, and brand) beneath the image.
It is available worldwide on mobile and desktop.

Customers may use the Google Lens feature to see a list of related products by tapping on the lens symbol inside an image. These product results may include a "Product" label to indicate that the item is available for purchase and rich product snippets (i.e., availability). This function is available globally on desktop and mobile.
5. YouTube (youtube.com)
Customers can see a list of things that may be purchased right beneath a video on YouTube while watching it. Customers may also see similar items in their YouTube search results if they look for a particular retail product on YouTube. Your products may be qualified to appear in these formats if your product data contains the product being browsed or searched.
Available within several countries as a free product listing with good trust signals on mobile.
Benefits of Free Product Listing
Google is used by millions and millions of people every day to shop. You can do the following with a Google product listing to boost eCommerce product sales:
Increase your visibility to consumers who are already seeking products like yours.

Promote your items by emphasizing your brand's distinctive features.

Increase the number of people who shop at local retailers.

Increased revenues do not just result from the increased site and local shop traffic but also from people purchasing through Google.

The best part is that you can stay competitive at no additional expense. Free product listings will compliment your existing efforts if you currently use Shopping Ads to promote your items.
 Google uses analytics and algorithms to match your goods with the most relevant search queries, placing your offerings in front of interested customers.
Brands may track the performance of free listings using the Merchant Center and statistics.
This information provides merchants with information on individual items, which may use to drive future inventory and marketing strategy decisions.
How Can I Improve My Google-free listing?
Google Shopping product listing ads offer the most outstanding options to reach a larger audience and improve targeting. Here are some helpful Google merchant center feed recommendations to help you build a robust data set and get the most out of your campaigns.
1. Get a Global Trade Identification Number (GTIN)
A GTIN, or Universal Product Code, is the most crucial feed feature to consider (UPC). A GTIN is required for Google shopping feed optimization if a product requires one. Google's matching system will search for the GTIN, and items that incorporate it will be recognized. While Google may still accept products without the needed GTIN, they will have a lower priority than those with it.
GTINs can be obtained from the product supplier by companies who want to integrate them into their products. This feature can be the difference between running overlooked and boosting conversions considerably.
2. Use the title character limit to its full potential.
Whereas the GTIN is the most crucial attribute for matching, the title used to hold that position — and still does. Feed headlines are limited to 150 characters for advertisers. Even though only 70 of those characters will appear on the Google Search Results Page (SERP), strive to use all of them for the best results. Begin by putting the most crucial and relevant information in the title, such as brands, descriptions, and other facts.
Run a search query analysis to determine which searches and keywords match the associated product. Please include them in the title as soon as all relevant phrases fit under the 150-character limit. It's also crucial to consider which keywords are best for a product. When marketing a chaise lounge or a sofa, the term "couch" in the title, for example, might devalue the product in the eyes of the customer.
3. Keep age, sex, size, and color consistent.
Colour, sex, and size are required characteristics for items in the "Apparel & Accessories" category. For improved SEO, it's also advisable to incorporate these characteristics in the title. In their names and descriptions, feeds should maintain consistency between these characteristics. These are vital elements to consider while optimizing product names and categories.
4. Make use of the complete list of attributes supported by the feed.
Use the whole list of properties that the feed offers. "pattern," "material," "size type," and "is bundle" are some of these properties. If there is any more product information that should include in the feed, it might not fit under these qualities. In certain circumstances, having them with the "product detail" property is possible. In the long term, including as many details as necessary about a product will increase relevance and matching.
5. Use custom labels
To increase eCommerce sales, you can use Custom Labels 0-4 for any values in a product feed. Custom labels are a fantastic method to separate products in a Product Listing Ad (PLA) campaign structure. Please be creative with personalized labels, giving Google even more product details.
6. Getting tax, shipping & returns settings right
After you've done with the feeds, there's one more step you need to take to have your Shopping ads displayed in other countries. You must specify your tax, shipping, and return options. While the tax part is only necessary if you are selling in the United States, the shipping options are essential for all countries.
To make this work, you must provide the exact data for each nation you sell. So, if you're an Australian business that sells to the US, you must mention how long it will take to send your things to the US and how much it would cost.
If you're billing in a currency other than the country you're serving, enter your original currency here, and Google will convert it.
7. Check & fix errors and warnings of the uploaded products.
An error will prevent the product from being featured on Google Shopping, but a warning is merely a suggestion and will enable the product to be posted. Consistently identify and resolve the most frequent errors you may encounter.
Log in to your Google Merchant Center account and navigate to Feeds and the feed's name to check the issues and warnings. You may find the details at the bottom of the Status tab. It will provide samples of products that include the error or warning and does not show every product with a fault. To view the information for a specific product, click the Show item button.
8. Upload merchant feed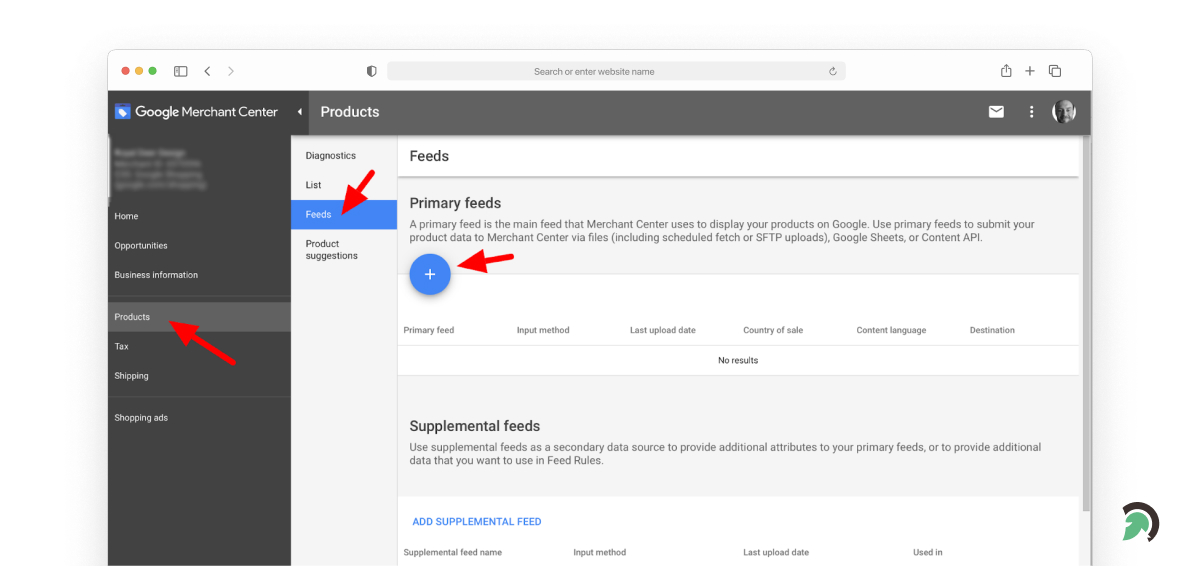 Uploading your items via a feed rather than individually will save you significant time and effort, enabling you to do bulk optimization and edits.
Here are three methods for uploading your feed:
Upload via a URL that links to the feed – This option is ideal for merchants of all sizes that have generated their feed using a tool like Google Sheets or a third-party management platform.

Upload a file from your local drive (for example, an Excel spreadsheet) – This option is suitable for merchants with few goods or those who seldom need to change their feed.

Upload through an FTP connection – This method is preferred for all merchants, especially those who want to make multiple daily feed changes.
9. Track your product performance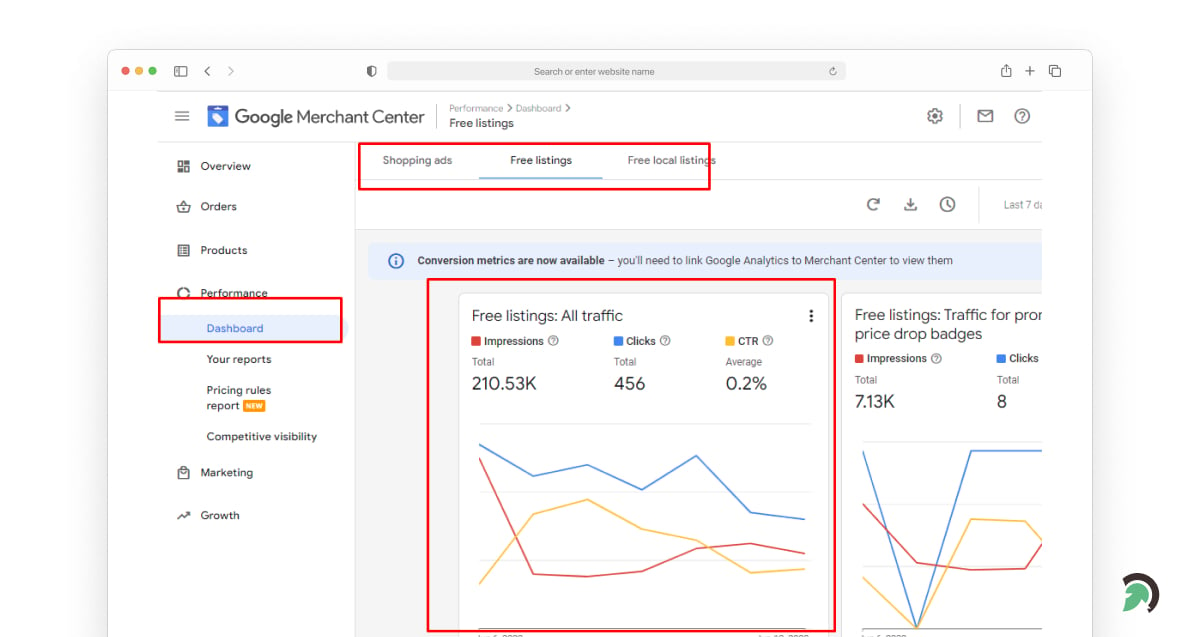 View the performance reporting section of your Merchant Center account to track traffic. This data is accessible for Shopping ads, Buy on Google, and free product listings. You should utilize your Google Ads account to get a complete picture of your product's performance on Shopping ads.
If you want to measure clicks on your website or application, you may use a third-party or custom web analytics solution to set up tracking (for example, Google Analytics). Clicks from purchases in your Merchant Center account will appear automatically in these tools. It would be best if you double-checked that the split between Google Ads traffic & free listing traffic is correct.
10. Buy on Google
Buy on Google is a cost-effective and commission-free checkout experience, allowing customers to purchase products directly from Google shops. Merchants list and explain their products, and return policies, shipping services, and payment details are automated and pre-configured in the Google Merchant Center.
Then, when customers find out things while browsing Google, they can quickly checkout as they explore by clicking the Google shopping cart and paying with the payment information they've saved on Google – all without leaving the platform.
11. Link your account with Google Ads and Google Analytics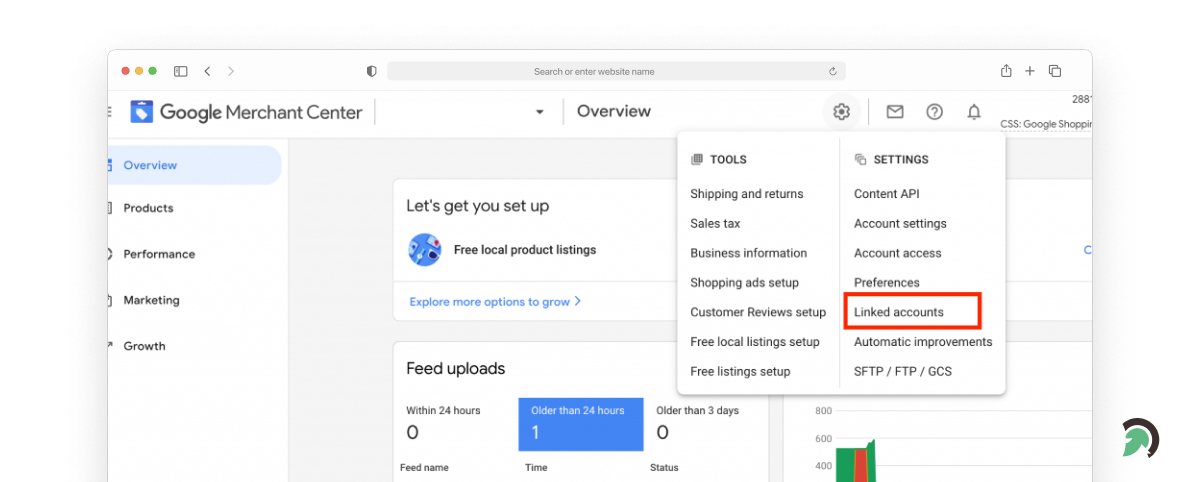 The Google Merchant Center gathers information on the products you sell in your online store. This data may then be used to build advertising, particularly remarketing campaigns. As a result, you must connect it to Google Ads. When you link to the Google Merchant Center, you will profit from many different advertisements, much like when you link your Google Ads account to Google Analytics.
Google Analytics, on the other hand, will display advertising statistics regarding the things you are promoting, such as impressions or clicks. It may be used to optimize your ads or to change your inventory.
12. Expand your reach to other countries
Businesses may showcase their products to new audiences and enhance sales by expanding to other Google Shopping countries.
However, like with any business choice, merchants should do due research to ensure that their products are a suitable match in those overseas regions and that their current operations enable them to sell within Google's guidelines effectively.
Check that your product data complies with Google's Product Feed Specifications and Shopping Standards for the target country and meets all currency and language criteria.
Merchant Center: Google for Retail
Google Merchant Center, a digital platform where online stores may publish product information used to run Google Shopping Ads (formerly Product Listing Ads). You may also process data about your online store, shipping, and taxes in the Merchant Center.
The Google Merchant Center also uploads all products displayed when searching for anything on Google Shopping.
The Merchant Center also has information about Google's new free, organic Google products list in the Google Shopping Tab. 
Why do I need Google Merchant Center?
Here are a few features that make it extremely helpful.
1. Importing customized product data sheets.
Google Merchant Center provides a wide range of descriptors (or characteristics) for your product data. When it comes to developing Shopping advertising, it allows you much flexibility. It can also help you identify a particular product or alter your approach for other items based on their results.
2. Editing and updating product data that already exists.
Editing product data is simple, enabling you to optimize products that are still active in the Shopping Feed. Google Merchant Center lets you play around with bids and oversee your advertising plan in real-time.
3. Easy connectivity with other Google products.
Google Display Network, Google Ads, and other advertising networks are integrated into the center. You'll be able to execute complex remarketing and omnichannel advertising campaigns.
As you're on Google Merchant Center, your Google marketing will be better managed, and your consumers will get the most relevant and up-to-date product details for your e-commerce site.
Whom Should I Reach For Managing My Merchant Account?
Google Merchant Center is a perfect place to start if you want to reach more people interested in buying the product. You may not only submit all of your products in one location, but you can also create automatically created advertising to help you target the right people for your products.
We at EvinceDev will make using Google Merchant Center a breeze. We'll assist you in digital marketing services including creating effective Google Shopping ad campaigns and managing your Google Merchant account. Reach us now if you're ready to get started.