Even minute details of your Shopify store design are essential to maintain visitors and convert them into customers. Using reviews and statistics to improve and optimize the design of your Shopify store may help you boost conversions.
Integrating an order management system can be a game-changer for your business regarding Shopify eCommerce website development. An order management system (OMS) is a software application that allows you to manage and track your orders from a single dashboard. It will help streamline your order fulfillment process, improve inventory management, and provide a better customer experience.
Shopify is an eCommerce platform helpful in managing and expanding your business by integrating with various third-party apps. It's simple to use, yet mastering it is challenging due to its extensive capabilities. 
Stats, Facts, And Figures On The Shopify Website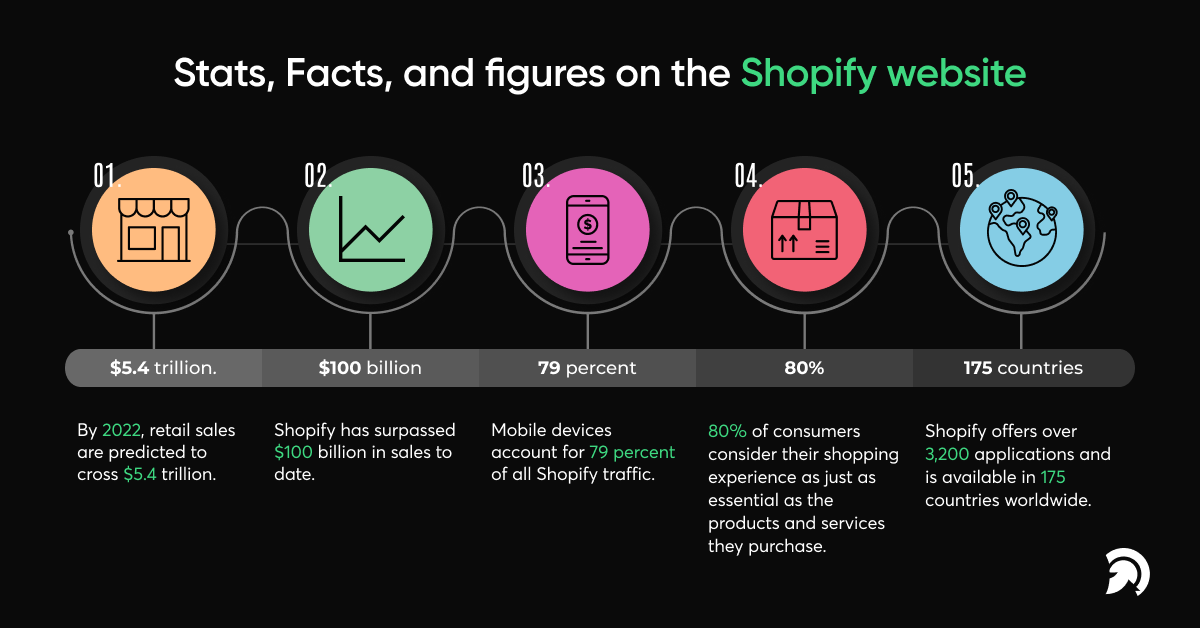 Why Does Your Website Have Traffic But No Sales In Your Shopify Store?
Some existing businesses may get lots of good traffic, but revenues aren't flowing in. In this scenario, you must put yourself in your customers' place. You've got an audience to come into your business, but they're not excited.
Below are some of the aspects why your potential visitors aren't converting: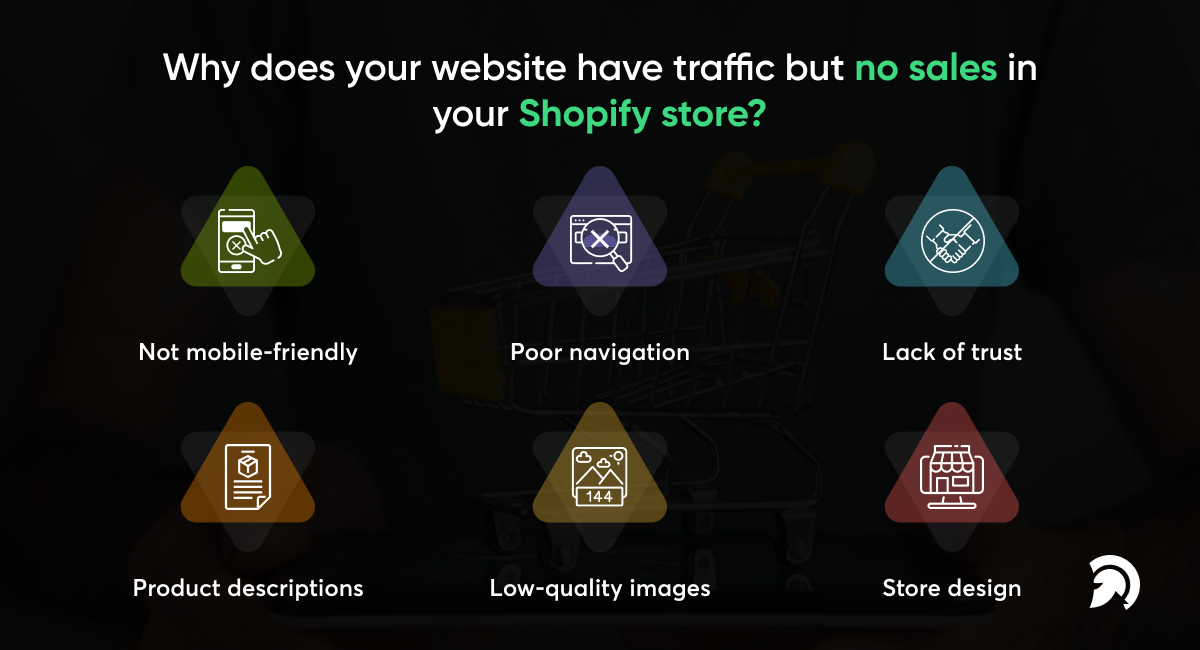 Poor user experience:

Visitors may become frustrated and leave without purchasing if your website is challenging to navigate or has slow loading times. Ensure your website is user-friendly, loads quickly, and has a clear and intuitive layout.

Not mobile-friendly. People are often shopping and purchasing on their mobile devices. Don't lose out on precious visitors by failing to optimize your shop pages for mobile.
Low-quality traffic:

The traffic your website receives may be different than the correct type of traffic. You may be attracting visitors who are not interested in your products or are not ready to purchase. Try to identify your target audience and tailor your marketing efforts to reach them.

Poor navigation. Navigation is a mess. You want to make it as simple as possible for your customers to discover what they want. Therefore your navigation needs to be top-on. To bring customers to the product they want faster, include your Shopify collections in your navigation menu and webpage.
Lack of trust. Shoppers have learned to spot fraud and search for reasons to believe in the brands they buy from them. Showcase your customer evaluations and other social proofs, as well as your commitment to their security clearance, to build confidence.

Visitors may be hesitant to purchase if your website looks professional and trustworthy. Ensure your website has a clean design, clear product descriptions, and customer reviews or testimonials to help build trust.

Poor product presentation:

If your products are not presented well on your website, visitors may not be enticed to make a purchase. Make sure you have high-quality images and precise descriptions highlighting your products' benefits.

Product descriptions. They are shopping for the items; therefore, if you haven't taken the time to adequately and evocatively define them, they have no interest in staying.
Store design. If it looks exactly like everyone else's store, people will forget your store. So you want to make customized store pages perfectly consistent with your brand so that no one forgets who you are.
Ineffective marketing:

Your marketing efforts may not reach the right audience or may need to be more persuasive to convert visitors into customers. Consider revising your marketing strategies to target your audience better and emphasize the unique value of your products.
Why Is Enhancing Your Shopify Store's Design Important?
Product, marketing, advertisement, and store design should all be equally important in a successful Shopify store. You might wonder why design is essential and it entices customers' attention while also enhancing trust among customers. It's essential to optimize the appearance of your Shopify store if you want consumers to buy from you.
Attracting and retaining customers: A well-designed Shopify store can help attract and retain customers by creating a positive first impression and providing an enjoyable shopping experience. A visually appealing and easy-to-navigate website can help customers feel confident in your brand and more likely to purchase.
Establishing your brand identity: Your website design reflects your brand identity. A consistent and cohesive design can help you build a strong brand identity and stand out from competitors. Your website should reflect your brand's personality, values, and unique selling proposition.
Improving user experience: A well-designed website can improve the user experience for customers, making it easier for them to find what they're looking for, learn about your products, and make a purchase. A good design should be user-friendly, intuitive, and optimized for mobile devices.
According to studies, 42% of visitors will quit a website due to "poor functioning."
How To Make The Shopify Website Design Look Better?
Remember to keep features as minimal as possible to make them stand out in the store. Use the proper color combination, and most importantly, make sure your business is put up logically. Use free advertisements wisely; they will impact the appearance of your store. You may start small with Facebook advertisements and receive good results if you do it correctly.
For product listings, include clear, high-resolution visuals. Please make sure they're the same size as well. Use gimmicky timestamps & banners selectively. Use a recognizable logo and a store name between two and three words long.
Get others to offer you feedback on your store; having critics may be beneficial since they will usually point out all of your mistakes, whether they are intentional or not. Pay attention to the relevant people. Improve your store by adding payment gates to fulfill all potential clients.
What are The Top 11+ Practices You Can Follow On your Shopify eCommerce Website to Convert More?
What's the best way to increase Shopify conversion rates? Use these effective methods while designing a website to provide clients with a simple and engaging experience.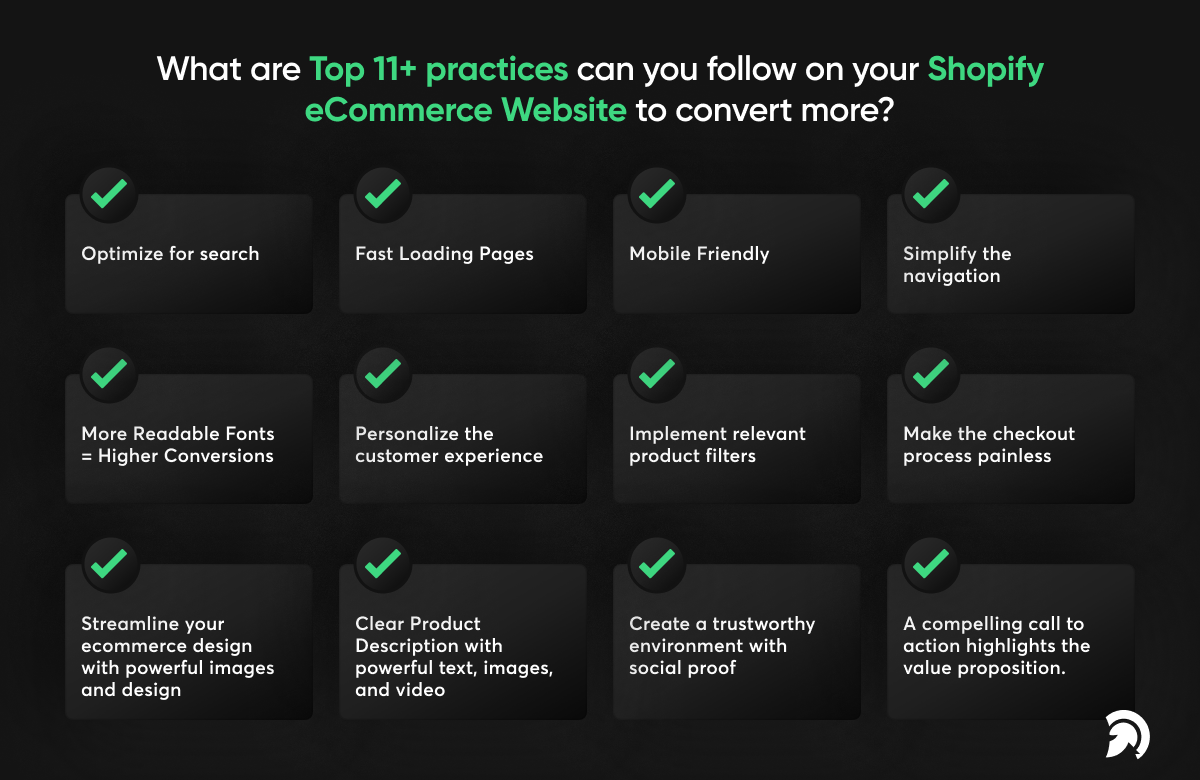 1. Optimize for Search
Visibility of the search bar is a critical first step in achieving that goal. If your site has a lot of products, displaying the search bar might help a motivated visitor get closer to their goal: making a purchase.
It's also worth noting the significance of keyword-rich product names and descriptions. The search feature will be able to locate more relevant products.
2. Personalize the customer experience
According to research, 73 percent of customers prefer to conduct business with companies that personalize their purchasing experience.
Other research has found that most buyers prefer businesses that provide tailored communications and offers, even if it means compromising privacy. They are annoyed by information that is irrelevant to their interests.
To achieve the most outstanding results, experiment with various customizing methods. The following are some of the more successful options:
Depending on previous buys and searches, we provide product suggestions.

Suggestions that make the things in your shopping basket more useful.

Customers who fit the current buyer's profile buy items.
The ecommerce market has grown increasingly competitive, with new online businesses popping up daily. Adding a customized customer experience to your business will give you a competitive advantage and increase customer loyalty.
3. Create a Trustworthy Environment with Social Proof
Several things are more necessary than building a trustworthy environment for visitors. First, integrating trust indicators into your client's website can assist in alleviating concerns about fraud and viruses.
Social media can be a powerful tool for promoting your products and driving traffic to your website. Use social media platforms like Instagram, Facebook, and Pinterest to showcase your products and engage with customers.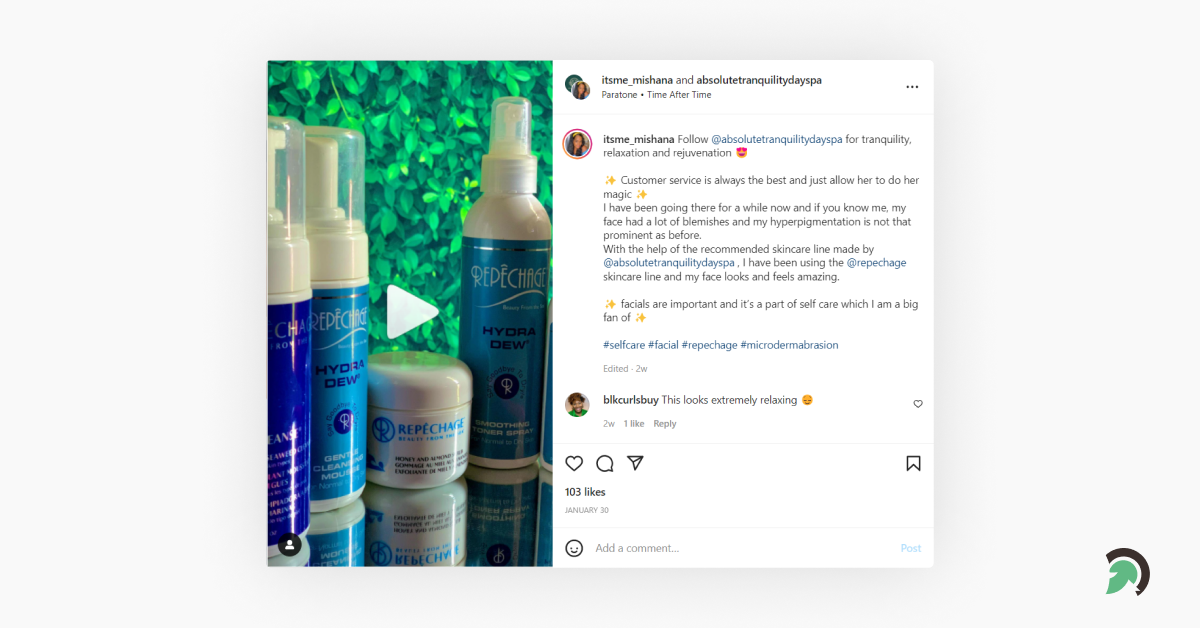 Make sure to include the following:
Positive feedback from previous purchases displays consumer trust.

Press mentions of your client's business. Include their logo if it's a well-known media outlet.

Numbers indicate the number of successful transactions.

Ratings and reviews of products.
Visitors are more inclined to trust your client's site and business if they have more information. User-submitted product evaluations are one of the easiest methods to develop trust.
4. Streamline your Shopify Website Design with Powerful Images and Design
These tips should get you considering all the many ways you might improve your client's ecommerce website while keeping conversion in mind. There are many other methods to remove barriers in the search and purchase cycles, and slight changes may make a massive difference in the user experience.
5. More Readable Fonts = Higher Conversions
The fonts may be as essential as the content of the writing. It does not imply that you should use less text, and make sure it's written in a clear font. Quality typography has three components:
Legibility Make the page simple to read. Utilize a "sans serif" font like Tahoma or Arial for online retailers.
Readability Type size, color, and space between words and lines are all readability design aspects. Use strong contrast, such as black lettering on a white backdrop and headlines and graphics to break up long blocks of text.
Context Keep your fonts in context with the theme and audience.
6. Fast Loading Pages
The majority of online customers are impatient. The speed through which the website loads is critical for keeping customers on your site. There are four strategies to speed up the loading of your product pages:
Compress Image Files Third-party software can reduce the size of high-quality pictures and videos by 50% or more while maintaining image quality.
Using Shopify Themes Apps can bloat third-party themes, delaying download rates. The themes on Shopify are lighter and load faster.
No Carousels featuring product photos seem lovely, but they slow down page loading significantly.
Use Google's free PageSpeed Insights tool to check your store's loading times. You may check the page speeds and get suggestions on improving them.
7. Implement Relevant Product Filters
Since several visitors have just a hazy sense of what they want to buy, your client's ecommerce site should employ appropriate product filters to direct visitors to products that meet their requirements.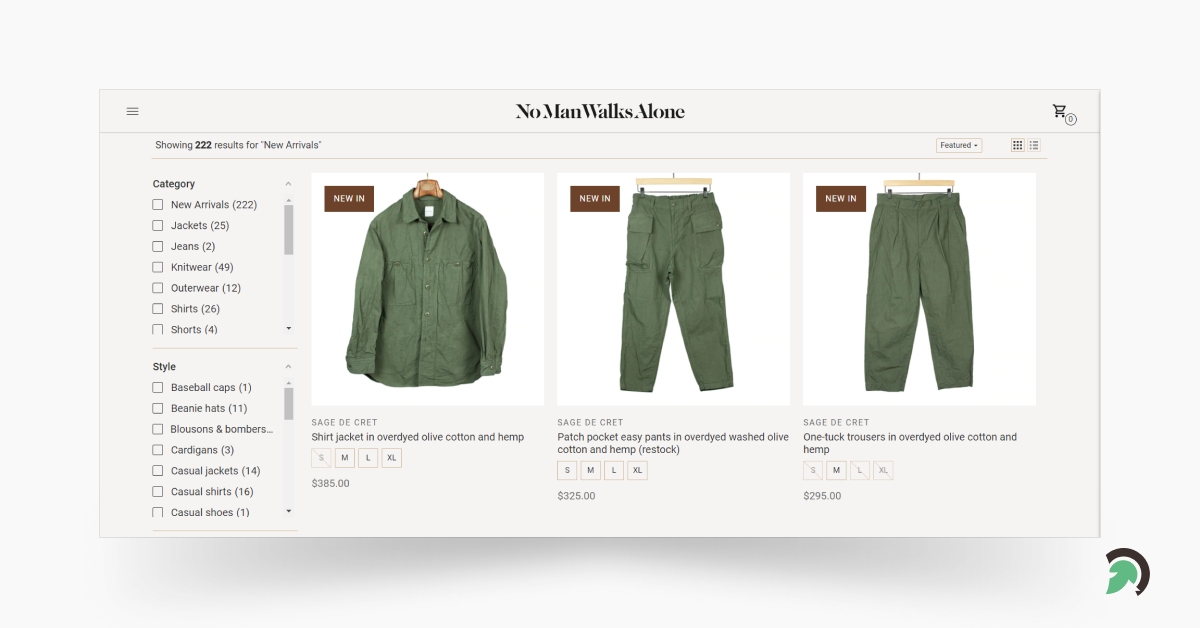 Consider what characteristics are essential to buyers when creating filters. You might wish to add filters for variables like:
Prices

Brands

Sizes

Materials

Style
Category etc.
Place filters in critical positions or offer them once a customer views a category page to use this new capability.
8. Make The Checkout Process Painless
Shopping cart abandonment is a problem in the ecommerce business, with 69 percent of online buyers returning their orders. 
Even though various factors may contribute, websites can profit from making the checkout process as simple as feasible. A complicated checkout process can lead to abandoned shopping carts. Make sure your checkout process is simple and easy to use, with as few steps as possible.
Follow these simple guidelines to reduce the likelihood of shopping cart abandonment:
Remove any distracting elements from the checkout pages.

Break things down into several phases so that customers may concentrate on one at a time.

Rather than forcing customers to register, allow them to check out as guests.

For Payment Options, use the multi-payment option to give diverse options.
9. Simplify The Navigation
Keep things easy for your website's navigation, which should feel natural to visitors. Instead of offering excessive choices, think about how you want to arrange the content and break navigation into subcategories.
Decrease the number of clicks a user must make to get to their target position, organize comparable pages under a unified navigation item, and merge similar pages into a single page. Also, think about which pages are essential to you and your visitors, and make sure they're displayed.
10. Clear Product Description with Powerful Text, Images, and Video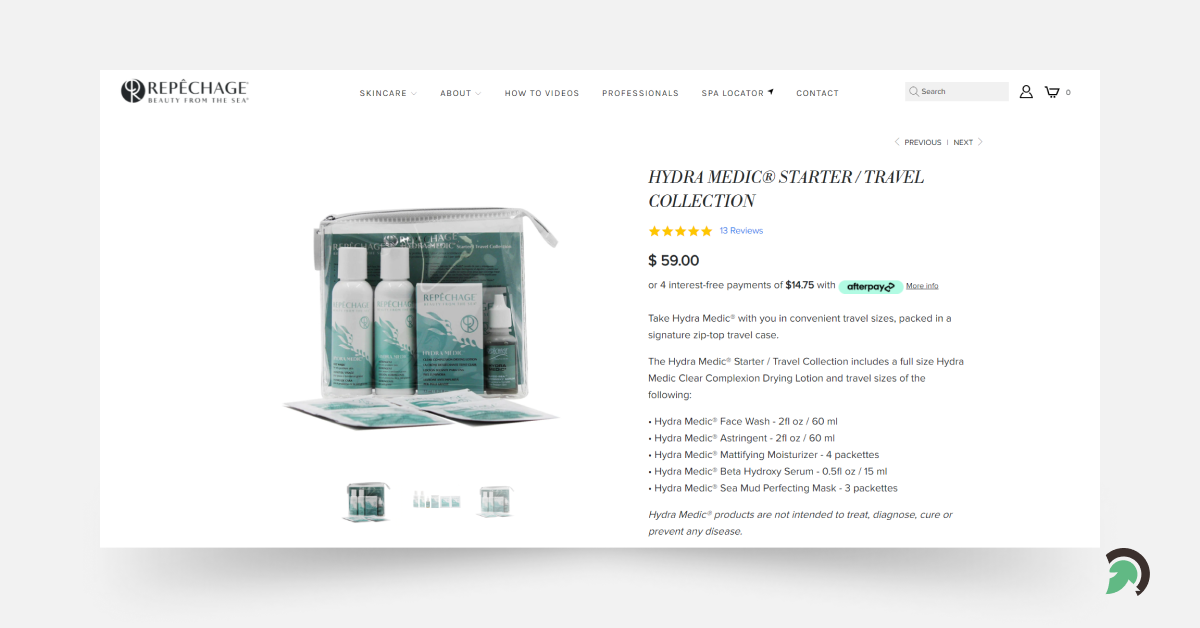 Your Shopify store's most significant feature is its products, and you must build a product page experience that comes as close to it as possible. Create an atmosphere for your goods to shine by taking great images from numerous perspectives that reveal the most delicate details.
Video is also an effective visual method for explaining product specifics. Your product description should be thorough and evocative to go along with these graphic explainers. Include important product specs as well as a compelling product story.
11. Mobile Friendly
Since these internet users use applications, social media, and websites through their smartphones, businesses must optimize their websites for mobile.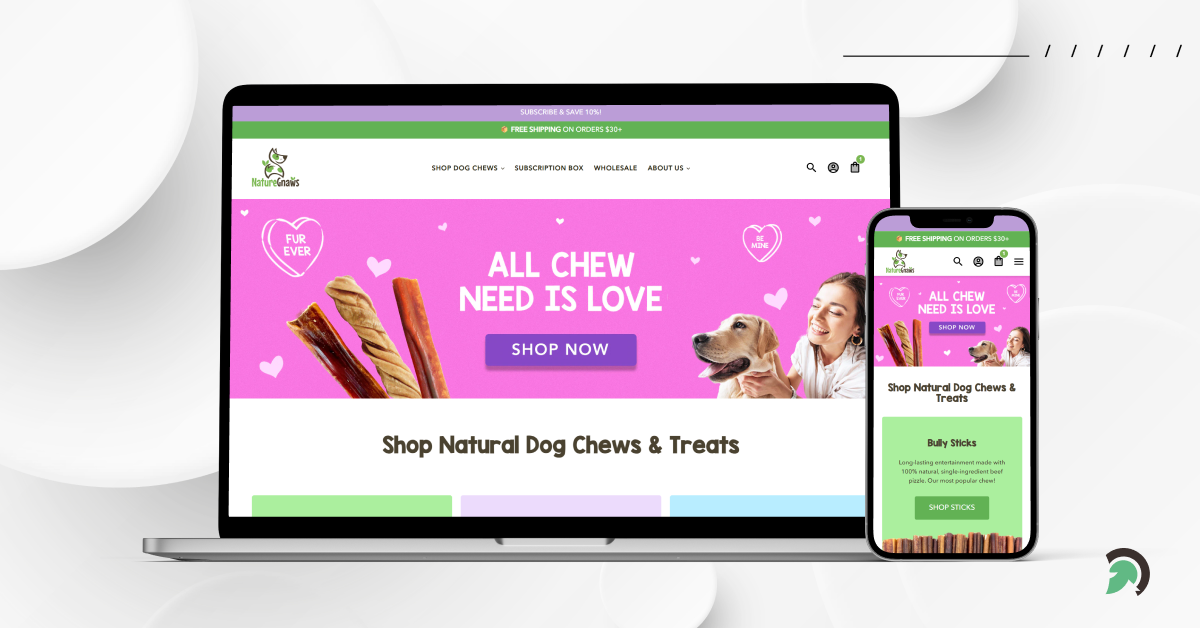 Always analyze your website on different mobile devices to make it mobile-friendly. Check the below issues:
Buttons must not be misplaced or have an odd appearance.

Display the Add to Cart button above the fold on product pages.

The menu must not take up more than half of the store page.

On the page, it must not break off images.

The text should be readable at all times, and the graphics should not be too tiny.
12. A Compelling Call to Action Highlights The Value Proposition
A CTA highlights the value of an ecommerce site to convert casual viewers into customers. In less than two-tenths of a second, visitors establish an impression about a site and, consequently, a brand.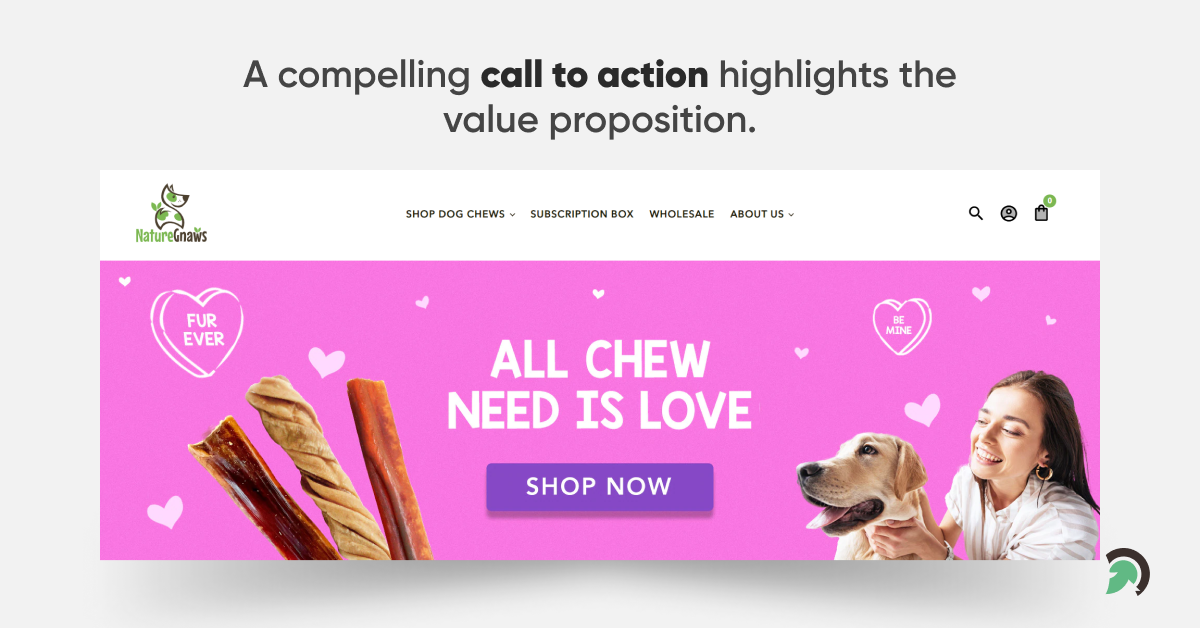 Consider a headline with a strong call to action and subtext emphasizing a clear value offer. Consider your client's competitive edge when composing them.
Remember that value comes in various forms, sizes, and offerings: highlight free delivery, discounts, and referral programs with an eye-catching call-to-action.
13. Offer Promotions and Discounts
Offering promotions and discounts can help attract new customers and encourage repeat business. Consider offering free shipping, discounts on specific products or order amounts, or other incentives.
14. Use Analytics to Track Your Progress
Use Shopify's built-in analytics tools to track your website's performance and identify areas for improvement. Monitor metrics like website traffic, conversion rates, and customer behavior.
Bonus Tip – Don't Ignore the Buttons
Buttons redirect visitors to the preferred destination. Navigation buttons assist buyers in swiftly locating information and are an essential part of navigation UX best practices. Use icons or bold text to make them easier to see and comprehend.
As it is the essential button, the CTA button should be the most visible. It's the final stage of turning your product into a sale. Making your buttons seem like buttons is the takeaway here. Unless it's a call to action, keep them consistent with your brand's typography and color style. Always make the CTA stand out with a bright color.
How much does Shopify eCommerce website development services pricing cost?
You can locate an up-and-coming company to build your complete Shopify store for $500 – $2,000 for essential Shopify development services. For a custom-designed Shopify website, the most reputable Shopify design services charge between $5,000 and $20,000.
Most Shopify website design projects cost between $10,000 and $20,000, with larger projects costing up to $100,000 or more.
Inherently, Shopify website design follows a range of different page themes. The number of distinct page designs and bespoke functionality required beyond Shopify's built-in capabilities quickly add to the cost of a professional-looking and built Shopify Website design.
Free Consultation with Shopify Expert
Can you customize a Shopify website Design?
The Shopify front end is rather adaptable; you may change colors, language strings, and other such things. You may collaborate with a theme professional to personalize the front end's look and feel, or you can buy a ready-made theme that matches your demands.
The back end, on the other hand, is a different matter. It is possible to customize Shopify's backend, but the coding required is complex and impractical for the typical business owner.
However, suppose your demands are unique and exclusive to your company. In that case, you'll need to consult a Shopify development company to see if the kind of customization you want is something Shopify can provide.
Hire the Best Shopify Website developers to implement the best practices.
There are several practices that you can take to help your store stand out in addition to these 11+ best practices. Your Shopify store's design is critical to ensure that visitors stay on your site and make a purchase.
That is why we are here. At EvinceDev, an eCommerce development company, we focus on getting to know your business and helping you develop a store that reflects your personality, allowing your store visitors to fall in love with it. Please speak with one of our industry experts about any queries on Shopify Development.