The mobile app industry is booming, and anyone with a philosophical concept wants a piece of it. You'll need a lot of money to create a highly scalable and innovative mobile app startup business. Financial investments are required for market research, project management, marketing efforts, and other app development steps.
Getting finance for your application, on the other hand, is no easy task. As a result, you'll need to find investors for your Startup business online. Do some basic research before offering the business idea or trending app ideas for startups to investors. Investors will invest in your idea if it appears to be unique.
Startup Guide: How to Validate Your Startup Idea?
what is idea validation and how to evaluate a startup idea.
 Read Here
Apart from the concept, delivering an MVP (Minimum Viable Product) with only the most basic functionality will allow investors to evaluate and utilize your product in real-time. Investors will understand that you are serious regarding the product and will be more willing to invest in it.
Now that we've seen how to attract an investor for a mobile app startup business; let's discuss some of the critical stages of app fundraising.
Stages of Fundraising for Your Startup Business

1. Pre-seed:

Pre-seed is the stage in which your app is still simply a vision, and no work has been done on it. Because most startup funding occurs from friends and relatives or your own money, this stage refers to an informal round. Typically, funds generated at this stage are utilized to form a founding team, develop demonstrations or MVPs, undertake research studies, and acquire early traction.
2. Seed stage:
This is the second round of fundraising, and the focus is on your company's early growth. Your Mobile App startup business is still in the seed phase, but you're still working on filtering the product. You're looking for funding to continue your research, evaluate the product-market fit, and employ a team. Financiers, early-stage venture capital firms, and startup institutes are often the first to respond at this level.
3. Series A:
You've made it to this level of investing, which indicates you're well to get success. You've shown market-product compatibility and clearly defined your brand's objective in this stage. You begin to focus on the expansion of your company and products. The primary focus of your mobile app should be on maximizing your business, commercial viability, and scalability. The ordinary Series-A investors at this level include venture capital companies, "super" app angel investors, and investment companies.
4. Series B, C, D, etc.:
It to series B and beyond indicates that your product has acquired user approval. The stage focuses on upgrading and adding new features to your product to attract more people. People are aware of your offerings since your brand has a good reputation. You must now transition your app from a startup business financing stage to a mid-size company. Funds obtained at this stage are utilized for investment activities, going public, making alliances, increasing branding levels, and interacting with new markets through continuous product development and upgrades.
Steps to gain the trust of investors for your Startup
The following are the essential stages to gaining investors' trust and raising funding for your unique startup idea: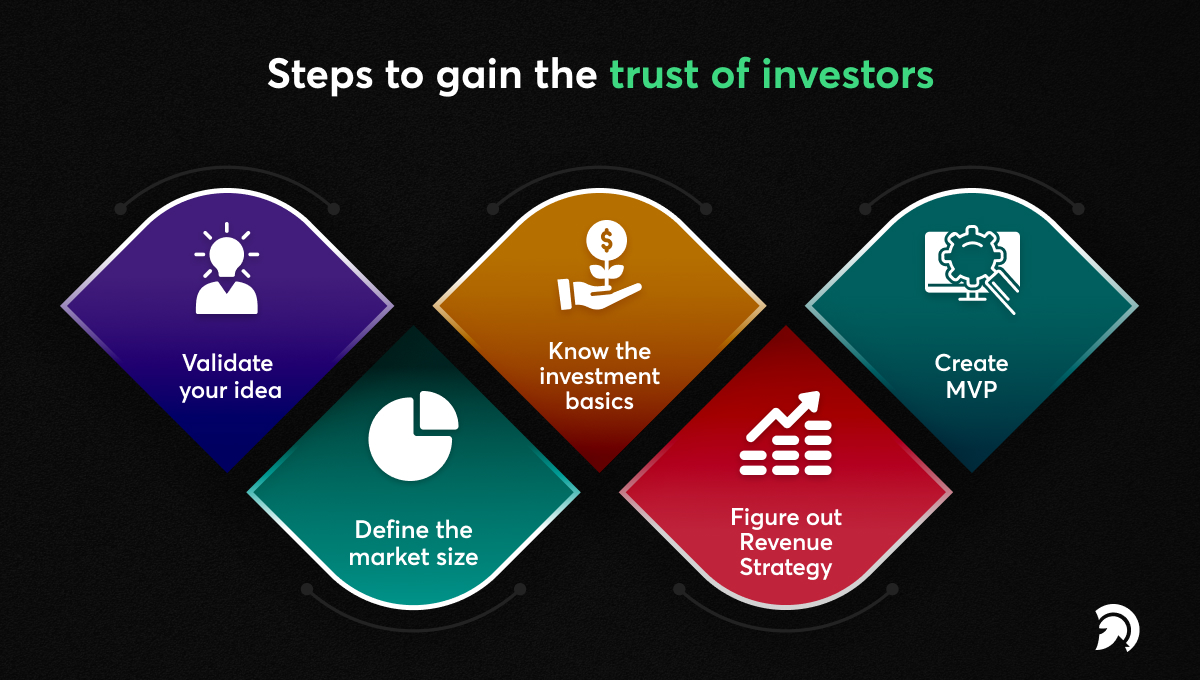 1. Validate your idea:
Come up with a solid concept. You'll need to develop innovative startup solutions to help customers address their problems. Working on their area of interest or passion is an excellent place to commence. After you've come up with a brilliant app idea, the following step is to validate it to ensure it's viable. Investors are hesitant to support a pre-existing app idea.
So, conduct extensive market research and determine the competitive landscape of your app's market. Ensure your app idea isn't just an exact duplicate of anything else. You may also get guidance from a Mobile app development company to demonstrate the feasibility of your startup plan.
It's critical to comprehend the market's competitive landscape. You must conduct extensive studies on applications in your industry to see what unique features they provide users and how you can keep ahead of them.
2. Define the market size:
When you look at the competitive marketplace, you may see your expected market size. It would help if you mentioned your target audience and market share to give your potential mobile app investors genuine numbers about the possible prospects and risks.
Select a trustworthy mobile app development partner: Hiring a reputable app development partner will assist you in bringing your idea to life. Choose a provider who has completed similar projects and successfully provided similar ones.
A mobile app development firm has a team of experienced programmers, UI/UX designers, and industry experts that can provide professional advice while always keeping your vision in mind.
The company also offers the most up-to-date market knowledge and access to cutting-edge technology. It contributes to expanding an app with the most up-to-date features and functions that would attract investors. So, if you want your app to acquire app funding from investors, teaming up with a reputable development partner is the way to go.
3. Know the investment basics:
To acquire the trust of your new investors and be persuaded, you need to understand how to manage a startup business and raise funds. It will assist you in determining the sort of cash to invest and the basics of investment.
4. Figure out revenue strategy:
Apart from knowing the basics of investing, you should also develop a revenue-generating plan. The investors will be more interested in funding the mobile app development if you offer them a straightforward approach. As a result, it's critical to study alternative monetization tactics and be prepared to answer inquiries about them.
5. Create MVP: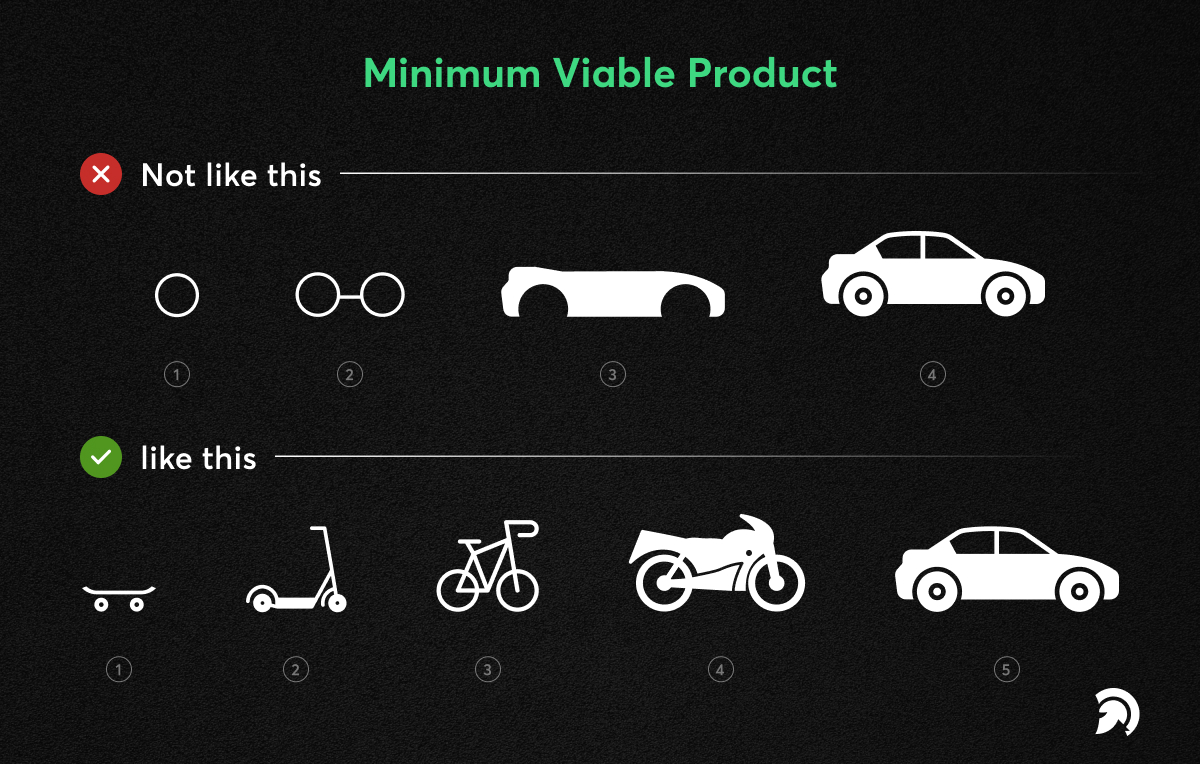 The MVP (Minimum Viable Product) is the first product with the simplest functionality. It's a cost-efficient and effective solution to assist investors in understanding how your product works. Before approaching a mobile app investor, you may use an MVP to figure out if your app has a chance of succeeding.
Furthermore, MVP delivers an actual product that potential investors can view and utilize in real-time. An investor adores a business that is already profitable and whose founders have put their time and money into it.
An MVP gives you a lot of flexibility to keep adjusting until you get the perfect response.
You can reach out to us for a successful MVP development, and our team of professionals will assist you in developing an MVP that will appeal to mobile app investors.
6. Create Pitch Desk:
You'll need a pitch deck when you have more than 30 seconds for your meeting to pitch your app to the investors. A pitch deck is a PowerPoint or similar presentation format. It includes an overview of who you are, your ideas, who is on your team, the problem you're trying to address, why you think your solution would work, who your prospects are, a probable budget, etc.
Make sure your pitch deck is well-designed, appealing to the eye, and comprehensive. A solid investor pitch deck may be pretty helpful in aiding your mobile app startup to obtain the funding or investors it demands to launch and thrive.
List of Fundraising options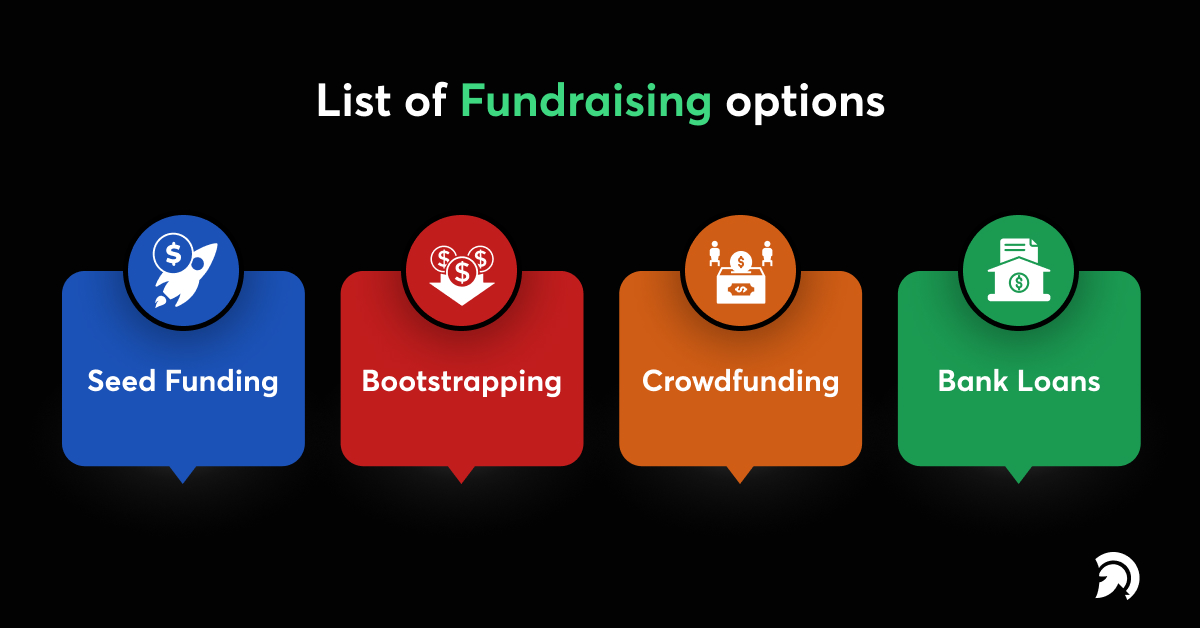 1. Seed Funding or Investment:
When it comes to seed investment or angel investors, it might not be easy to impress when the app is still in the conceptual phase. The seed-stage does not need much oversight, allowing the organization or individual to work independently. These angel investors require suitable income and return on investment (ROI) plans and each idea that can alter the present online world and nothing else.
So, make sure you've done sufficient market research to be able to respond to each politely and every question they ask by email, call, or other means of communication.
2. Bootstrapping:
Since you are your boss, it is the most convenient and straightforward means of fundraising for app startup Businesses other than seed capital or angel investors. There is nobody on whom you can depend or with whom you can share your earnings and losses. Friends and relatives can also assist in the bootstrapping process.
If you're capable of funding your mobile app startup Business at first, you may not require outside investors later on when you generate cash from your online business. However, as a backup option for supporting your app, organizations may always turn to investment loans and tools proportionate to the burn rate.
3. Crowdfunding:
One may raise funds for their app by working together on crowdfunding sites. Interest donations, reward-based financing, and investment funding are the three forms of crowdfunding. These can be done through social media contests, accelerators, or incubators, or they can be done online. It may also be used as a barter system with restaurant owners and risk instances, where it can give a bonus or a portion of the business in exchange for expenses. When compared to other methods of app fundraising, this one is simple.
The contributor and the founder do not demand any compensation or benefits for their donation. You'll undoubtedly give rewards, such as a freebie, titles in the credits, app access, etc. Investment funding is one of the options where an angel investor may put money into a business to get a high return on investment (ROI).
4. Bank Loans:
It is the most popular and well-known investment strategy, particularly app funding. The banks provide you with a credit loan and hold your property as collateral. Furthermore, startups are highly backed by the government and banks these days; there are fewer issues while building applications with acceptable borrowing rates.
For instance, there are thousands of different kinds of financial institutions, group network characteristics, or individuals that provide you with the possibility of providing cash, assets, and a debt loan to an app startup. As a result, you have a high possibility of getting investment in loans.
Now, you must grasp the need for planned rounds heard by pros when considering a means to fund your app through sites like Kickstarter. These will be pretty beneficial in obtaining finance for your mobile app development.
How much funding do you need for your mobile app startup?
There is no set figure to accomplish regarding how much capital an app business is essential. The actual amount will be set by your app concept, the app's complexity, the staff, and other aspects. A basic MVP with limited features, for example, can cost anything between $15,000 and $50,000. On the other hand, a more complex cross-platform application with APIs can cost anywhere from $50,000 to $200,000.
But don't worry; we've previously talked about how you can fund your startup. Before approaching app investors, engage with a full-cycle app development provider to determine the expected cost of creating your app and also the app's functionality and primary purpose. You risk making a financial mistake that may cost you your goal if you don't have any budgeting strategies.
You won't start the app development process if you don't get enough funds. If you get more money than you require, on the other hand, you may find yourself handing up your owner's share or perhaps your entire business to mobile app investors.
Ending Note
There's always something that we can do better. This famous saying applies perfectly to applications. Your effort does not finish once you have raised funds for your app. To maintain connection and expand for more significant investment and app financing possibilities, you'll need to strive better and offer new features and functions.
Of course, you'll need to have a professional mobile app development company like Evince Development as a prerequisite for this. We offer various services, from native app development to custom application solution development.
You can speak with us about questions or concerns about funding applications, venture capital, crowdfunding platforms, funding campaigns, or app development cost.