An Order Management System (OMS) is a software application designed to manage and track the process of fulfilling customer orders from start to finish. It provides a centralized platform for businesses to manage orders, inventory, customer information, payment processing, shipping, and other aspects of the order fulfillment process. 
OMS is essential for businesses of all sizes that sell products or services online or offline, as it helps streamline operations, reduce errors, and improve the overall customer experience. With an OMS, businesses can automate and optimize their order management processes, ensuring timely and accurate delivery of products or services to their customers. It is a crucial component of any eCommerce operation, including a web design company that sells digital products or services.
Today's business world is complex. Operations that were once easy now carry unexpected challenges. Even seemingly simple tasks like completing a transaction and delivering a product to a consumer have become significantly more complex.
When it comes to marketing their products, retailers, and businesses should consider several factors:
Consumer purchasing channels

Options for shipping and problems with fulfillment

Logistics from a third party

Business intelligence and analytics
It's not surprising that many brands require some guidance. Fortunately, the guidance required is readily available in Order Management System (OMS). For eCommerce and other enterprises, an OMS is a crucial component of operations. Therefore, it is the best time to work on your knowledge of an order management system. 
What Is The Order Management System?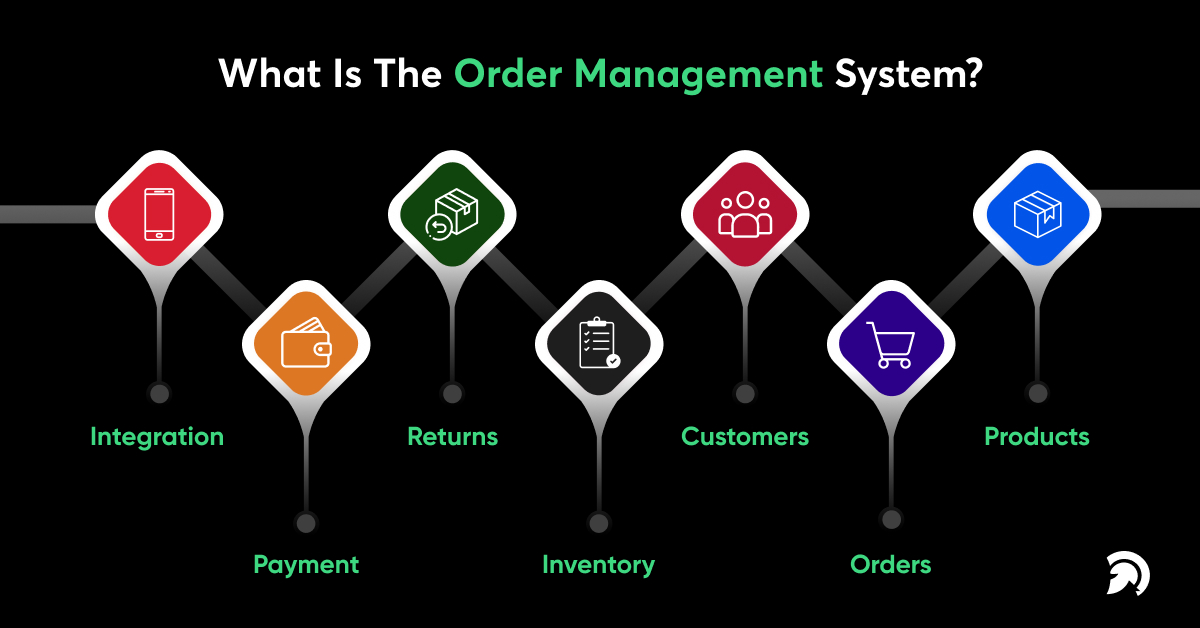 An order management system offers a single source to see and handle all customer orders.
Some solutions include a two-way sync, which ensures that order information is transferred between the order management system and the eCommerce platform while allowing you to see the entire process. It can aid in automating the flow of sales order data to all the retail supply chain parts.
It means you can follow a customer's order from the "Buy" button through delivery — and even refunds.
In a nutshell, an order management system combines and automates everything that must occur to deliver customers' orders on time and in excellent shape.
Why Does Your Business Need an Accurate Order Management System?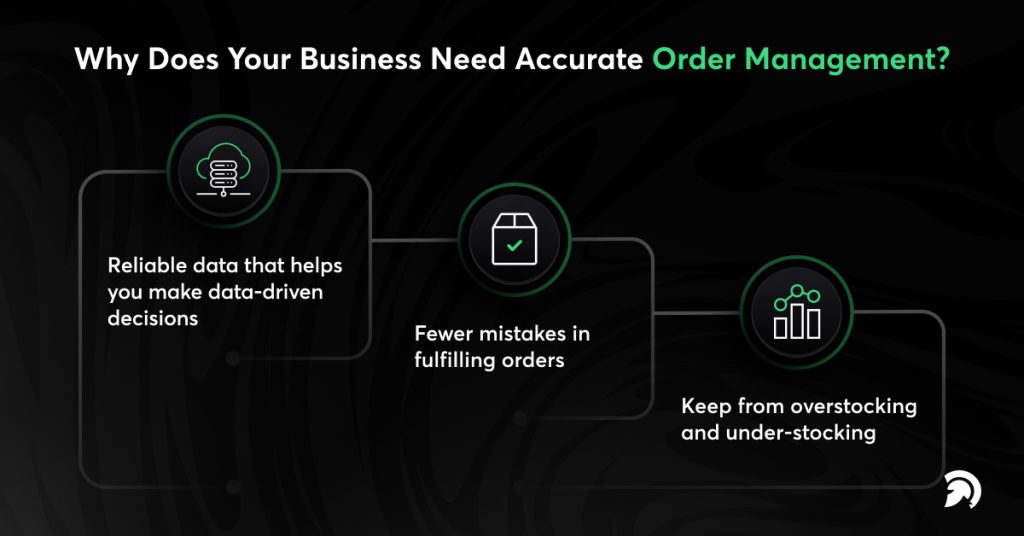 When you're running all business operations with fewer team members, taking the effort to develop order management procedures and systems might feel like more red tape.
Although, as your business expands, you may fall behind if you try to complete every request independently. Below are a few of the issues that precise order management may solve.
1. Keep from Overstocking and Under-stocking
As long as you're neither understocking nor overstocking, a high inventory turnover ratio might be beneficial. On the other hand, Overstocking means you're wasting money you don't have on unwanted items which can sell. As long as you're neither understocking nor overstocking, a high inventory turnover ratio might be beneficial. Overstocking means you're wasting money you don't have on unwanted items for sale.
If you're low on inventory, you risk having customers delay, splitting shipments, or losing easy purchases from consumers who were ready to buy right away but will likely give their money to a rival instead.
2. Fewer Mistakes in Fulfilling Orders
When you deliver a few orders each day, it's simple to prevent fulfillment blunders. Please choose the appropriate product, adequately package it, print the shipping label, and deliver it.
Think about what will happen if your business takes off. Multiple channels receive orders from all around the world daily. Customers are hitting you with messages enquiring about the status of their orders, complaining about delivery delays, and requesting refunds in the meantime.
When dealing with such a significant number of orders and a high degree of complexity, wrong products, incorrect addresses, and late shipping may affect an online company's image.
That's why having a well-organized order management system in place is essential. Less human errors equal more automation and synchronization.
3. Reliable Data That Helps You Make Data-driven Decisions
When data is distributed across different platforms, it isn't easy to make sense of it. Order management solutions make it easy to examine available data and make data-driven choices by allowing you to access all sales order data in one location.
The order management system displays the geographical distribution of your customer's orders. You may use this data to distribute your products to the fulfillment facilities closest to your customers' percentage. Keeping your product near customers' homes might help you save money on shipping and speed up delivery.
4. Reducing Costs
An OMS automates many order fulfillment processes, reducing the need for manual intervention and the costs associated with order processing.
5. Enhancing Visibility
An OMS provides real-time data and insights into the order fulfillment process, helping businesses make informed decisions about their operations.
Types of Order Management Systems
On-premise Order Management System
An on-premise OMS is installed on servers on the company's premises. This type of OMS provides complete control over the system but also requires more resources for maintenance and support. On-premise OMS suits businesses with complex operations and large order volumes.
Cloud-based Order Management System
A cloud-based OMS is a software-as-a-service (SaaS) solution hosted on the provider's servers and accessed through the internet. This type of OMS is more cost-effective and requires minimal IT support, making it suitable for small and medium-sized businesses. Cloud-based OMS also provides scalability and flexibility, as it can easily be scaled up or down based on business needs.
Hybrid OMS Order Management System
A hybrid OMS combines both on-premise and cloud-based OMS, offering the benefits of both types. A hybrid OMS provides more flexibility to businesses with complex order fulfillment operations, allowing them to maintain control over their on-premise system while enjoying the benefits of cloud-based systems.
When choosing an Order Management System, businesses should consider their current operations, scalability, budget, and technical expertise. The choice of Order Management Systems will impact the overall efficiency and effectiveness of the order management process, so selecting the one that best suits the business needs are essential.
Challenges of An Order Management System
As previously said, the surge in popularity of eCommerce has raised expectations, while various purchasing and selling techniques have added complications. The most common problems that businesses encounter today are listed below.
1. Global Supply Chain Management is Complex and Growing

There are now many options to fulfill orders and execute shipments throughout the globe, ranging from third-party logistics (3PL) providers to dropshipping firms, in addition to traditional in-house supply chain management techniques.
When you collaborate with a 3PL, you'll send frequent shipments of products to them. They'll manage everything from order shipping to returns to freight forwarding to order processing, depending on the service package you choose.
Dropshipping fulfillment entails sending orders and shipments to a supplier or manufacturer as demanded. They'll then send the products to your customers on your behalf, generally with your logo, so the consumer doesn't realize you're using a dropshipping service.
2. Multichannel Selling, Along with The Growing Demand for Online Shopping
More online orders imply more orders to fill, which might burden your procedures if your business isn't fast enough.
Inventory mistakes may sometimes be seen here, mainly if your systems and procedures don't allow for real-time inventory updates across all of your channels, regardless of how much you purchase and sell.
You'll also need "two-speed order fulfillment" for hybrid retail and B2B operations. That is because you'll be fulfilling fewer (but larger) orders at the exact moment as smaller but more frequently, and you'll have to strike a balance between longer lead times for B2B customers and shorter lead times for B2C customers.
3. Purchasers Have High Standards
Since your B2B customers are more likely to place more prominent and more valued orders with you, as well as seek a long-term supplier with whom they can conduct repeat business, they will have greater expectations than your B2C customers.
Millennial B2B shoppers seek a similar experience to B2C buyers, such as easy navigation, quick checkout, quick shipment, and excellent customer support.
Most buyers like one-on-one sales sessions, enticing pricing, customized attention, and straightforward buying processes.
Your business needs to be able to meet these high expectations. You risk chargebacks and terminated contracts from your most crucial businesses if you don't.
That's where order management systems & eCommerce platforms with built-in support for your specific business type come in handy.
4. Business Needs to Differ from Consumer Needs
Your B2B clients have various demands and expectations regarding your business and its procedures, just as they do for the business and its processes.
You must be able to meet any of the following conditions in any combination:
Face-to-face meetings and requests on the road.

Discounts on bulk purchases.

Custom pricing to your specific needs.

Pre-orders and backorders.

Payment terms and alternative solutions include proforma invoices, deposits, partial payments, and payments on account.

Dropshipping, partial fulfillment, and back-to-back orders are our available delivery options.

Self-service order management and online ordering.

Communication and customized updates regularly.
5. Sales channels are difficult to keep up with one channel.
It's hard enough to process orders on just one channel. Handling orders through many channels, whether it's eCommerce platforms, online marketplaces, phones, email, or in person, adds a new level of complexity.
With several touchpoints, there is additional potential for delays, human error, and inefficiencies, and you may lose control of your business.

You'll need a unified view of orders, real-time inventory changes across all channels (perhaps driven by various warehouses), and the ability to report on which channels work better than others. When a business processes over 100 orders daily, it's time to deploy a B2B online ordering system.
6. Inventory Frequently Runs Out Suddenly
You'll quickly get behind on the number of orders you have to complete if you don't have an effective online order management system in place, which allows you inventory management significantly as your business increases.

Inventory will not be allotted and reserved to orders promptly, inventory levels will not be updated across all of your sales channels, and you will almost certainly oversell the inventory you do have.
Overselling challenges is still one of the most common reasons businesses seek order management software. Still, it's also one of the most manageable problems to solve once the order-tracking software is in hand.
7. Information & Data Seem Scattered and Hard To Manage
Many businesses depend on multiple systems to handle their orders at first.
It is usually a combination of a B2B ecommerce platform, separate order management software, and bookkeeping software.

To execute operations, your workers will need to check into many systems regularly, and real-time insights will be challenging to come by. In addition, there are several errors in the business and old financial and sales records.
However, data is highly segregated with this technological stack in place. To execute operations, your workers will need to check into many systems regularly, and real-time insights will be challenging to come by. There are several errors in the business and old financial and sales records.
8. Buyers Find Your System Difficult
Customer expectations are growing, which implies your B2B customers want to know where their orders are. And they get answers to their queries and concerns immediately and have confidence that the products they've bought are available and will be delivered on time.

However, if getting this information is difficult, tedious, and time-consuming for your customers, you risk customers becoming more unsatisfied and more ready to do business somewhere next time.
Instead, by putting convenience and efficiency at the center of everything you do, you'll boost customer lifetime satisfaction and quality, earn repeat business and attract new consumers.
How to Improve Your B2B eCommerce Order Management?
Effective order management solutions may help you overcome the existing challenges by removing most of the manual labor work from your hands, freeing you up to focus on exceptional cases and your front-of-house plan.
Manage Orders Overall from One Sales Platform
The best order management software for B2B businesses enables you to implement a multichannel or omnichannel solution in your business.
It means you may take orders wherever your buyers browse and process them according to your procedures and standards.

By minimizing the conventional back-and-forth between you and your clients, like inventory management, making and updating orders, and payment processing, you and your clients can save time.
So whether your B2B consumers place orders online, over the phone, by email, or in person, you can keep track of everything.
If you're a hybrid B2B/B2C company, your systems should also collect sales from other platforms where your retail clients shop, such as Amazon, eBay, & brick-and-mortar stores.
The majority of today's order management solutions are cloud-based. The fundamental reason for the popularity of cloud solutions is that they allow businesses to become paperless.

It helps you enhance business productivity by allowing you to access your data from anywhere in the globe at any time while also reducing the amount of paper you use (which is unnecessary).
With cloud-based technologies, direct mail, faxes, and handwritten letters are no longer necessary. Instead, you may engage with your customers and take orders using email and a specialized b2b eCommerce platform.
Along with the environmental advantages of lowering your paper consumption, you'll save up money that you spend on paper, ink, and toner, which can be helpful for other business requirements.
Centralize Information Across Multiple Channels
Your orders and inventory will be monitored on one platform, whether your B2B clients buy from you online, in person, over the phone, or via email. Therefore, Inventory management plays a vital role in the Order Management system. 
It assures that your business will be supported by accurate and reliable data no matter how or where your consumers place orders. 
Reduce Supply Chain Complexity
You can better oversee your inventory worldwide by centralizing your orders and inventory data.
You'll be able to follow orders from the moment they're placed through choosing, packaging, and shipping and leave comments on their current status.

You'll be able to do this not only for your warehouses and businesses but also for warehouses relying on third logistics (3PL) providers and marketplace fulfillment centers such as those managed by Amazon.
Track Orders and Keep Customers Happy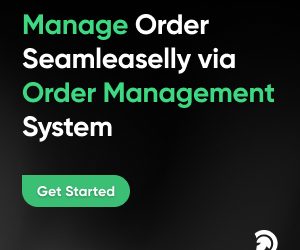 You'll be in an excellent position to keep your customers happy if you track your orders successfully whether your customers want to know where their orders are. Then, if they need to change a prior order or invoice, your team can keep them up to date in real-time, regardless of whom they speak with around the business. If they need to change a prior order or invoice, your team can keep them up to date in real-time, regardless of whom they speak with around the business.
You'll also lessen the risk of errors and costly errors while speeding up operations and enhancing the entire customer experience by using technology to share the grunt work regarding ordering, delivery, and inventory management.
Meet Purchasers' High Standards Through Customization.
It's no wonder that your industry's customers have high expectations, and their orders are typically more extensive and more valuable than their B2C counterparts. Unless your product or service is highly unusual, they will have many competitive choices to pick from them.
One best ways to stand out is to improve your customers' experience and service.
You may tailor critical stages of the purchase cycle for each customer with an extensive order management system, such as order fulfillment, shipping, billing, payment options, and sales channels.
Optimize Your Inventory Management
You need accurate and up-to-date inventory data to improve your order management. Using a real-time inventory management system, you can track inventory levels, identify low-stock items, and automate reordering processes. It will help you avoid stockouts and delays in order fulfillment.
Provide Personalized Service
Offering personalized service to your customers can help you stand out from the competition and improve your order management. It can include providing customized pricing, product recommendations, and order history to customers. It will help you build stronger relationships with your customers and improve their satisfaction. 
Offer Customer Self-service
Providing a self-service portal for your customers can help improve order management by allowing them to place, track, and manage their accounts. It can reduce the workload on your customer service team and improve the overall customer experience.
Implement ERP Software Today to Manage Your Order Management Efficiently and Quickly
ERP software development is critical for businesses that want to optimize operations, increase efficiency, and reduce costs. By implementing a customized ERP solution, businesses can automate their processes, improve data accuracy, and streamline workflows.
Working with an experienced and knowledgeable development team is essential to ensure successful ERP implementation. At Evince Development, we offer free consultations to help businesses understand their ERP needs and explore the various solutions available to them. Our highly skilled experts will work closely with businesses to assess their current processes, identify pain points, and develop a customized ERP solution that meets their unique requirements.