The cannabis industry has recently gotten a huge boost from all across the world. The legalization of cannabis by governmental bodies and the general public opens up new opportunities for the cannabis sector to grow. New cannabis rules are bringing in opportunities that are changing the market in various ways.
Market And Sale Stats For Cannabis Industry
According to Grand View Research, the worldwide legal marijuana industry was worth USD 9.1 billion in 2020 & is estimated to grow at a 26.7 percent compound annual growth rate (CAGR) from 2021 to 2028.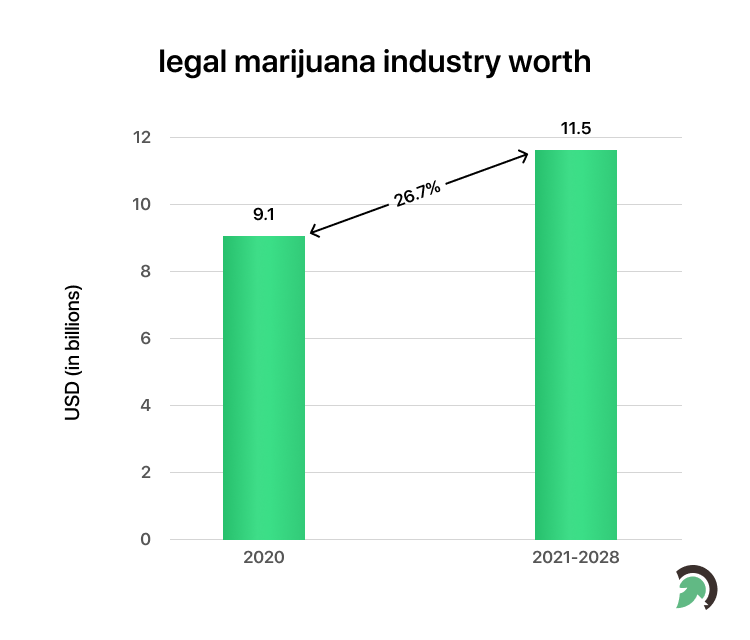 Market and Markets estimates that the worldwide cannabis market will be worth USD 20.5 billion in 2020 & USD 90.4 billion by 2026, with a CAGR of 28% in value.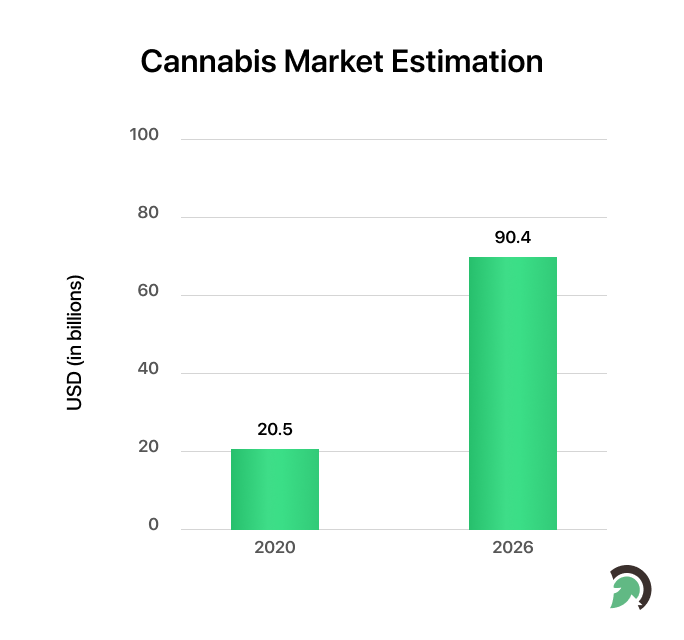 According to some estimations, global cannabis sales will reach $21.3 billion in 2020, up 48 percent from $14.4 billion in 2019. According to the BDSA, worldwide cannabis sales will rise at more than 17% CAGR, from $21.3 billion in 2020 to $55.9 billion in 2026.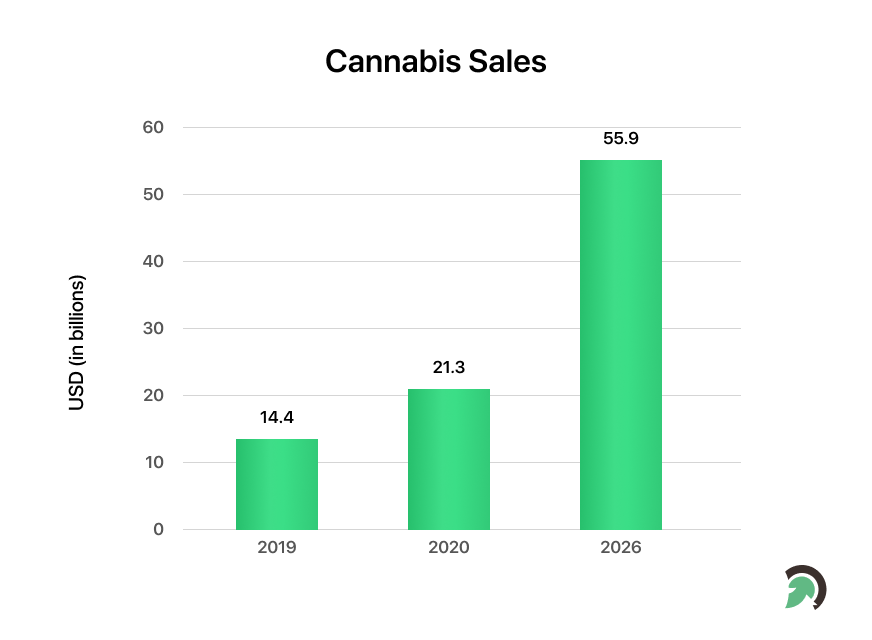 The consumption of medical marijuana has been reported to ease pain, according to helpful marijuana reports. The industry is projected to increase quickly as more individuals become aware of the advantages of cannabis intake.
The majority of the increase in the marijuana market is due to technological advancements. As a result, several new technologies are changing & on the verge of reforming the industry in one aspect. Let's take a glance at the most popular and intriguing marijuana technologies.
Technologies Transforming Cannabis Industry
1. Smart Technology For Intellectual Property
Cannabis growers that produce new strains can use patents to protect their intellectual property. It's possible if the strains were developed using traditional breeding methods. Aside from that, technology is revolutionizing the cannabis industry in other ways.
2. IoT Automation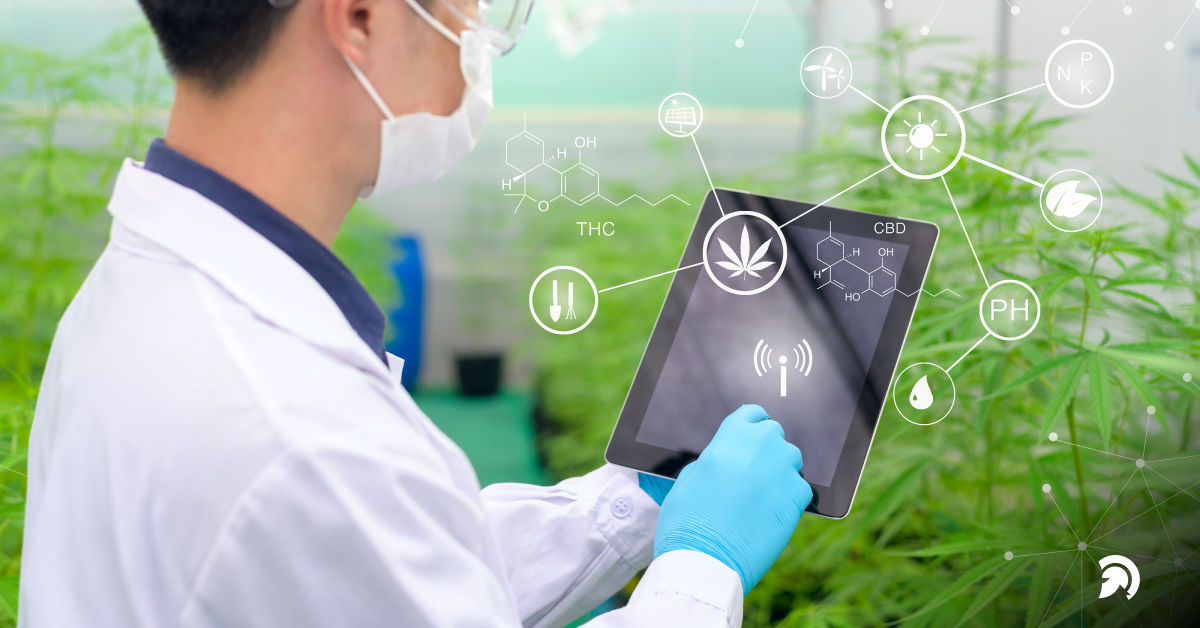 Due to their volatile nature, cannabis plants need a great deal of attention to detail and tight scheduling. As a result, several cannabis farms have turned to IoT technology, like agricultural sensors, to link to their growing operations and manage settings, particularly for cannabis. It is a new technology in the cannabis industry.
3. AI For Packaging & Labeling
Marijuana packaging must provide correct information and be secure to keep it out of the hands of kids. It provides a cannabis product label that may be personalized to your exact needs, including dispensary information, scientific data, and price. It's good for keeping track of items, cannabis stocks and providing information to consumers so they can select the best marijuana strain for their requirements.
4. Seed-to-Sale Technology
Technology has transformed the marijuana industry for both producers and sellers. There are now many online retail sales systems for brick-and-mortar businesses that are now entering the marijuana market.
5. Real-Time Video Surveillance
Licensed businesses and micro-businesses selling cannabis must implement a video surveillance system to capture point-of-sale areas and locations where cannabis products are displayed for sale. They can employ digital video surveillance systems to efficiently monitor and record pictures of the area under observation at all times.
Is Owning A Cannabis Dispensary Profitable?
A cannabis dispensary can be a profitable business. While the license approval process, physical build-out, and compliance with regulations all take time and effort, there are reasons to be optimistic about operating a retail cannabis dispensary.
As per the MJBiz Marijuana Business Factbook, regulated cannabis sales in the United States will approach $15 billion in 2020, up roughly 40% from 2019. According to CNBC, average retail cannabis sales increased 52 to 130 percent from January to March 2020, mainly owing to COVID-19. All of these figures add up to a reason to cheer. It's logical to presume that dispensary sales figures are still going higher.
How Much Does It Cost To Start A Cannabis Dispensary?
Different methods of selling cannabis online are both practical and profitable. It's crucial to pick the ideal platform, have a strong brand presence, etc. The best way to start selling weed is to recognize and grasp the cost of developing a cannabis-growing app.
Licensing
The first step in starting a dispensary is to get a license. The licensing procedure is time-consuming and expensive, rangingfrom $5000 to $30000 depending on the area. Expect to undergo thorough background checks and pay a license fee.
Capital Requirements
Many people are scared off by the industry's financial needs, which are in addition to the licensing and perhaps legal expenses. Before giving you a license, several states need proof that you can pay the total cost (around $50k -$300k) of running a cannabis business.
Location
Finding a location for a cannabis business store isn't difficult, but it might be expensive. Finding a suitable site with foot traffic and parking for a cannabis business may cost hundreds of thousands of dollars each year. It's necessary to invest extra money to make the business more welcoming, attractive, and contemporary to keep customers coming back.
Platform for E-Commerce
Cannabis banking faces significant barriers for some, even though it is legal. For this and other reasons, not all eCommerce platforms are prepared to support cannabis sales. There are two good choices, fortunately. Its purpose is to make payments safe and simple for users. Select the most appropriate platform for all cannabis e-commerce requirements to get into the cannabis online market.
Staff Costs
The cannabis industry will require professional employees, which will be costly. You may expect to be paid $12 per hour. Human resources have always been necessary for the startup of any business, and a dispensary is no different. It would be helpful if you had a group of dedicated, experienced, and well-trained people ready to take the business from startup to conglomerate status.
Day-to-Day Costs & Smart Investments
An innovative cannabis business may save time and money elsewhere by investing early in marijuana technology that helps improve its operation. Investing in software and hardware, such as laptops, an integrated point-of-sale system, and a robust security system which will probably cost $25k, could save your business money in the long term.
Tips For Cannabis Entrepreneurs To Be Successful In The Cannabis Market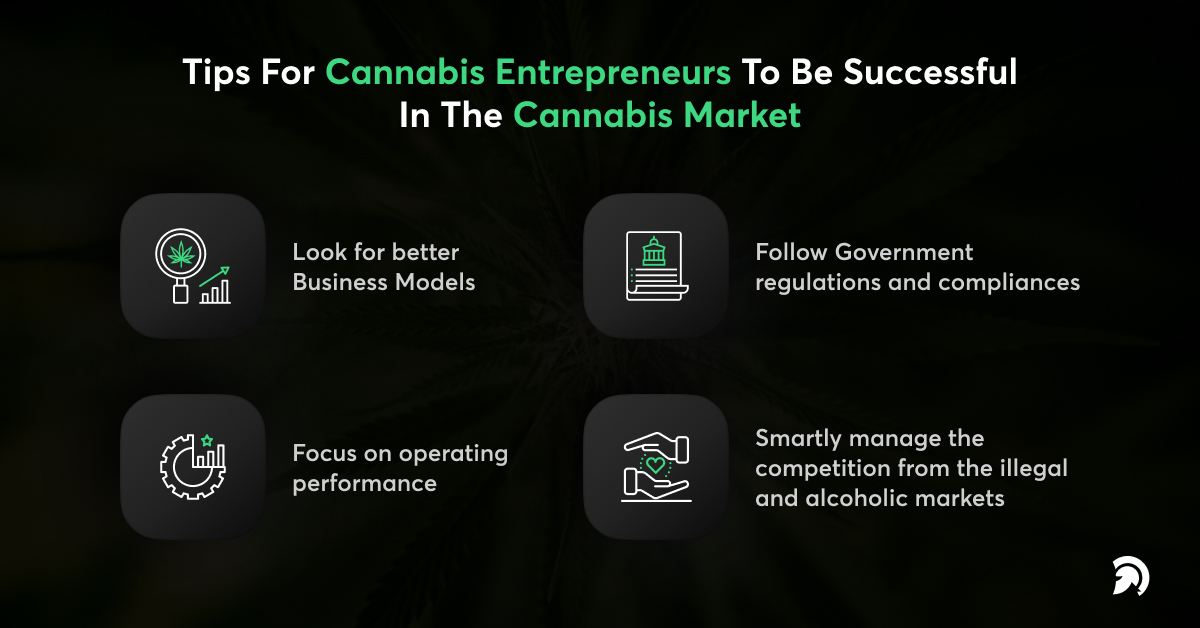 1. Look for better Business Models
In addition to supplying products, cannabis entrepreneurs are running a blog or YouTube channel to make cash. However, they must seek out new cannabis business models to get more outstanding outcomes.
2. Follow Government regulations and compliances
There's no arguing that one of the reasons for the lower development rate of various types of cannabis businesses is the set of laws and compliances enforced by governments. However, it is essential not to become discouraged by these rules and restrictions. Instead, establish their business procedures and ensure that everyone on the team knows the rules to ensure better results.

3. Smartly manage the competition from the illegal and alcoholic markets.
Illegal cannabis sales and alcoholic markets constantly threaten the sector. It is impossible to restrict and prohibit customers from participating in the cannabis industry growth. Anyone trying to establish or develop a marijuana delivery app business, on the other hand, can benefit from the following strategies:-
When you provide additional incentives or rewards to your consumers, they are more likely to stick with your brand and return more frequently.
One of the practical marijuana entrepreneur tips is to spread the word about your product/services and the potential benefits. When it comes to informing your target audience about the possible benefits of your cannabis business, one option is to create your app by collaborating with a reputable mobile app development service.
4. Focus on operating performance
Operational performance, believe it or not, is also a successful strategy to outperform the competitors in the Cannabis industry. As a result, while preparing their entry into this business, entrepreneurs should pay attention to the cannabis supply chain model and other similar aspects.
Ending Note
The cannabis industry has shown innovative ideas that have transformed how producers cultivate their crops and customers find and utilize cannabis products. While it's tough to predict what the next great thing will be, there is no doubt that cannabis innovation will continue to be a remarkable phenomenon delivering cannabis services in the coming years. You can get advice from experts at EvinceDev, one of the best marijuana tech companies, if you want to use this cutting-edge cannabis technology.