Getting new customers and receiving new orders is generally always the top priority for an online retailer. However, when you scale, systems and business procedures become less effective.
Countless numbers of simple & repetitive tasks can overwhelm you, including processing packages and fulfilling orders. Not only these, payments around the clock, making sure the correct products and stock are on the eCommerce website, and keeping up with marketing, customer service, evaluations, and other roles and responsibilities are also included.
As a result, you'll realize that putting out fires takes more time than expanding your business. So how can you manage things on track while finding extra time to work on bringing in new customers & orders?
eCommerce automation is a key and cutting-edge technology that business people should adopt among the different strategies to increase the success of digital selling.
This blog post explains how eCommerce automation may help you save time, which you might use to reduce costs and focus on what matters.
Understanding eCommerce Automation
Let's explore the term using its definitions:
Automation is a labor-saving technology that requires little to no human involvement to complete a task.
The software that assists your online business in turning most or all of the manual, repetitive activities into self-fulfilling, automated activities is known as eCommerce automation. In other words, rather than having to accomplish things manually, it enables you to do so automatically.
eCommerce automation can save you time, but you can still leave your team and yourself. Instead, it gives your team more time for customer interactions, innovation, and strategic planning—all of which will be more beneficial as your business grows.
How eCommerce Business Works
A process flow for eCommerce is a part of online retail solutions that should address. By mapping out your eCommerce operations, your business may identify vital aspects that need automation or change and ultimately enhance performance, maximizing sales prospects and maintaining cost efficiencies.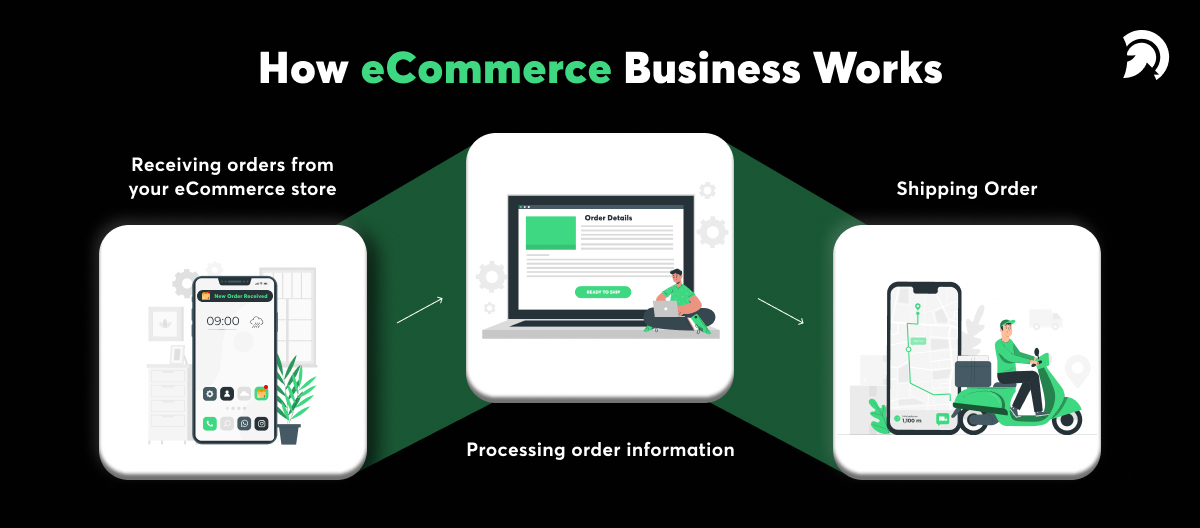 This article will show you to create an eCommerce process flow specific to your company's operations. You may also utilize a different spreadsheet for mapping eCommerce processes that specifies an automated eCommerce process flow as a jumping-off point for building your operations.
A typical eCommerce process flow includes the following key areas:
Receiving orders from your eCommerce store
Processing order information
Shipping Order
How Receiving Orders Works In eCommerce Without Automation
When a customer orders through your eCommerce system, the order information must be retrieved and placed into your business applications. Dealing with the information contained in a sales order may interfere with the business's intended goals.
Order processing costs can be higher, employee productivity decreases, and data processing blunders might occur.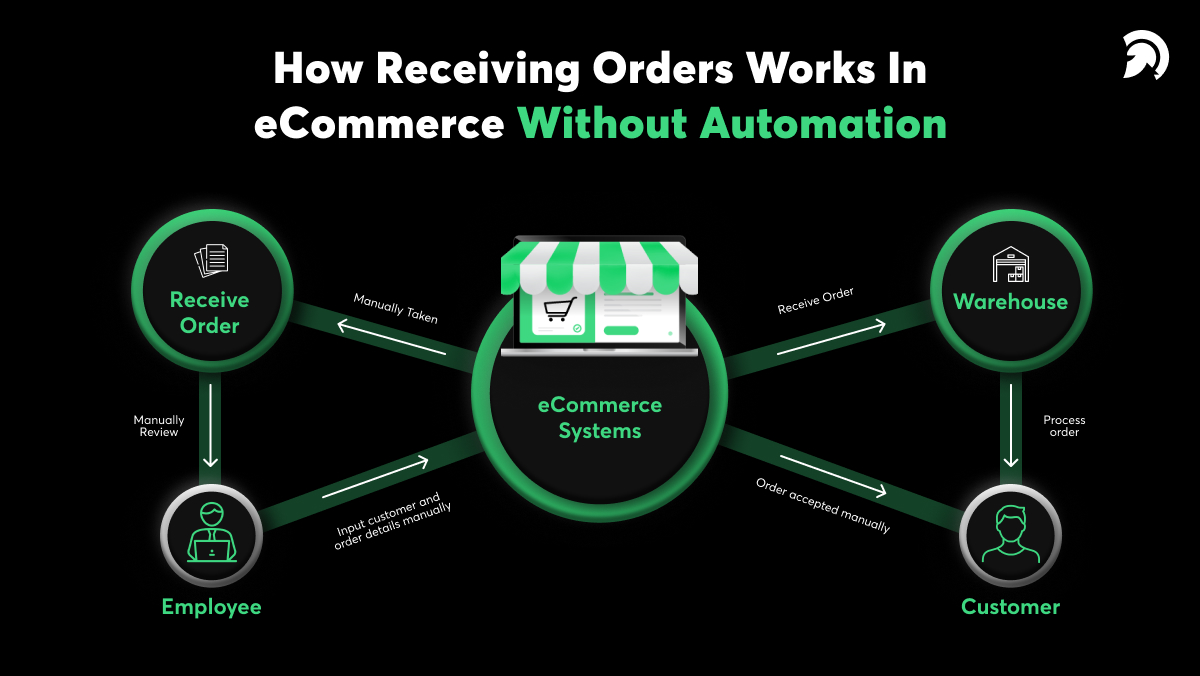 The procedure for receiving the order is described below.
The details for the sales order are manually taken from your eCommerce system. Customer data, product descriptions and IDs, payment information, and transaction ID are all examples of details.
An employee manually reviews sales order data, such as complete addresses, phone numbers, and the items requested, following your business rules.
Employee inputs customer and order information manually into your business application.
An order is manually created, sent by the employee, and then accepted by the customer.
Team members must contact the consumer to fix the problem if any oddities are found.
The employee might have to cancel the order manually if he needs help solving the problem.
The warehouse receives the order and processes it.
How Automation Can Work In Receiving Order Process
When you get a sales order from a customer, your order management process starts by collecting the data required to fulfill the order.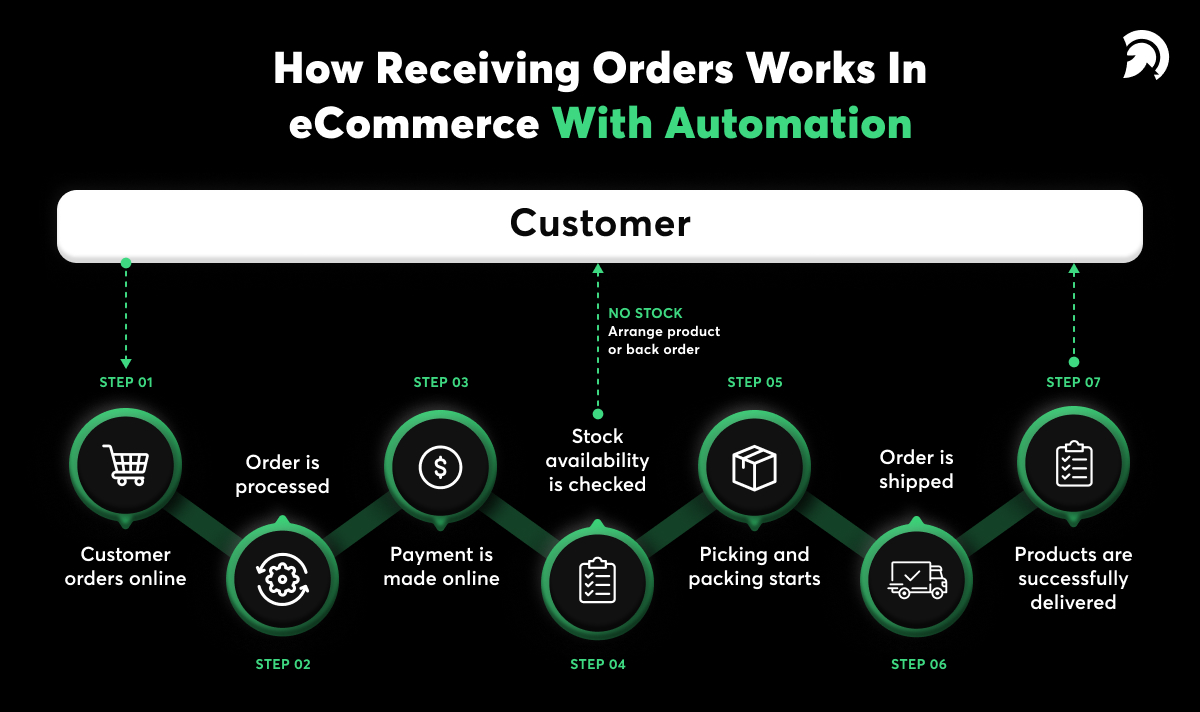 It is where eCommerce software can help you out. You have two options for saving your sales orders in the system when using integrated data collection:
You can make new sales orders, fill them out with information, and then save them in the database.
You may combine the system with your online store or marketplace to import your online orders automatically.
After importing online orders, the system will send the order details it received to customers so they can verify that the information is accurate. Once they confirm, it will send them an invoice to make payment. The automation tool offers quick and simple payment processing with several significant payment gateways, including PayPal.
Processing Orders Without Automation
When an order is validated and processed in your business application, it is sent to the warehouse for processing. Employees must manually validate the order against any pick list business rules (stock status, item location, etc.), generate, and print a pick list.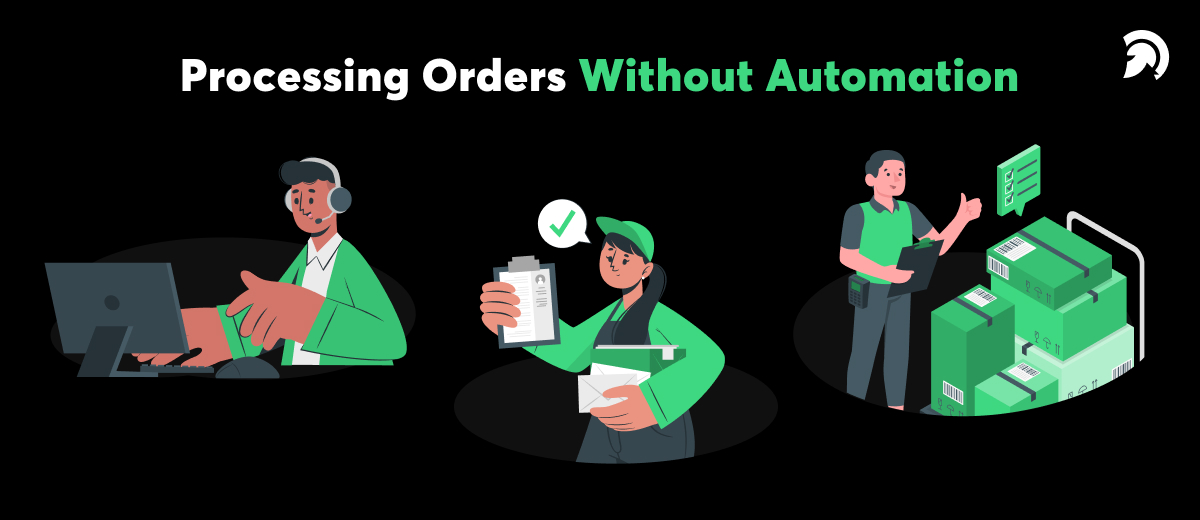 The order processing stages are listed below.
The employee reports an order that has to be handled at the warehouse.
A worker manually compares the order to the pick list's requirements, such as stock availability and item location in the warehouse.
A pick list is generated and printed by an employee.
The order is picked and packed if the products are available and in stock.
The order is now prepared for shipping.
Processing Orders With Automation
In this step, the automation system executes the customer's order. There are two steps in this stage:
Picking
The objective is to locate every product required for order in the warehouse, regardless of where it is kept.
Picking concurrently for many orders can be complicated and result in errors without automation. By leveraging the automation technique, you pick adequate quantities of the right products for each order while simultaneously selecting products for a few orders.
The automation tool creates comprehensive picklists, which include information on the items that must be picked for each order.
These picklists provide warehouse picking staff with enough details to ensure they pick the appropriate quantity of the right product for the proper orders from the correct location.
Faster packing
After picking all of the items for the sales order, packing is the next step of order fulfillment.
The automated tool helps you determine how to pack your products in the best possible way. The system first calculates the sizes of each item in order and the available boxes and containers, giving you the flexibility to select the ideal arrangement.
In addition, the automation creates package labels and packing slips automatically depending on the data you submitted for the order, which you can subsequently attach to your parcels. It can speed up the process efficiently.

Shipping Without Automation
Since all package information and courier information will be in your business software, an automated fulfillment process will eliminate the need for manual administration in this process. It will integrate your business's eCommerce systems and the courier service providers' solutions so they can communicate with one another.
You may automatically print shipping labels using an automated technology as well. An automated "dispatched" notification will be sent to the customer, and tracking information will automatically update with your business software.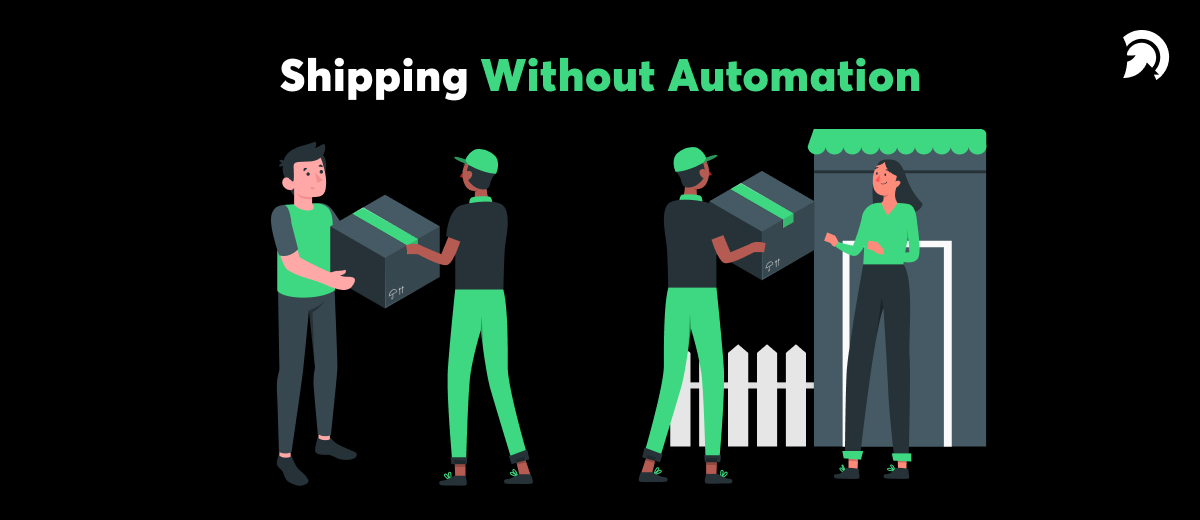 Below are the processes for shipping the order.
The employee inputs package information into your courier provider's system, including weight, size, and destination.
Employee prints delivery details and mailing labels.
The buyer received a shipping confirmation.
Employees may or may not add tracking numbers to their software.
A courier was given the order to do it.
Shipping With Automation
Shipping is the final stage of online orders. If the business provides shipping, it entails either sending orders directly to customers' addresses or collaborating with a third-party shipping company to have your products sent by them.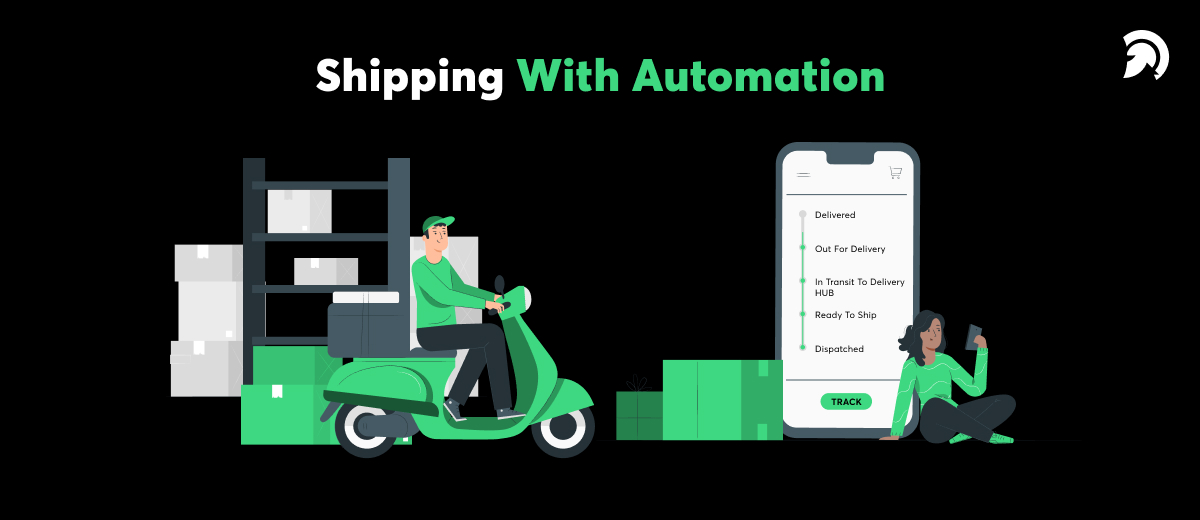 It may be necessary to precisely locate the package in different situations, such as when it is delivered after the estimated delivery date, lost, or delivered to the incorrect address.
That's where the automation tool is integrated to provide real-time shipment tracking. The system informs customers of estimated delivery dates and notifies them of real-time shipments via email or SMS.
An automated fulfillment process will eliminate the need for manual administration in this process, as all package information and courier information will be in your business software.
It will integrate your business's eCommerce systems and the courier service providers' solutions so they can communicate.
You may automatically print shipping labels using an automated technology as well. An automated "dispatched" notification will be sent to the customer, and tracking information will automatically update your business software.
Benefits of eCommerce Automation
eCommerce automation essentially improves customer experience (via segmentation and customized products) while enabling eCommerce companies to prioritize and find time for more important activities that require strategic thinking and interpersonal skills. eCommerce automation can benefit your company in many ways.
1. Time-saving
Your time is the most important asset as a store owner. And eCommerce automation is the secret to accomplishing more in less time by simply automating time-consuming operations like:
Publish/unpublish website content automatically (banner, blog, page, etc.)
Automatically cover and show products and catalogs.
Automatic product switching (price, visibility, purchasability, etc.).
Customer engagement and auto-segmentation.
Automatically notify team members.
2. eCommerce Businesses grow speedily
All business areas can benefit from automation, including marketing, sales, fulfillment, and customer service. It can assist you in correctly managing all these functions by organizing duties, optimizing processes, and classifying store data.
According to recent figures, eCommerce automation technologies allowed retailers to retain up to 30% of their financial and human resources while maintaining corporate growth targets (i.e., profit, revenue, customer acquisition, retention, etc.)
Additionally, spending less time on tedious, repetitive tasks frees time for crucial activities, including innovation, good judgment, and strategy, which are crucial for expanding your business.
3. Increase effectiveness of sales and marketing
Teams involved in eCommerce sales and marketing benefit the most from automation. For example:
You can use real-time consumer segmentation and interactivity to offer a customized customer experience.
Instant automated emails and message sequences responding to customer actions ensure a prompt response.
You can enable proactive and dynamic marketing efforts with scheduled marketing campaigns on a calendar.
Examples of eCommerce Automation Software
For your eCommerce company, there are numerous types of automation software that you can choose from them. The most often used eCommerce tools are:
Shopify
Shopify is the most well-known eCommerce platform, with many potent productivity apps in its App Store. Many of these, such as Arigato Automation, often known as "the software with a million uses," Shop Workflow Automation, and Stock Sync, are built for automation.
Shopify Flow
Shopify Pro offers an eCommerce automation suite, but there are better options than this (you'll need to generate more than $1 million yearly revenue to make it worthwhile).
It is workflow-based and makes it easy to create Automation within Shopify and other apps through simple integrations. You can copy and modify the automation templates in it to put things up quickly.
Customer experience, users, inventory and retailing, loyalty, orders, offers, and risk are the categories into which Shopify Flow automation templates are classified.
WooCommerce
You also have many automation options if you use WooCommerce to run your store on WordPress. Most of these are supported by the numerous extensions for WooCommerce, allowing you to enhance your WooCommerce site with outstanding features and integrations.
Other Automation Software To Integrate With Your eCommerce Platform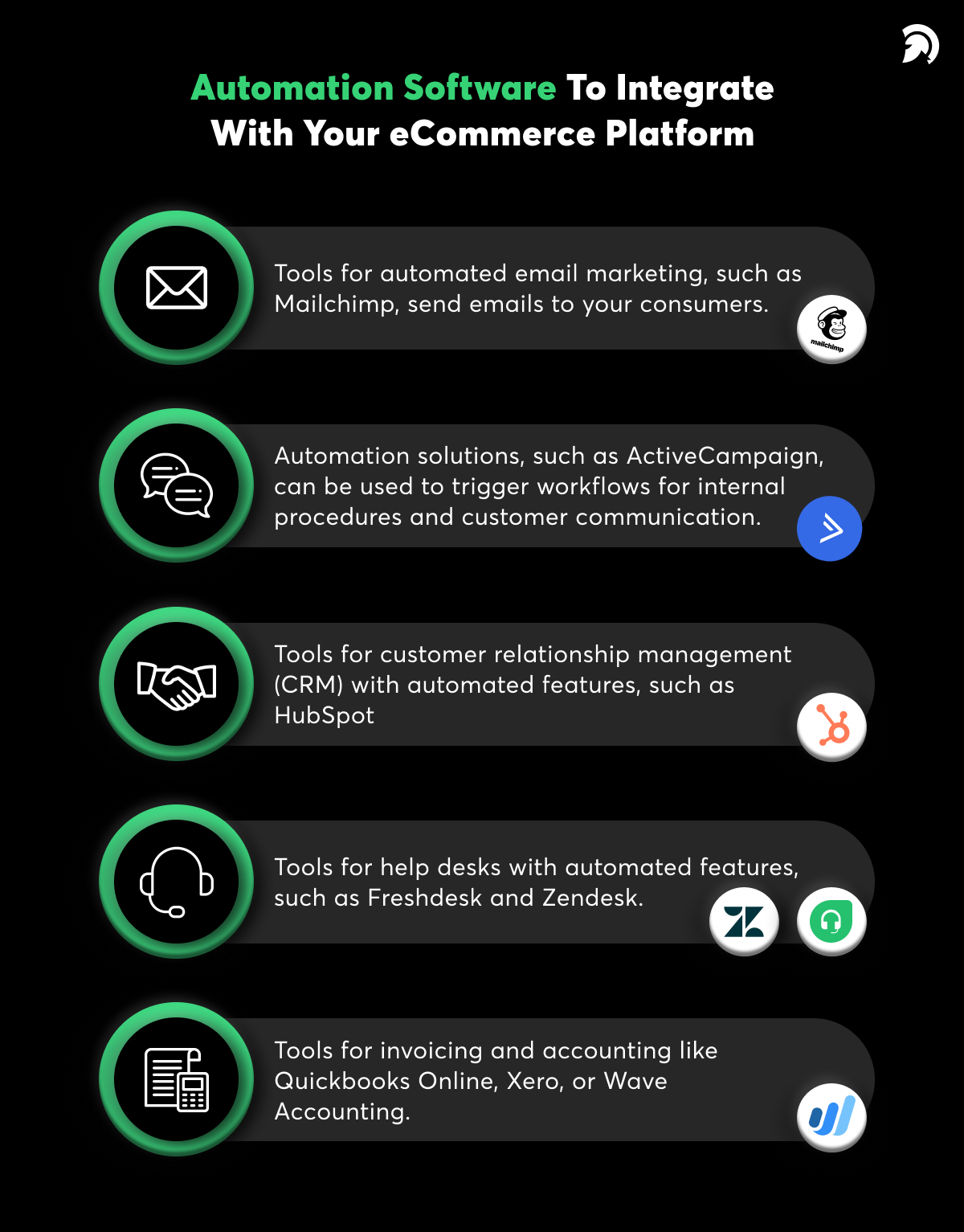 On top of your eCommerce platform, you may also use automation tools. For example:
Automate Your eCommerce Processes With EvinceDev
At EvinceDev, feels that every eCommerce business and retailer, whether large or small, should use automation to the greatest extent possible for one simple yet important reason: the more you automate, the more your business can grow.
You can save money and valuable time by automating some operations. Your business's operations become much quicker and more effective as a result, and it improves the efficiency of marketing and sales efforts. Automation allows you to concentrate on your company's most critical issues.
With EvinceDev's retail IT solutions, you can automate the distribution of eCommerce activity between your online store, courier service, and internal business software due to its customized integration & automation features.
To automate the eCommerce operations that will enable you to collect automatically, track, and deliver customers' sales orders, get in touch with eCommerce development experts to develop top-notch eCommerce Automation software.