Starting from social media platforms to web-based applications, customer services to personal assistance, chatbots have revolutionized the way companies interact with their customers. Whether it be maintaining 24*7 conversation or helping customers purchase the desired products, chatbots are the conversational agents that every business must-have. Some of the best chatbots in the market offer amazing services such as being a virtual companion for mental wellness & chatting with you all night if you're an insomniac. And this is one of the reasons why chatbots are considered as one of the most influential tech innovations in the past few years. 
[Image]
Too impatient to know the best chatbots of 2019? Scroll down and jump onto the list.
Want to know what chatbots are and how do they work? Well, then let's get started!
What are chatbots?
As the name suggests, a chatbot is artificial intelligence (AI) software which is capable of carrying out an automated conversation via a chat interface. It can communicate through texts, as well as through speech. In simple words, a chatbot is a Question-Answering system which is programmed to respond to your questions. Also, some of the best chatbots can ask, follow up questions when necessary.
Surprising fact: The first chatbot which was known as ELIZA was created in 1966 by a computer scientist named Joseph Weizenbaum.
How do chatbots work?
Step 1: User request
Here the user requests for the support. 
Step 2: User request analysis, identifying intent & extracting relevant entities
In this step, the user request is analyzed and the intent is identified.
For example, a user requests " I want to buy shoes of US size 7."
After analyzing the request, the intent is clear that the user wants to buy shoes and the entity here is that he needs a specific size that is US size 7. Identifying intent and extracting relevant entities is the most important and core steps of this process because if the chatbot fails here, providing the correct answer/solution will not be possible.
Step 3: Compose Reply
After step 2, the chatbot must now provide the most relevant response to the user request. The answer can be a predefined or a generic text or speech(known as talking bot). It can also be a piece of data based on the information provided by the user. The composition of the reply depends on the rules fed in the system as well as on the type of AI technology (i.e Machine Learning & Natural Language Processing) that is used in the chatbot.
 Below is an example of what Chatbots for the website looks like: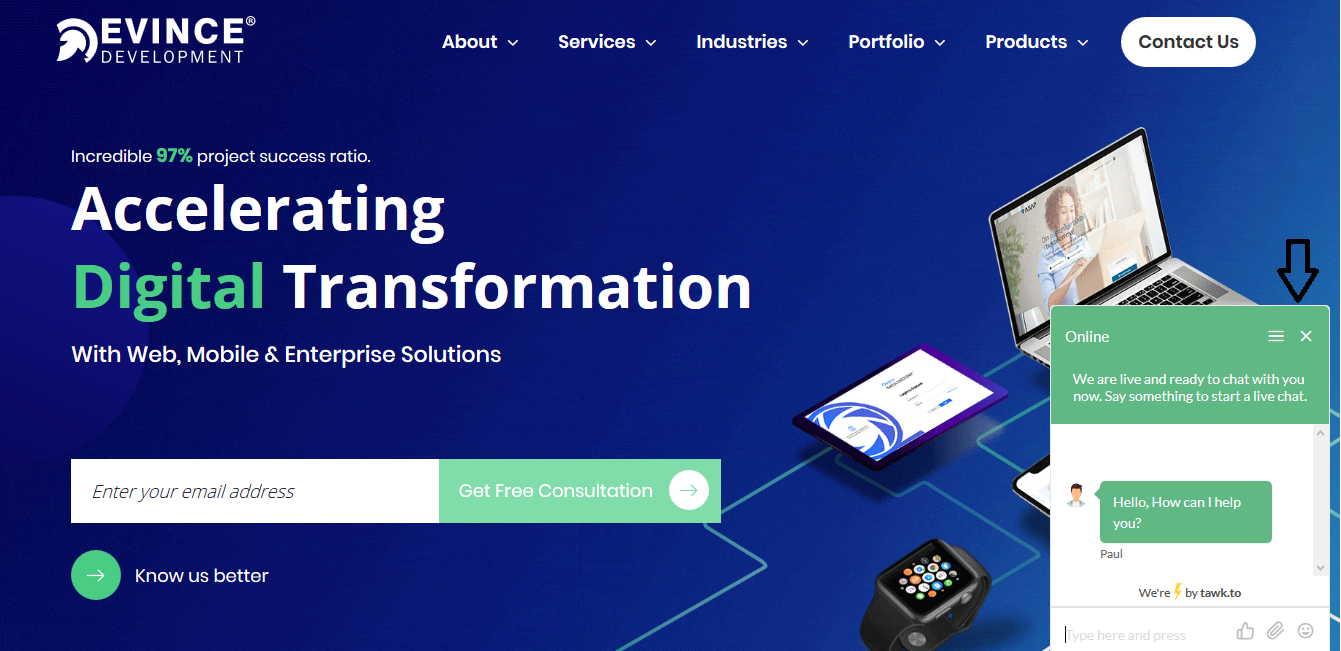 Image Source- EVINCE DEVELOPMENT
 Top 5 chatbots that are the best in their business.
In this era of technology where every other business has implemented chatbots, how can one tell that this chatbot is the best? 
Well, here are some of the qualities that the best chatbot should possess:
It should be user-focused. The focus should always be on learning about the users and hence delivering the seamless user experience.
It should be able to converse smoothly and retain data across every channel.

It should be emotionally intelligent, i.e it should be able to understand the tone of the conversation to deliver a personalized experience.
Apart from the above, features such as feel, compatibility, ratings, reviews, efficiency, and usefulness of the chatbots should also be kept in consideration. And based on these qualities and features, here is the list of best chatbots of 2019.
Insomnobot 3000
No matter how tired you are, there are some nights where falling asleep seems the hardest thing to do. Such times makes you realize that insomnia is real and as the clock strikes past 11 pm, loneliness starts to kick in too. As a solution to this problem, Casper designed a bot named Insomnobot 3000 to keep you company. What more is, this messenger bot is exclusively available from 11 pm to 5 am.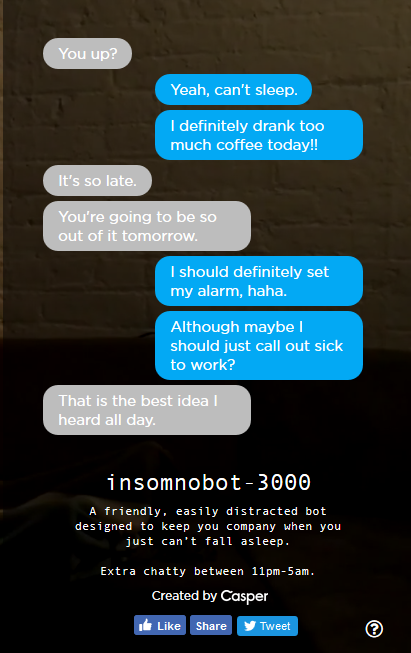 Wait, before you judge it saying that there might be a lot of advertisements selling mattress and pillows, this chatbot is so clever that it only brings it up occasionally. And that is one of the reasons why it made it to our best 5 chatbots.
Woebot 
With a 4.6 star rating on the app store, Woebot provides mental health support. This chatbot was founded by Alison Darcy who is a Clinical Research Psychologist and has 15 years of experience in developing health technology. Woebot is a cartoon robot that actively listens to what you have to say and responds with encouraging words and also fun GIFs.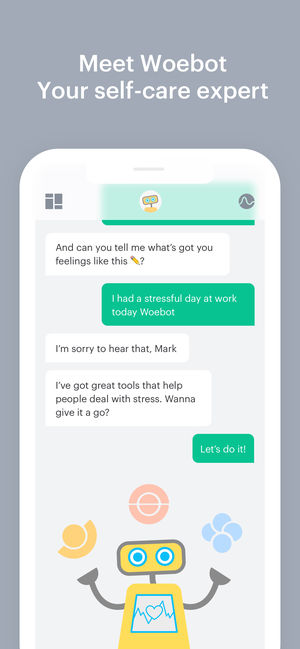 Though this chatbot is not created as a replacement for a licensed therapist, this chatbot is available 24*7 for those who need guidance or someone to chat with. 
DoNotPay
Worried about how to win small claims without hiring a lawyer? DoNotPay is here for your rescue and that too for free of charge! Believing the social media reviews, DoNotPay is one of the best chatbots of its kind.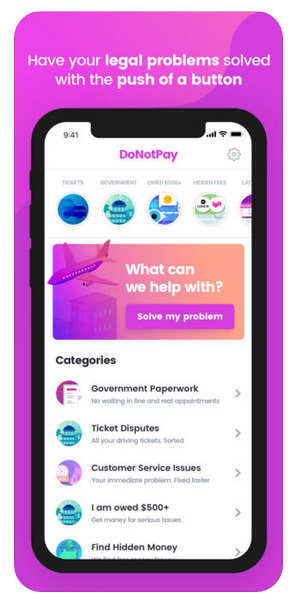 Though the website is still limited to only parking tickets appeal, its mobile application is empowering to settle other legal matters. And also not to forget, it is the first robot lawyer.
U-Report
U-Report is a bot on the facebook messenger app that allows you to speak out on child rights and other development issues. This chatbot can send alerts in the form of direct messages to the members and gather real-time response and map it on the website.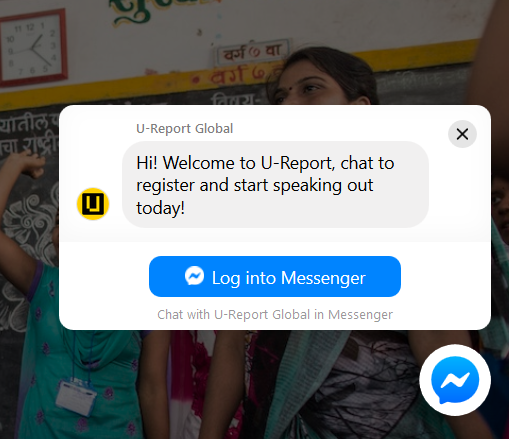 Though the functions of this chatbots are very limited, the impacts made by this bot were spectacular. It currently has 7,333,834 registered members and together they have spoken up about the issues that they are facing and how it can be solved.
Hipmunk
If you are someone who travels often, there is a very good chance that you might be familiar with Hipmunk's Hello Chatbot. It can be considered as one of the best AI Chatbots. From booking hotels, flights, rental cars to travel packages, you can rely on this chatbot for all the bookings necessary for your travel plans. This chatbot can assist you via mobile app, facebook messenger as well as Skype.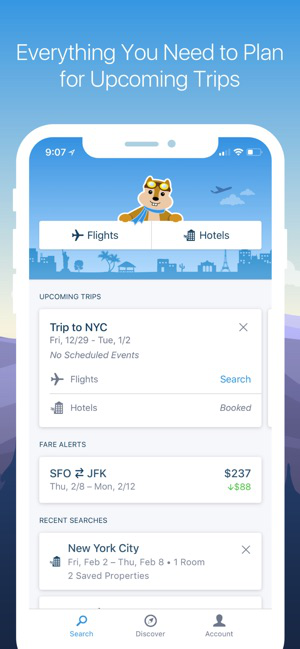 The users have given this app a rating of 4.8 stars along with many positive reviews. And oh, when you check this bot out, do try asking hipmunk to tell you a joke.
A chatbot that can help your business grow.
Want a chatbot for your business that has all the qualities & features that the best chatbot should have? We are here to help!
We at Evince Development are dedicated to providing you the best of AI bot development services, integration, and customization as per your business needs. From sales bots to helpdesk bots, we have implemented over 700 bots for different businesses. We can help you too by creating a customized chatbot that can help your business grow.
What makes us different from our competitors is that we believe in providing cost-effective services along with Stringent quality check & time-bound deliveries.
So, are you ready to take the big leap in your business? Visit our website and get your free consultation today! 
Wrapping it all up!
 As said by Schabenberger "Chatbot technology makes AI accessible to all of us, and it uses AI to do it", chatbots are here to stay. So, if own a business and haven't implemented a chatbot yet, it's high time that you get started with it. 
Confused on how to get started? Don't worry we are here to help. From sales bots to helpdesk bots, we have implemented over 700 bots for different businesses.
Also Read:
Is AI a Hot Solution for Web Development Company? 
How Artificial Intelligence is Transforming Web Development Processes.