The year is about to end, and Christmas is just around the corner. There is no other better way to celebrate the year-end by knowing that all your hard work has paid off in the form of recognition and title as the "Top eCommerce Developers in New York 2019".
Everyone knows the ball game. It takes perseverance, hard and smart work, dedication, discipline, and many other qualities to be on top. However, the difficult part is to remain at the top or keep winning back-to-back.
Courtesy and a heart whole of thank you to the late Mr. Vince Lomardi (a marvelous NFL coach) for summarizing 'the moment' and putting it into words. Here's how it goes – "Winning is not a sometime thing; it's an all the time thing. You don't win once in a while; you don't do things right once in a while; you do them right all of the time."
That latter part from the above excerpts – you don't do things right once in a while; you do them right all of the time – that's what makes winning a habit. Very wisely said, be it an army, a political party, or a business – the principles remain the same for winning.
Coming back to us, if we had missed on even an individual aspect of our Execution Approach, we wouldn't have been able to taste success either. But we didn't miss it! On the contrary, we nailed it. That made our clients leave the following reviews and provide us with 5-star ratings.
Review 1: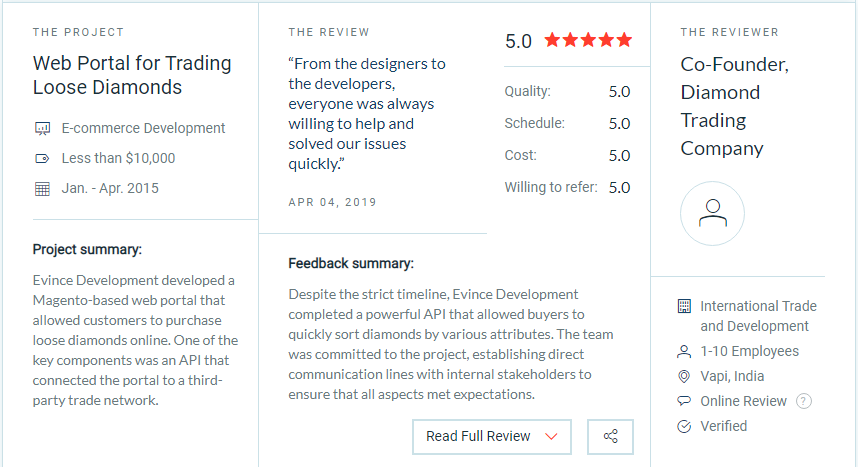 Review 2: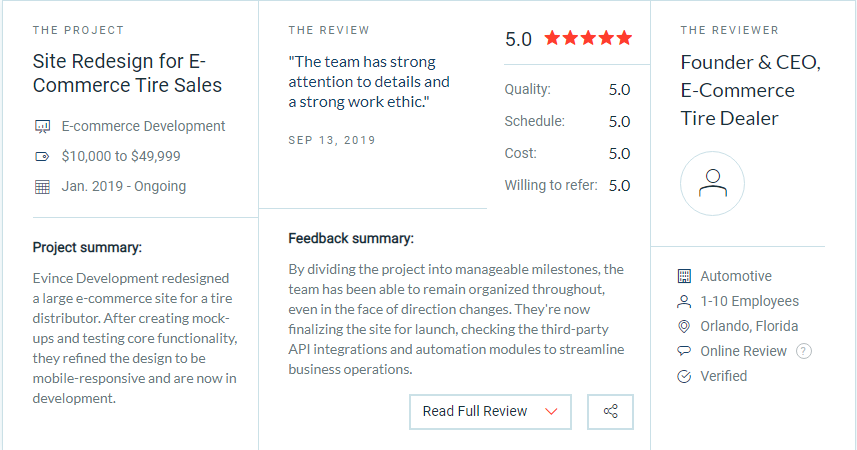 Review 3:
Such accolades in the form of wise words from our clients have made the top B2B research, ratings, and reviews firm – Clutch, named 'Evince Development' in the best mobile app, custom software & web development category for the 3rd consecutive year. Let's have a brief look at the awards & recognition received so far:
December 2017 – Clutch Global Leader
July 2018 – Top Web Developers
October 2018 – Earns Spot in Clutch's Report of Top NYC App Developers
December 2018 – Clutch Global Leader in Mobile App Development
May 2019 – Top eCommerce Developers in New York (by Manifest)
The competition is gigantic, and there are many business service providers. Hence Clutch certifies an agency based on various parameters such as service offered, work quality, verified client ratings & reviews brand reputation, etc.
Being in the industry, of course, web and mobile apps lie in our hearts, and our abilities are tested on many grounds, especially in delivering quality service with competitive cost. More importantly, since we follow the Hybrid Project Execution Methodology, which allows us to not only deliver the project as per the client's requirement but also lets us achieve a 97% project success ratio each time. (coming soon – How we did reach 97% project success?)
The sheer credit for all the efforts goes to the team members who made it possible to transform our dream into becoming an IT boutique shop powering a multispeciality growth engine. We are grateful to our clients and partners from across the globe for entrusting our ability, skills, and dedication.
Last, but not least, we are humbled by the word of recognition received in the form of quality reviews and also our gratitude to the Clutch team.
Wrapping Up
At Evince Development, though we will say goodbye to 2019 on a high note, we are also pledging to enter 2020 with the marching spirit of a truly Spartan Inspired Agency and stay true to our motto of: "Delivering Growth by Accelerating Digital Transformation."
Do connect with us if you are looking for a globally integrated digital innovation agency for your project/idea in the mobile app, custom software & web development category.