---
The public, private, government, and all the other entities have been affected due to the coronavirus pandemic. COVID-19 has enforced every enterprise across the globe to rethink the way they operate a business. One thing is sure the COVID-19 pandemic has certainly flashed the value of mobile businesses.
Hence, it is essential to know how effectively a mobile business can increase business revenue. Business owners should not only go with a mobile-first strategy but also keep the user-focus approach while offering their product and/or services online.
The impact of coronavirus seems to be lasting enough, with no end in sight. This leaves no other option for budding enterprises, startups & even established businesses to rely on mobile app development services. Many have opted to go conventional ways to give online identity to their business. Still, in a world where rapid advancements are happening, a few other companies have opted for on-demand app solutions.
Experience On-demand App Solutions
When it comes to delivering engaging user experience and appealing interface, undoubtedly, the traditional software development process yields good results; however, it is time-consuming. It is quite clear that today's generation is accessing digital platforms more than ever in every aspect.
In such a scenario, your app must be engaging & exciting enough to keep the user retained. Otherwise, users usually abandon the product in the first or mostly second week. Thus, ready-made app solutions are in demand these days amid lockdown. On-demand app solutions are helpful, proactive, and strategic enough, which would make your customers want to use the mobile app again. You can contact a top mobile app development company or ensure that your mobile app is developed with the following guided strategy points involved.
1) Understand Your Customers' needs
2) Set Clear Expectations
3) Demonstrate Value
4) Clear Communication
5) Create Customer-Centric Goals
6) Measure Your Success
Deliver Unique Customer-Centric Onboarding
With everything locked down, the current time is best for a startup, small or medium enterprise. If utilized properly, they can nurture & grow its relation with customers and develop a brand using mobile apps & digital solutions.
With your mobile app development solution, let the user get a complete experience in the world of your products & services offerings. Give your user a sense of achievement upon completion of each milestone. A seamless onboarding experience into your mobile app would mean for your app to be simple & easy to operate. More importantly, it should also focus on answering any queries that might arise.
Current Trends in Mobile App Development
The mobile app development industry has seen tremendous growth through the advent of advanced technologies. Mobile apps help enterprises create brand awareness, deliver personalized content, boost customer engagement, reduce costs, and increase sales. Let us glance over a few of these technologies such as AI, the Internet of Things, Blockchain, Cloud-based apps that are shaping industries like transport & logistics, Education, Retail, e-Commerce, and many more.
1) AI & Chatbots
Artificial Intelligence (AI) and Machine Learning have changed the perspective towards mobile app development. It has helped to reduce the expenditure for businesses as well as worked on user engagement at a great length. Business services such as online cab booking to shopping to food restaurant delivery are using mobile apps integrated with chatbots to respond to customers' queries instantly.
2) Internet of Things (IoT)
IoT integrated devices enable the exchange and transfer of data & information. Through smartphones, one can easily control these gadgets remotely. IoT enabled devices are powered to connect bands and other wearables to smartphones.
3) Cloud-based Mobile Apps
Cloud technology provides one of the best mobile app development services for budding enterprises thinking to deal with massive amounts of data in the near future. Cloud-based mobile apps are proven to increase productivity and collaboration. 
4) M-Commerce
Learning from the ongoing situation can only pin-point that mobile purchasing is going to be the new standard. Besides everything, the future of m-commerce looks promising as one can hire a team of mobile app developers to start working on the app idea quickly. Retail and e-commerce businesses encourage their customers to explore their online store as it is more convenient and comfortable without losing the touch of brand ambiance.   
5) Cross-platform Mobile App Development 
It is a mobile app development service that allows your mobile app to run on both major mobile platforms i.e., iOS & Android, with a single code base. It definitely reduces the time-to-market and development costs of the organization. Clients majorly prefer cross-platform mobile app development because of the following two: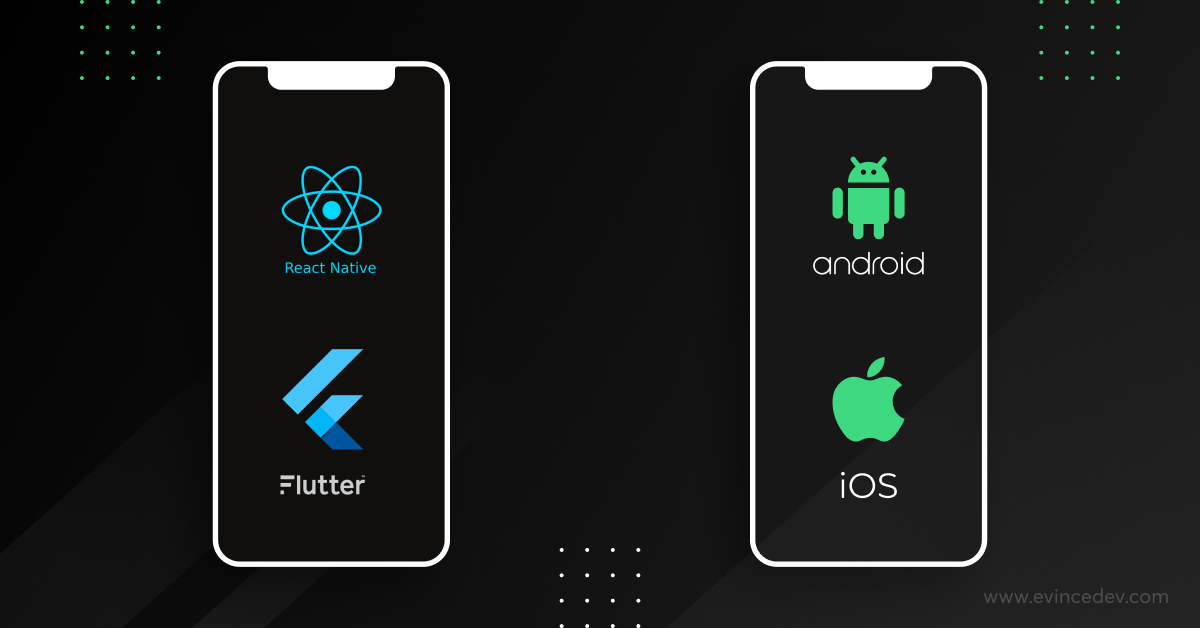 i) React Native App Development
ii) Flutter App Development
React Native is a popular app development platform known for its remarkable attributes. It offers benefits such as live & hot reloading, responsive & quick user interface, intuitive and modular architecture, and much more. It also helps a mobile application development company to deliver its clients an effective react native application development services with the fastest turnaround time. We help our clients with react web & mobile app development services starting from the right platform understanding to app migration to support & maintenance.
Additionally, Flutter app development services are for mobile, web, and desktop. The dart language lets your app function in an efficient way suitable for various platforms. If you quickly wish to get into the game of offering digital solutions, then a mobile app development service company can help you with the flutter app development. Mobile app developed with Flutter framework presents flexible UI, delivers high & agile performance, and helps you to provide quality to users & increase revenue.
Conclusion
Mobile app development services seem to be the only plausible way when we consider the possibility of returning to the usual at the end of this pandemic. However, amid the current lockdown, if you wish to give a head start to your business with a digital solution, then why wait! Know more about a digital solution that could accustom to your business brand and requirements.