"Cloud is the powerhouse that drives today's digital organizations," says Sid Nag, research vice president at Gartner! 
If you're considering migrating to the cloud, you're not alone. Many businesses are making the switch to cloud-based storage and applications. Nearly six out of ten companies moved their work to the cloud. And the trend doesn't seem to slow down anytime soon. 
According to Gartner, global spending on the cloud is expected to reach $494.7 billion in 2022. The number is further forecast to grow to $600 billion by 2023. 
But why are more and more companies migrating to the cloud? What are the benefits of cloud migration? And what cloud model is right for your business?
In this guide, we'll answer these questions and more. We'll discuss the benefits of cloud migration, including increased flexibility, scalability, and cost savings. We'll also explore the challenges you may face during the cloud migration process, such as its complexity and dependencies. 
So let's get started!
What is Cloud Migration?
Cloud Migration is the process of moving data, applications, and other IT resources from an on-premises environment to a cloud computing platform. Cloud migration is also about moving from one cloud service provider to another. 
The primary motivation for cloud migration is to improve business agility and efficiency while reducing costs. Additionally, migrating to the cloud can provide organizations with better security, availability, and performance.
However, cloud migration can be complex, requiring careful analysis, planning, and execution to ensure success. The best way to make things easier and increase your chances of success is by using cloud migration services. 
What are the Main Benefits of Migrating to the Cloud?
Cloud computing can significantly reduce your total cost of ownership (TCO), help leverage the latest features, increase flexibility, and deliver immediate business results.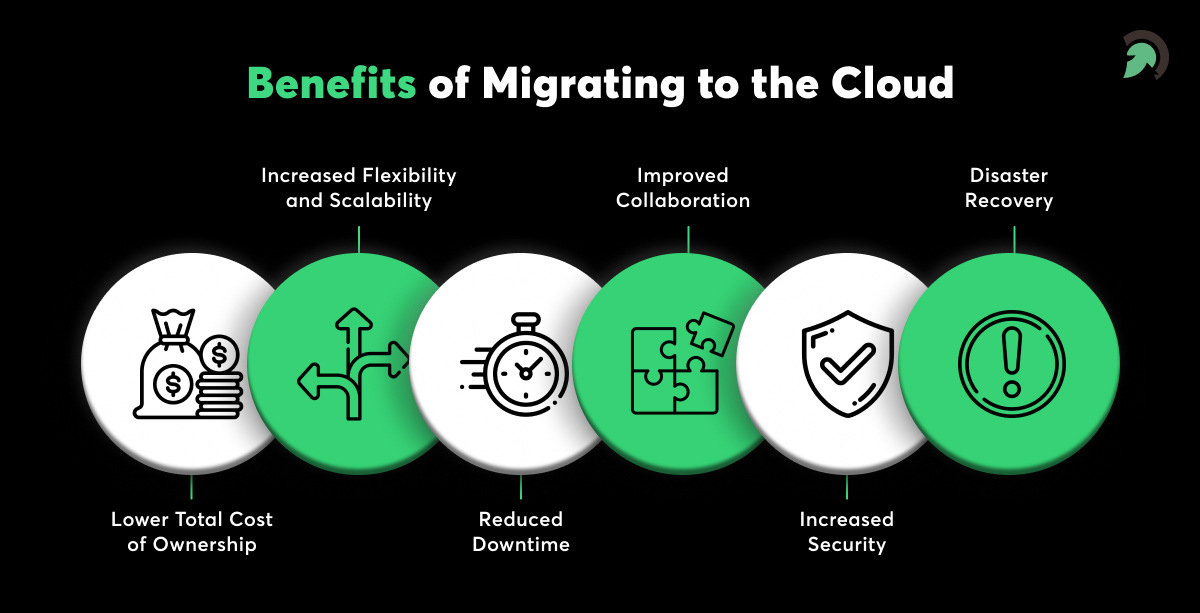 Let's look at these benefits in detail.
1. Lower Total Cost of Ownership
Cloud computing can help reduce a business's total cost of ownership in several ways. 
First, it can help reduce the need for on-premises hardware and infrastructure, which can be costly to purchase and maintain. 

Second, it can help reduce the time and money spent on IT maintenance and management. 

Third, with the pay-as-you-go pricing models, you only pay for the resources they use, leading to significant savings. 

Fourth, it can help improve employee productivity by providing access to the latest applications and data from anywhere.
Moreover, you can quickly migrate from one cloud provider to another with minimal investment. 
2. Increased Flexibility and Scalability
With cloud computing, you can access your files anywhere and anytime. This means that you don't need to carry a laptop, making it easier for you to move around and work on the go.
The cloud also allows you to collaborate with others on projects no matter where they are located. For example, suppose one team member is working remotely from home. In that case, they can access your shared documents online and complete their tasks without having physical access to your office space.
This allows companies to focus more on completing the tasks rather than thinking of ways to collaborate. 
Scalability is another key benefit of cloud computing. Because you're not dealing with physical infrastructure, you can easily add resources without worrying about the underlying hardware or infrastructure. Instead, you tell your cloud provider what you need, and they'll make it happen.
3. Reduced Downtime
Another great benefit of using the cloud is its ability to decrease downtime due to hardware failures or other issues related to managing physical infrastructure in-house. 
Cloud Service providers offer redundancy as part of their service offerings, so if something goes wrong with one server in their network, another one will take over without affecting customers' access to their data or applications hosted on those servers. 
Additionally, most cloud providers offer SLAs (service level agreements) that guarantee uptime for their clients' applications throughout the day and night.
4. Improved Collaboration
Cloud computing allows your organization to work more efficiently than ever before. You can connect with your team members, share information and collaborate in real time. Also, files stored in the cloud are always available on any device, which allows employees to access documents even if they aren't at their desks. 
This means employees don't need to travel back and forth between offices or meetings just for information that can be accessed remotely, saving time, money, and fuel emissions.
This improved collaboration leads to better productivity and higher employee satisfaction, which ultimately helps your business grow. 
5. Increased Security
Cloud services are inherently more secure than traditional IT environments. Cloud providers use various techniques and technologies to protect their infrastructure and stored data.
Here are some security measures cloud providers implement. 
Physical security:

Cloud providers usually have physical security systems, such as fences, cameras, and alarms. They also employ guards who monitor these systems 24 hours a day.

Access controls:

Cloud providers use access controls to prevent unauthorized users from accessing sensitive data or areas where VMs are stored. For example, they may require you to provide two-factor authentication before allowing access to your account.

Data encryption:

It ensures that even if someone gains access to your account, they won't be able to read any of your files without the decryption key. Some providers may even encrypt data before it's sent over the network from your computer or device.

Access control lists:

ACLs ensure that only authorized users can access data in a given bucket or directory tree.

Tokenization:

It replaces sensitive data with a non-sensitive equivalent called a token. Tokens can be stored in place of real data in databases or transmission channels, making them more secure against theft or unauthorized use by hackers. 
6. Disaster Recovery
Cloud providers are increasingly offering disaster recovery services. These range from simple backup and restore services to high-availability systems that can withstand multiple failures.
Cloud providers typically have multiple data centers located across the world. If your primary data center goes offline due to an outage or other reasons, the cloud provider will automatically transfer your workload to one of their other facilities. 
The cloud provider also offers backup services that can be used to protect against data loss in case of an unexpected failure.
What are Common Cloud Migration Challenges?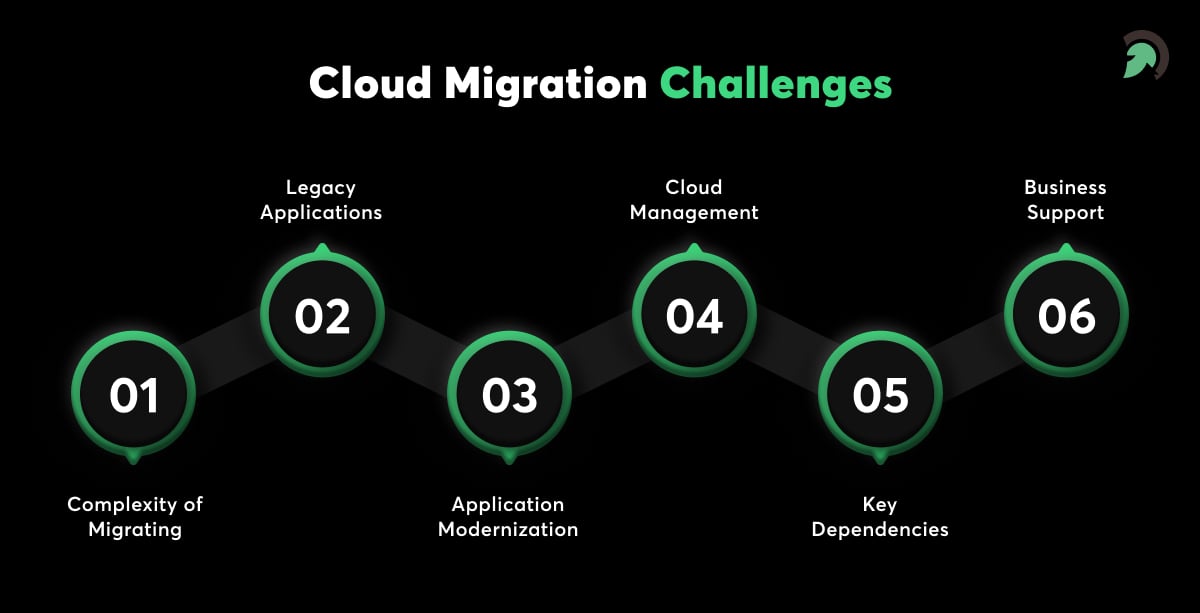 The most common cloud migration challenges are the complexity of migrating, how to deal with legacy systems, application modernization, and management. Your cloud migration strategy must involve plans to solve these challenges. 
1. Complexity of Migrating
The complexity of migrating is a major challenge during transitioning to the cloud. First, you must move your data, applications, and systems to the cloud. You also must ensure that your apps continue working as expected while in the cloud.
This can be daunting if you don't have the right tools in place. So here are five tips to ease your migration process:
Start small:

Don't try to migrate everything at once; start with some smaller projects first, so you can get used to using the new tools and processes. This will help you identify any issues before they become big problems.

Get help from experts:

Your IT department should be able to help with your migration project. However, hiring an outside consultant would be more feasible if they don't have experience moving applications into the cloud.

Be realistic about timelines:

It is essential to set a realistic timeline for the migration. For example, it can take 6-24 months to set up complex servers and configure cloud-native services. 
2. Legacy Applications (and What to Do With Them)
There are a few different options for dealing with legacy applications when migrating to the cloud. 
One option is to leave the legacy applications behind and focus on migrating the new applications to the cloud. Another option is to migrate the legacy applications to the cloud, which can be challenging but worth it in the long run. 
Some companies keep a mix of legacy and cloud-based applications, which can be an excellent way to transition to the cloud while maintaining some control over legacy applications.
3. Application Modernization
Many organizations have legacy applications not designed for the cloud and may not be compatible with cloud-based infrastructure. Therefore, application modernization requires much upfront work before you can use new platforms and services. For example:
You need to create APIs that allow applications to talk to each other and share data on different systems; this often requires new software development kits (SDKs).

You must devise a strategy for converting old code into modern languages such as Java or C++. This includes rewriting old code into object-oriented programming languages and rethinking how it interacts with other systems within your organization.

You need to figure out what parts of your existing infrastructure can be reused in a new environment (for example, can your current database be used with a new cloud provider?)
4. Cloud Management
Cloud management refers to monitoring, managing, and optimizing the performance of applications in public clouds. It includes monitoring, alerting, and automation of cloud services, as well as service discovery and load balancing.  
However, as with any new technology, there are challenges in implementing cloud management. Here are some of the top challenges:
Clouds are complex environments that require expertise to manage effectively.

Cloud providers offer different management capabilities, making it challenging to choose the right one for your organization.

The cloud is constantly evolving and changing, so you must regularly update your knowledge.
5. Key Dependencies
Cloud migration can be a complex process with many potential dependencies. Data type and format, application compatibility, security and compliance, and infrastructure are key dependencies. Understanding these dependencies is critical to ensure a successful cloud migration.
6. Business Support
There are many reasons why business support can be a challenge for cloud migration. One reason is that businesses may be hesitant to move to the cloud because they are unfamiliar with it and may not understand how it works. 
Another reason is many CIOs are concerned about data security in the cloud. They may also be worried about the costs associated with migrating to the cloud. 
And unless there is management buy-in, things can quickly go down south!
Case Studies on Companies That Migrated to the Cloud 
Now that you know what cloud migration is, its benefits, and its challenges, let's look at some companies that migrated to the cloud.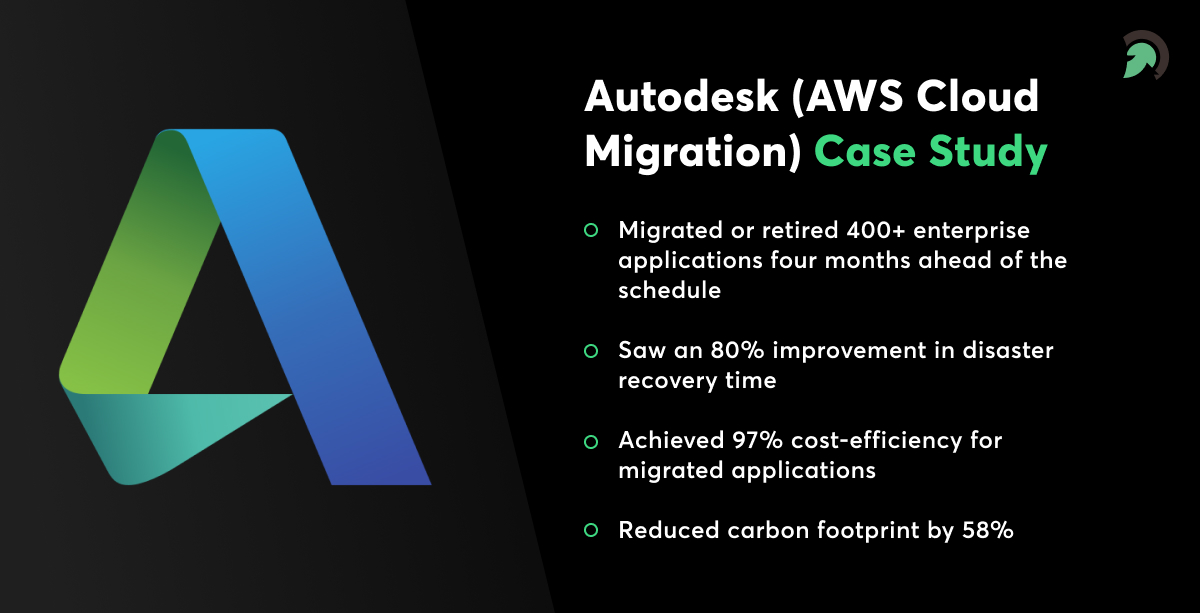 A leader in 3D design, engineering, and entertainment software, Autodesk wanted to increase the efficiency of its legacy applications, reduce costs, and minimize its carbon footprint. 
And they chose AWS cloud migration for it. 
How did they do it?
Their cloud migration strategy included identifying the systems they need to retire and migrate without disrupting the business processes. 

The next step involved upskilling employees in the migration process, so they understand cloud computing. 

Lastly, they created a set of goals and targets to be achieved and formed multiple teams of 6-8 people. These teams worked independently to manage their assigned application migrations and meet the goals.  
Result?
Migrated or retired 400+ enterprise applications four months ahead of the schedule
Saw an 80% improvement in disaster recovery time
Achieved 97% cost-efficiency for migrated applications
Reduced carbon footprint by 58%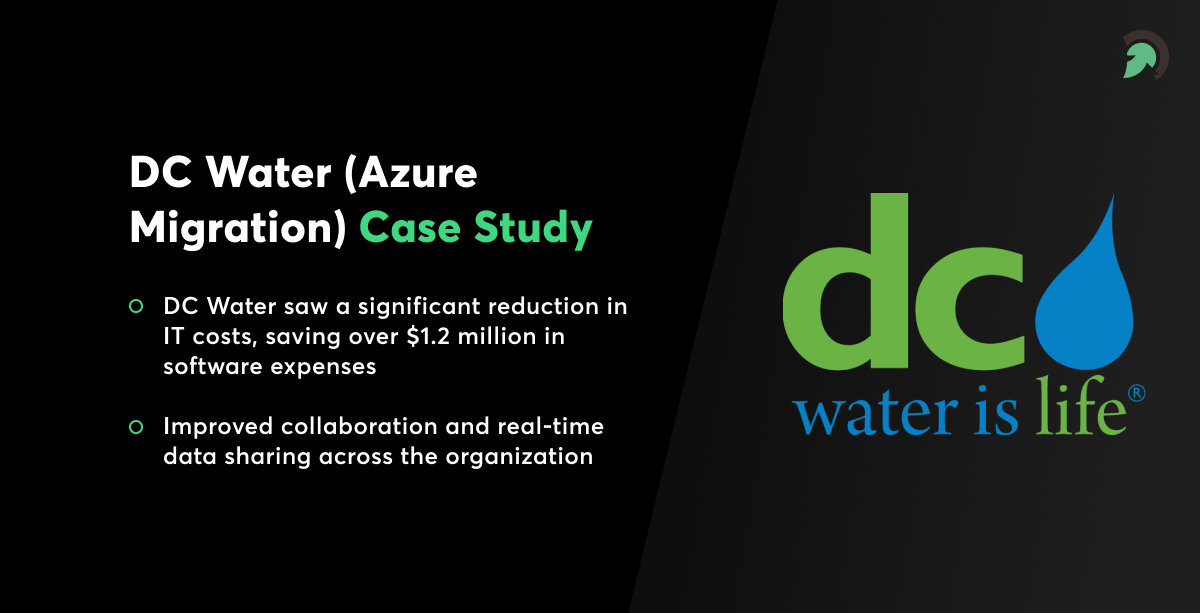 DC Water started its cloud journey in 2010 with its Director of IT Infrastructure, Joe Edwards setting a goal to reduce its data center footprint. And as COVID-19 impacted business processes, the need for cloud migration increased rapidly.  
How did they do it?
They started in 2010, moving one application to the cloud each year.

They worked with a Microsoft Azure Migration Partner during COVID-19 to speed up the process and bring innovation to the agency. 
Result?
DC Water saw a significant reduction in IT costs, saving over $1.2 million in software expenses

Improved collaboration and real-time data sharing across the organization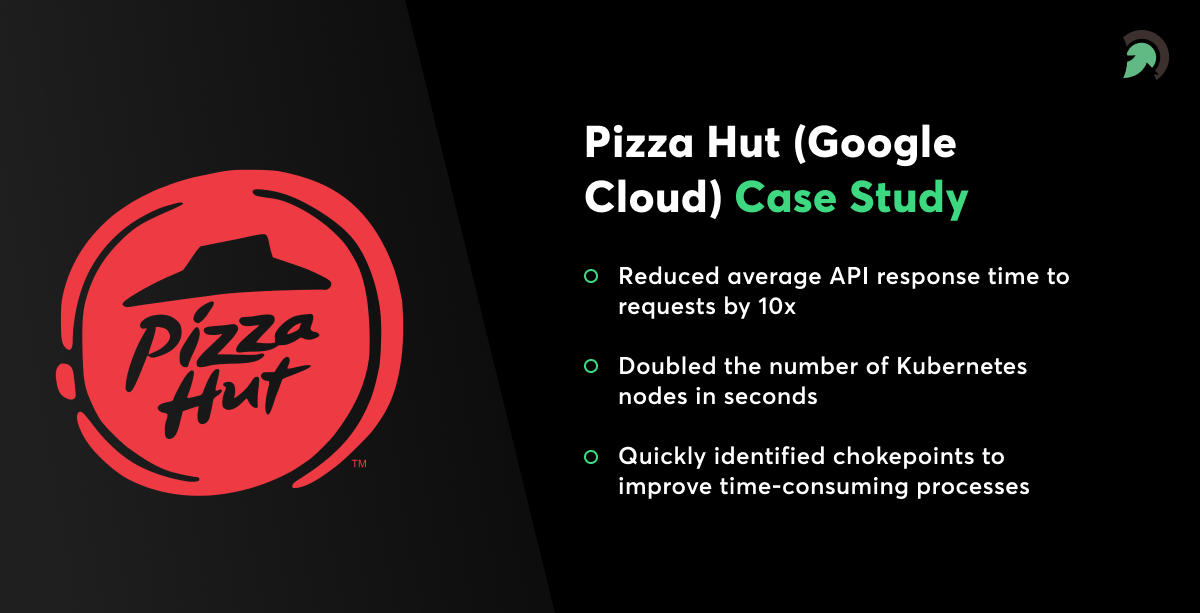 Pizza Hut is one of the world's biggest fast-food chains. With rising competition, Pizza Hut needs to serve customers where and when they want to eat. Also, 53% of restaurant orders come online, meaning the company needs to be agile and leverage new technologies to scale. As a result, the team at Pizza Hut identified Google Cloud as the best solution for their requirements.
How did they do it?
Pizza Hut partnered with Google to help them migrate to the cloud. 

The cloud migration process at Pizza Hut involved identifying the necessary services for each process. For example, Cloud Datastore to manage mobile apps and web databases, Apigee API platform for public, high-volume APIs, and Cloud Load Balancing to distribute computing resources.

They then started migrating their back-end services into a microservice-oriented environment. 
Result?
Reduced average API response time to requests by 10x
Doubled the number of Kubernetes nodes in seconds

Quickly identified chokepoints to improve time-consuming processes
Ready to Migrate to the Cloud? 
Now that you're ready to migrate to the cloud (at least, we hope so), we're here to help. Evince Dev offers cloud migration services in the USA and can assist you in migrating to the cloud platform of your choice (Azure, AWS, or Google Cloud). 
EvinceDev is also a Microsoft Gold Certified Partner. This means you're in good hands! So, what are you waiting for? Contact us now!
Conclusion
Cloud migration services can offer businesses many benefits, including increased agility, scalability, and cost savings. However, you must also consider its challenges, such as complexity and application modernization issues. The best cloud model for your business will depend on your specific needs and requirements.
Let's connect so we can discuss your requirements and identify the best solution for your business.