Due to the market instability and the rise of hundreds of small-scale IT companies, entrepreneurial spirit in the software development sector is highly competitive. To secure a competitive edge and decrease time to market, business owners have turned to different web design alliances, including white label reseller partner programs. By participating in these initiatives, software development companies may save money on development and get a head start in their respective fields.
What is a white label reseller program?
The white-label reseller program allows a white-label partner to sell the software provider's products or services under their brand name. To be more specific, white-label software lacks the original developer's logo or branding, allowing the white-label partner to sell the software to customers under its own or the client's brand name. The same is true for white-label services, in which the customer receives a bill with the brand name of the white-label partner.
Any software development firm can join a white-label program and become a white-label partner for a fixed time. As a white-label, though, the business must adhere to the terms and conditions of the actual development firm.
Benefits Of White Label Business Opportunities
Participating in a white label reseller program has several advantages and is a cost-effective solution for many software development companies.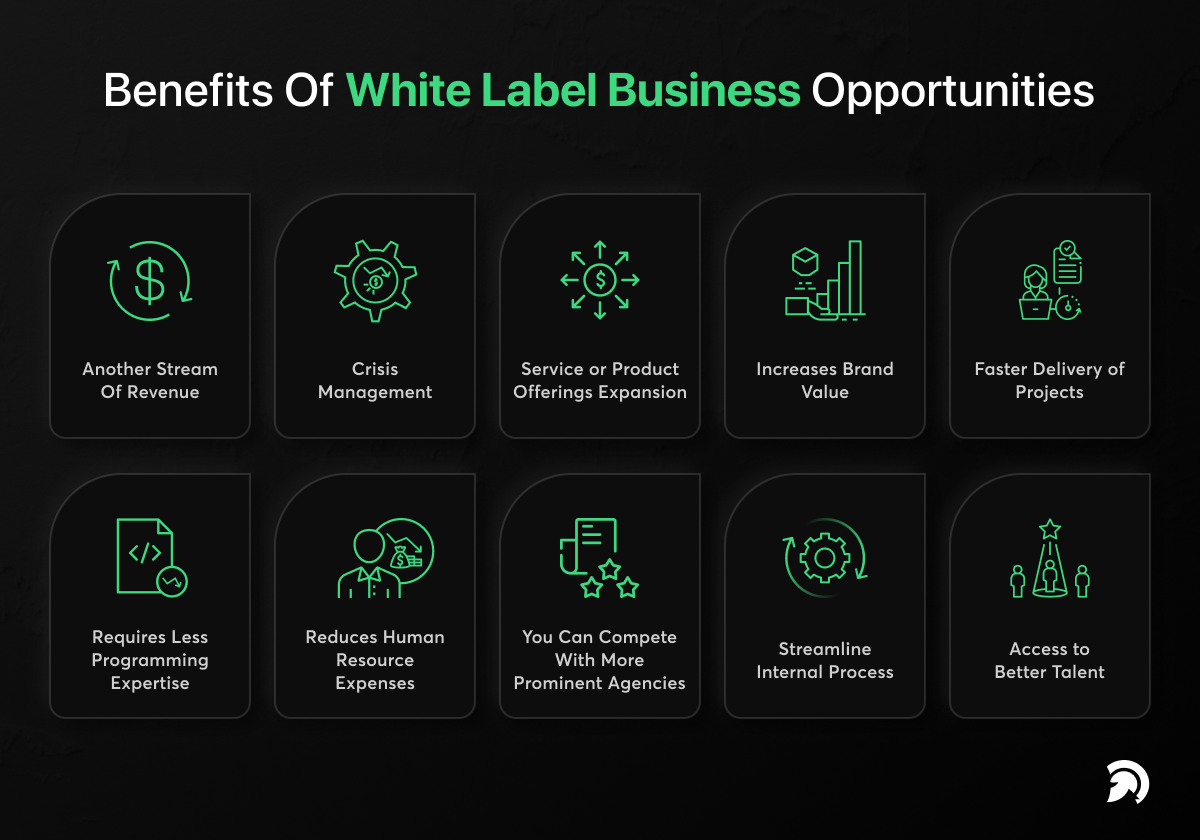 Another Stream Of Revenue
White labeling specialized services generate extra revenue streams for a firm and save money and time finding additional and qualified workers. In addition, the end-user, the target customer, is happy with the agency's services since these professional and high-quality white label services are marketed under the agency's brand.
You Can Compete With More Prominent Agencies
A smaller agency risks losing business to more extensive, diverse marketing firms if it fails to hire new people to provide the services that businesses have grown to demand from a full-service marketing company.
It's a significant boon if white labeling services are a win-win scenario. Instead of making huge recruiting mistakes that cost a small agency a lot of money or outsourcing marketing responsibilities to an unreliable freelancer, employing Whitelabel agency services allows you to do something different.
Service or Product Offerings Expansion
IT companies may avoid the development phase but have access to a wide selection of software to integrate into their service offerings and sell forward through a white label reseller program. As a result, customers will be impressed with a superior service offering, and you will stand out in your field.
Increases Brand Value
It offers businesses a competitive edge and increases their brand value in the industry. Furthermore, the white label business model assures that the white-label partner can satisfy the client's particular needs and offer a high-quality product.
Faster Delivery of Projects
White-label solutions help software development companies deliver projects faster with the concept of shared work. The project's whole development process is removed, and the white label partner is still in charge of customer interactions and relaying the client's needs to the white label provider.
Requires Less Programming Expertise
When complex project requirements arise, startups, SMBs, and numerous medium-sized companies feel compelled to engage in technical skills. They do so because large-scale initiatives are critical for corporate growth, and rejecting them may be costly. However, in many cases, especially in impoverished countries, the requisite knowledge for these initiatives is out of reach.
Reduces Human Resource Expenses
Too many hiring requests have overloaded human resource management. Entering a white label reseller program looks more profitable and convenient for SMBs when you consider the cost of recruiting, the duration of the hiring process, and the possibility of rejection. The application not only lowers human resource costs but also reduces workload.
Great Resignation Crisis Management
Developers leave the firm midway through a project or quit their jobs. This phenomenon is known as the Great Resignation, and it has caused significant resource shortages in projects. Best white label reseller programs aid in the resolution of such issues by allowing businesses to lessen their burden by outsourcing projects to a white label development firm.
Streamline Internal Process
Unless a company follows conventional development standards, it is challenging to keep up with inefficient internal processes, resulting in redundancy and wasted time. By outsourcing multiple interdependent developments and testing methods, white label reseller programs may get company departments on the same page. They make it simple to manage and track the remaining internal procedures.
Access to Better Talent
It is challenging to recruit qualified employees for startups and small businesses in human resources. As a result, to satisfy the complex software development needs, software development organizations recruit remote developers. The right talent is not present fresh in other circumstances, resulting in additional talent search challenges. Joining a white label program to solve these issues is quite beneficial.

Who Should Join The White-Label Reseller Program?
White label services are generally employed by businesses that wish to give more services to their consumers or businesses with a specific request. Sometimes a company's business model is based on offering white label software solutions.
1. Organizations That Want to Meet All Client Requests
When white labeling is utilized to satisfy specific client needs, it is another example of when it is functional. For example, assume you're a content business, and a customer approaches you with the request to create a series of YouTube explanation videos for them. While you may decline the request, you would lose out on income, and it also has the potential to upset the client.
2. Agencies That Want to Provide More Services to Customers
Agencies that want to give more services to their consumers use white labeling. So because the agency has already completed the difficult task of acquiring the customer, it may increase income by providing other services.
3. White Label service or product-based business
It's also viable to start a business solely dedicated to white label reselling SaaS solutions. It might be a good option if you have excellent sales abilities and contacts but want to focus on the growth side. Several white labellers provide 'agency in a box' services that handle practically everything for you.
Which is Easy : White Label Solution or Setting Up Your Own?
If you're a business owner with a dilemma, your first reaction could be to try do-it-yourself options. However, providing a customized solution from scratch to fit the exact demands of your business might be a recipe for failure in many circumstances.
If you choose a white label solution, it may avoid such difficulties instead of developing one from scratch. A "white label" service or product is manufactured by one firm but sold by another—the latter firm purchases white-label items and services that are not branded. Customers will be able to link the product with the reseller if the reseller customizes it with their brand, logo, and identity.
Parameters To Check Before Joining Any White Label Partnership Program
Several issues arise, including a lack of good communication from the white label company and a failure to deliver your work promptly. When choosing your white label reseller program, consider the following parameters to avoid these issues.
The profit margin of the partner is constrained by the price ceiling set by white label vendors. Some white label companies impose pricing restrictions for various reasons, including retaining tiered collaborations. It means that partners can't market a product or service for less than the tier's specified price category, and they have to stick to the price cap exceptionally closely.
Range of Product/Service Offerings
The more product and service options you have in your white label program, the better your value proposition will be. You may go to the white label company for various professions with more options and get them completed on time. To put it another way, entering a white label reseller program with numerous products is the same as joining many white label programs without the headache of adhering to each partner's unique rules.
Every project's backbone is its software documentation. It contains more than boarding documents, including database documentation, debugging information, installation tutorials, software prerequisites. Essentially, having documentation reduces your dependency on the white label provider.
The reseller partner should verify if the white label partner program includes tech assistance. Although some white label businesses charge for it (you'll have to charge your clients to offset the expenses), others offer limited tech assistance for free. However, due to its extensive expertise in the product, the white label service provider should generally assist.
Depending on his tier, white-label suppliers might have varied delivery frames for every partner. The partner would have to sell more to climb up this tier. However, until then, the white label supplier may place a low emphasis on the execution of his projects. As a result, go over the terms and conditions to verify that the white label program has an appropriate delivery time. The same may be said regarding shipping and any adjustments and customer service.
A white label reseller program might provide various services and products. The program will not be lucrative if the included services are not in great demand or if the software supplied is of poor quality, efficiency, or functionalities. As a result, there's no use in participating in the white label program if the offers aren't excellent or agile or if they don't satisfy your clients' needs. Instead, request a one-on-one product demo from white label companies to ensure the software's functioning and quality.
Both software user and reseller partner reviews are other appropriate critical things to consider when choosing a white label application. Since many businesses sign an NDA with a white-label supplier, finding partner reviews will be hard. NDAs are also incorporated in the program's terms & conditions to shield the source of development from the clientele and competitors of the partner firm.
How to find a reliable IT Partner? Consider the company's reputation in the industry when making your white label service provider decision. Can they deliver on time? Are they communicating clearly with you or your customers about their deadlines and project status? Will they "ghost" you in the middle of the project, leaving you with incomplete work? 
Cross-check with a third-party source to see whether they are reliable. You can find client reviews on Google reviews, social networking sites, and third-party websites. The company's present and existing clients' reviews and feedback will be an excellent approach for understanding their services. 
Ending Note
Participating in a white label reseller program is beneficial for businesses because of the advantages mentioned above. To summarize all of the advantages in one line, white label programs help to focus on business objectives while delegating complex development errands. However, the white label reseller relationship will likely take time to generate the desired profit.
At EvinceDev, we provide white label services, including eCommerce development, mobile app development, full-stack development, and products like All Eatance Restaurant Ordering System, Eatance Grocery Delivery, Eatance Pharmacy Delivery App, NearByYou, and more. You may speak with one of our industry specialists to schedule one-on-one product demonstrations and address any doubts you may have.