Ecommerce is one of the fastest-growing industries in the world right now. It is estimated that there will be more than 2.14 billion global digital buyers in 2021.
In the last few years, mCommerce has seen rapid growth, thanks to the increase in smartphone adoption. mCommerce sales are expected to make up 72.9% of all eCommerce sales by the end of 2021. Besides, 90% of mobile time is spent on apps.
These numbers indicate that mobile apps are the future of the commerce industry. By creating a robust mobile app, you can increase your sales. But the question is, how to develop an eCommerce app?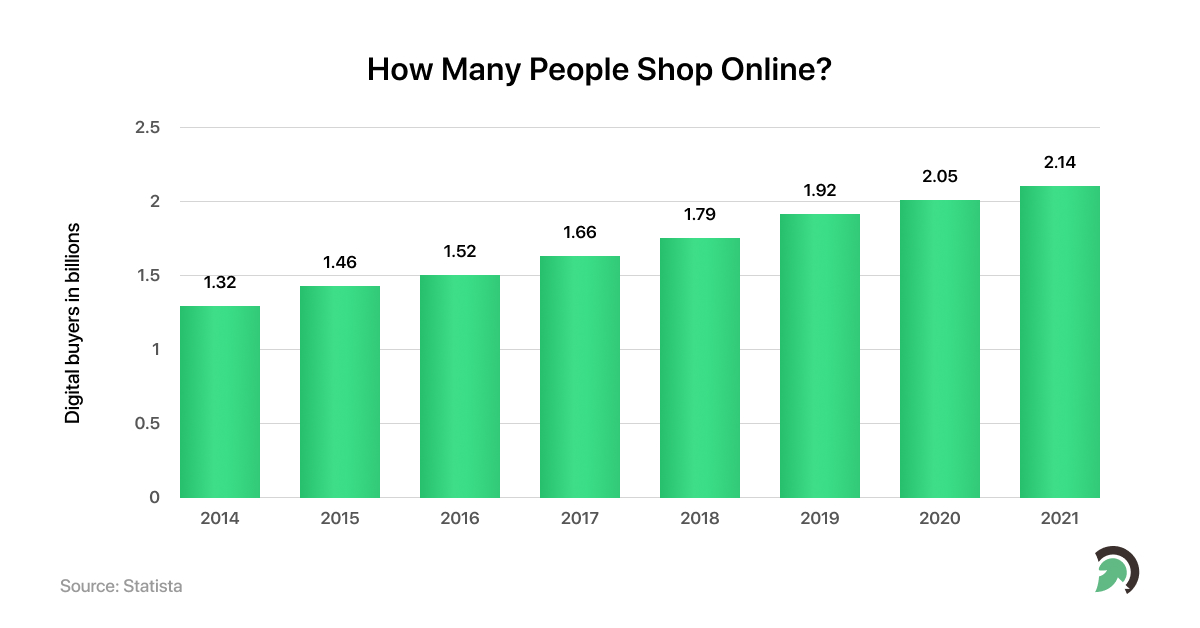 In this article, we will take you through a step-by-step guide to building an ecommerce app in 2023. Let's get started.
1- Determine Your eCommerce App Idea
The first step is to define what kind of ecommerce app you want to create. Most likely, you have two options.
Selling app: If you have got a brick-and-mortar store or manufacture goods, you can choose an ecommerce app to attract more customers (for example, H&M, IKEA, Starbucks, and Warby Parker).
Marketplace app: If you don't have products to sell, you can create a marketplace app where other retailers can put their products and sell (for example, Amazon, eBay, Walmart, and ETSY).
After you decide what kind of ecommerce app you want, answer these questions to summarize your idea.
How will your app benefit the end-user?
How will you ensure the security of your app?
What are the current and future goals of your ecommerce app?
Are there any issues that you want to solve with your mobile app?
How much growth are you anticipating?
What kind of payment options do you want to integrate?
Answering these questions will help you form the foundation of your ecommerce app. It will also minimize issues and vulnerabilities during the development stage.
Note: Irrespective of which option you choose, you need a website first. A website will give your customers a brief idea of your business and provide you an additional revenue channel. If you don't have a website, you can hire an ecommerce website development company to build it while you plan for your app.
2- Define Your Target Audience   
The next step is to define your target audience. When you know who will use your app, you can better meet their needs.
For instance, if your primary target audience is people of the 18-25 age group, you can focus on modern, sleeky design. However, if you want to target people of the 45+ age group, your app should be intuitive and straightforward.
Here are some questions to help you define your target audience:
Who will buy your products?
Where do they live?
How much do they earn?
What motivates them to purchase products?
What are their interests and hobbies?
What challenges do they face, and how can your product solve them?
With the answers to these questions, start creating your buyer persona to better understand your customers.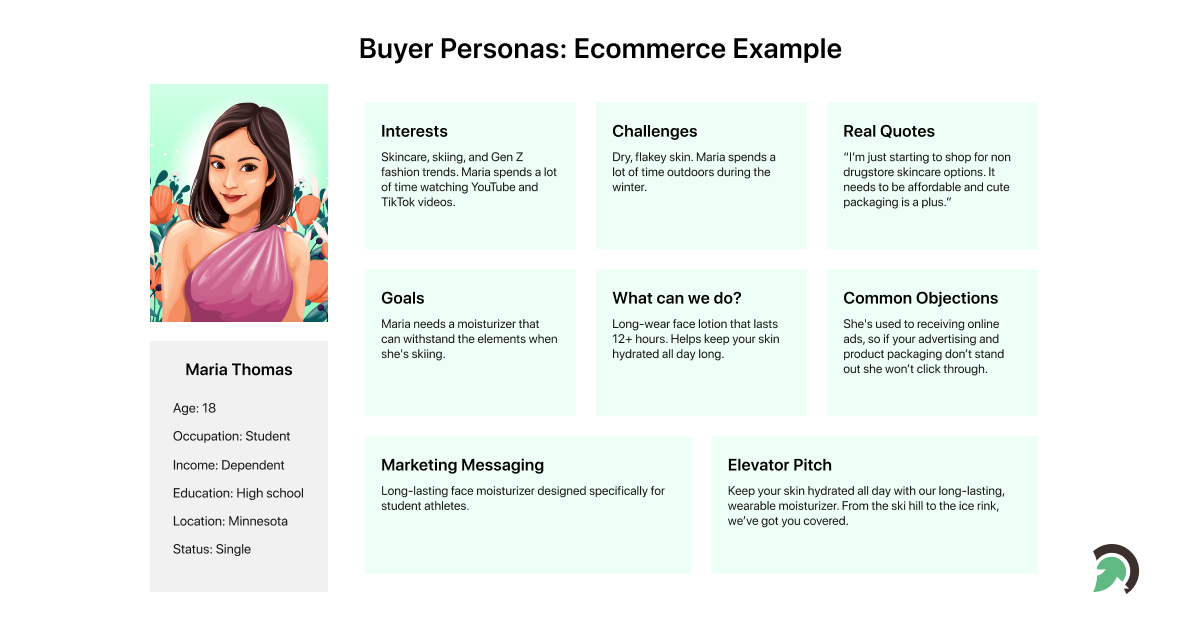 3- Competition Overview
The next step is to analyze your competition. The chances are there will be more than ten companies you will be competing with. You can find them on Google, Google Play Store, AppStore, and magazines on mobile commerce.
Analyze what makes them stand out from the crowd, how their app looks, how they promote their app, and what users say about their ecommerce app. 
You can even take inspiration from their app to design yours. However, make sure not to copy it. Your customers will likely notice it, and it will downgrade your credibility.
4- List Out the Key Features of Your App
Now that you have defined your app idea, target audience and have analyzed your competition, it's time to list out the features of your app.
Here are some features that we believe must be on your list:
Hassle-free registration process
Guest checkout option
Social logins
Push notifications
User-friendly product filtering and sorting
Detailed product descriptions
Wishlist and shopping cart
Secure and easy in-app payments (including mobile wallets)
Checking order status
Easy access to customer service
Ratings and reviews
Also, make sure that your app is easy to navigate through. A good ecommerce development company can help you design user-friendly navigation and interface while ensuring it has all the necessary features.
5- Choose the Right Mobile App Development Platform & Development Approach
Your development platform and development approach plays a vital role in your mobile app's success. 
When it comes to platforms, you can select from Android or iOS. You can even choose to build an app for both platforms. But, again, this depends on your buyer persona. If most of your customers are iOS users, you can avoid developing an Android app for now.
The next step is to decide on the development approach. There are two types of app development approaches:
Native app development
Hybrid app development
Native app development refers to creating an app for a single platform. The primary advantage of creating a native app is that it provides you access to the complete feature set of devices. Besides, they are more interactive and intuitive than hybrid apps.
Hybrid app development refers to creating an app for multiple platforms (Android, iOS, and Windows) using a single code. They are more cost-effective and are easier to maintain.
Discuss with your eCommerce development service provider which one suits your business.
6- Decide How You Want To Monetize It
If you plan to sell your own products, you can monetize your app easily. However, there are several ways to increase the revenue flow from your ecommerce app, such as:
Subscription model: It is one of the most popular ecommerce revenue models. If you offer products that people would regularly need, such as groceries, grooming products, healthcare items, this is a great way to increase your revenue.
Memberships: Offer in-app memberships that your customers can purchase to get special offers and discounts on their orders. Amazon Prime is an excellent example of a membership-based revenue model.
Gift cards: Let your customers purchase gift cards that can be redeemed only on your mobile app. Today, most people prefer gifting cards over physical items as it gives the receiver freedom to buy anything of their choice.
7- Create a Visually Appealing eCommerce Design
After choosing the right ecommerce app features, platform, and monetization model, it's time to focus on the design. Use the buyer persona you have created to design an app that appeals to them.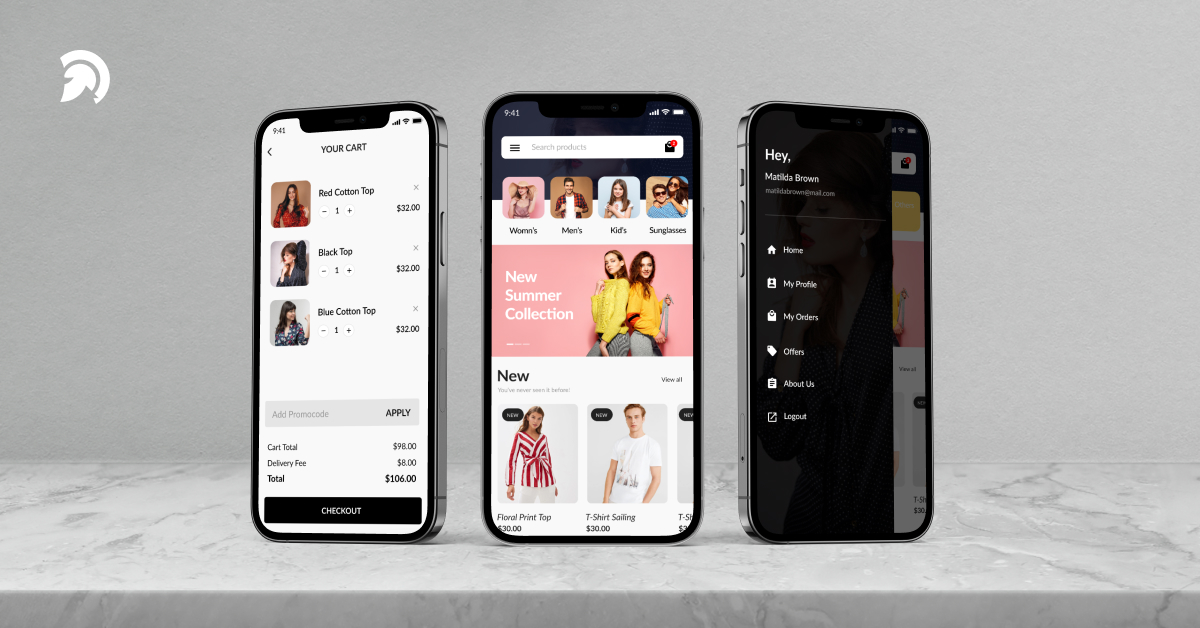 Usually, an ecommerce website design and development company has experts who take care of the app's design. However, if you are creating an app yourself, follow these best practices to create a visually appealing ecommerce design. 
Use enough white spaces on the app. 

Make the app simple to use. 

Remove any features that aren't required. 

Insert a user navigation button that allows users to visit any part of your app quickly. 

Leverage personalization to recommend products that your customers are interested in. 

Ensure the text is readable and product images can be seen clearly. 

Add a feedback mechanism where users can share improvements and bugs of your app.
8- Developing Your eCommerce App
You have now completed all the prerequisites of your ecommerce app. It's time to convert your design into a full-fledged app. 
Generally, eCommerce development services providers would be able to develop your app using the above data. However, if you plan to build it yourself, begin with a working prototype (front-end code) of your app. Then move to the back-end architecture. 
9- Testing Your eCommerce App
This is the most vital part of developing an ecommerce app. It helps ensure there are no bugs or glitches in it. It also prevents negative feedback or customer experience on the day of launch. 
While testing your eCommerce app, you need to conduct functional, integration, user, and device testing to identify errors and improvement areas. Again, you can do it yourself or hire an eCommerce development company. 
We recommend outsourcing testing to an eCommerce development service provider like Evince Development as they have the expertise and access to the necessary tools. This will not only ensure there are no glitches, but it will also save a lot of your time. 
10- Launching Your eCommerce App
After testing your app and fixing bugs, it's time to launch it on the relevant app store. Make sure to read and comply with the app store guidelines. If required, make changes to your app to ensure it follows all the rules. 
Also, take high-quality screenshots and create videos so you can submit them with your app. These images and videos encourage customers to download the app.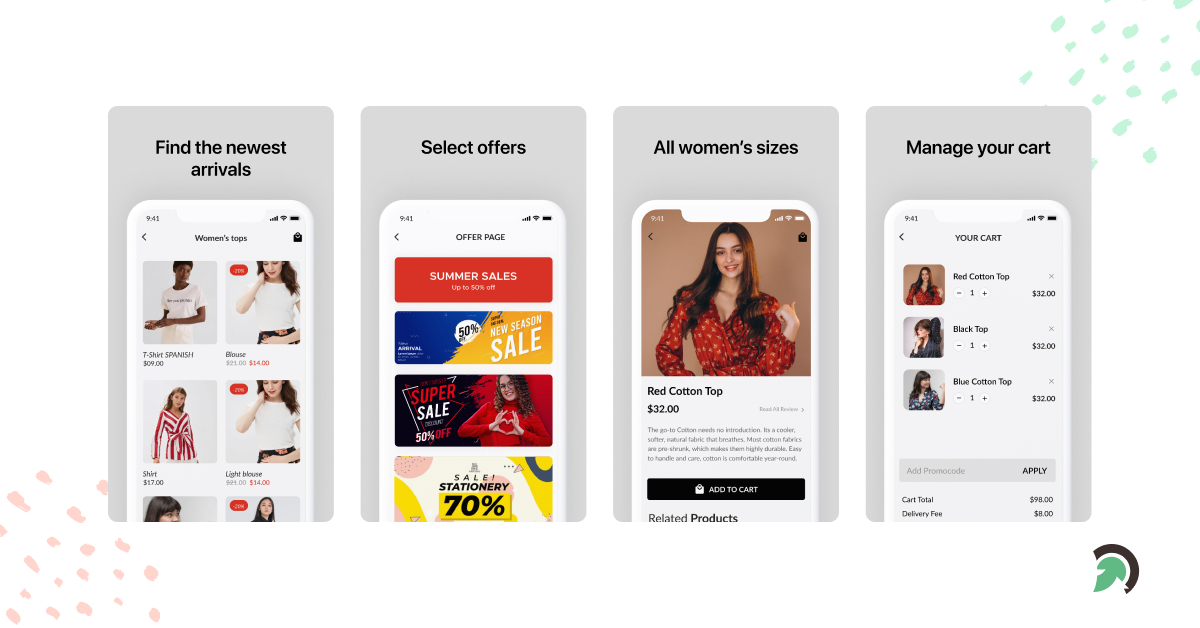 It usually takes two weeks to get your app approved and publish it. 
11- Choose a Suitable eCommerce App Marketing Strategy
Now that you have published your app, it's time to create a marketing strategy to increase downloads and attract customers. 
Here are some ideas to market your ecommerce app. 
Create a landing page consisting of core details of the app, such as name, features, screenshots, and promotional videos to attract users. Also, add the link to the app so visitors can download it instantly. You can even run paid ads to promote the landing page, which in turn, will lead visitors to your app. 

Leverage app store optimization (ASO) techniques to increase the rank of your app on app stores. 

Offer exclusive in-app content to encourage users to download it. For example, Amazon has a spin-the-wheel section that's exclusive to its app. Customers can win exciting prizes by playing the games, but they'll have to download the app first. 

Use email marketing to spread the word about your mobile app to your existing customers. Also, include the link to the app within the email. 
Final Thoughts
Developing an eCommerce app isn't difficult, provided you follow the right strategies. The 11 steps mentioned above can help you build an eCommerce app and generate revenue from scratch. 
If you don't have the expertise or enough time to build an eCommerce app yourself, it's better to hire an eCommerce development company like Evince Development to take care of everything. Evince Development is the leading app development company in the world with decades of experience in creating mobile apps. 
Begin Your Journey Today, Happy App Development!