Top Reasons Small Companies need to Switch on SaaS Base Ecommerce Store?
In the world of Digital marketing, quality is more important than quantum. Your brand's higher reach in Internet world will result in higher customer visibility and website traffic which will lead to increase the likelihood of your products sells. It is always critical to ensure that the visitors to your site are converting into buyer and returning to your website for any future needs. With the increase in competition in the tech world, companies and technologies are fighting with each other.
Businesses looking to enter the online world through their ecommerce store are facing a significant challenge in understanding platform and framework to launch their ecommerce store, as all the platform and service provider are offering similar feature and functionality which raises confusion in the minds of many businesses. In the ecommerce sector, the main concern is to decide the best solutions for ecommerce store development between SaaS-based hosted solution and open source solution. Currently, every business wants to know which ecommerce solution will be most preferable for developing ecommerce store so they won't end up selecting the wrong platform? Hence, the big question arises
Are hosted platform carts more popular than open source?
Hosted platforms are gaining popularity day by day because Shopify is aggressively adding new features and functionality in their platform. Secondly, new platforms are coming in the market with the hosting facilities. These modern hosted carts platforms are much more flexible and customizable.
Additionally, there is a big boom in the start-ups culture over last few years, it's a wiser decision for young entrepreneurs to opt for hosted solutions. Such services require minimum tech skills and allows the entrepreneurs to fully concentrate on the product and service development, instead of getting into the hard coding task.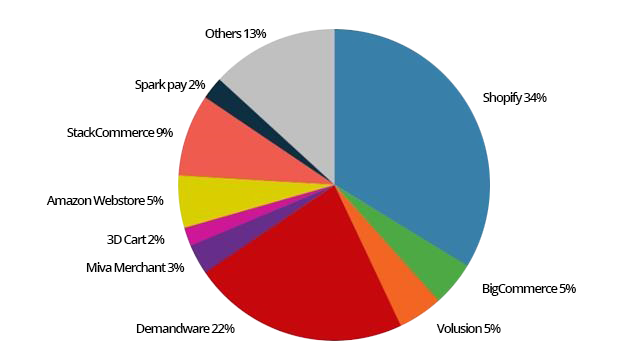 Also popular hosted target platforms like Shopify, BigCommerce updates themselves on regular basis with enhanced features. Today, BigCommerce current pricing policy has made them one of the best eCommerce solutions in the market which is apparent from the stats that more than 25% migrations happened from open-source to hosted platforms in 2016.
Hosted Vs Open Source Platform
Limits – no matter how much functionality does an open source cart provide initially, with growth, you'll need more. If that happens, coding with the help of developer is the only choice, and that means an another investment in system. Hosted source platforms, on the other hand, won't restrain your business expansion in any way you just need to upgrade your plan.
Design – Hosted carts provide a decent choice of design templates. Shopify or Bigcommerce for example, stands out particularly in that regard – It offers plenty of free and paid themes that are stylish, beautiful and customizable which you will not get in open source platform. Nonetheless, there are little choice in few open source but still it is limited. If you're obsessed with being one of kind to keep changing your UI/UX of your website, which most of us are, hosted source carts will bring you more possibilities to stand out.
Price – Most hosted solutions require a monthly fee. It's usually not substantial, but any obligatory payments to the developer for creating website can make you anxious in the beginning, when you're not sure the business is going to work, mostly all open source carts need a hard coding to make it standout from your competitors.
Now the next big question is why companies Need to Switch or Opt for SaaS Based Ecommerce Store?
Looking for Feature rich website without substantial Investment
Every startup or young entrepreneur wants its website to be loaded with feature, whatever is the latest in feature are in trend they want it on their site to give excellent customer experience on their website
Looking for Easy Integration and Automation so they can reduce workforce cost
Many startups end up by spending about 35% of their operational cost on the technology maintenance and upgradation they had to focus on their products and service rather than on the technology. And top of them that they don't have large corpus to spend on the technology so for them it's always preferred to go with the Hosted e-commerce store, which is easy to manage and less costly then developing there store through open source e-commerce platform.
Keep changing Website theme for Excellent Customer Experience every time they come
Almost every e-commerce store refreshes his design and update user interface at least once per year for any sized organization and every quarter for Small and mid business. SaaS e-commerce platform frontend templates are extremely flexible, and if the entire platform can be revamped in a daytime, it can be reimagined, redesigned, flushed of its product and order data and reset fully in a short period. There are many support company are also there how help in doing these activities.
Concern with Uptime and Security
Every company wants their website up and running 24X7 throughout the year and apart from this they are always in fear for security issues like hacking and data privacy issues, in open source if you don't have the tech savvy team then you are depended on the developer and your all credentials are with them which is not a good idea until unless those agencies are very professional and ethical. Secondly, if you have opted for shared hosted server then you are at more risk of getting infected by other website infection which are sharing the server with you, so it is always a good scenario where you have all control in your hand and working with most reputed firms in the industry, where platform is managed by a professional and experienced partner agency, dedicated to ensuring your online e-commerce store is always up and deliver best to your business goal. They work very focused to assuring quality UI/UX to your customers and reduce your interaction with website coding so that you focus on your e-commerce business. The big SaaS e-commerce platforms like Shopify, BigCommerce, and Demandware gives about 99.99% uptime record that often spans over many years.
Want to enter the market as quickly as possible
Using a SaaS e-commerce platform, you can launch your store in weeks versus months. SaaS e-commerce stores can start store which has hundreds of thousands of SKUs within two months, in comparison to 6 month setup time for open source third-party development.
Retailers can stumble upon a SaaS based e-commerce store option when looking for a quick launch to get into the market to test out a new product, but it's always preferred to go with the leader of the market like Shopify Demandware and BigCommerce.
Conclusion
After looking at the concerning and deciding aspects from the business owner's perspective, for small to medium enterprises, the hosted solution will do an astounding job, providing easy and quick store establishment and publishment. Huge and already established companies can opt for such solution, but the open source solution might be more optimal as it has more flexibility, extension availability and community supports. The best part is the no vendor lock which allows limitless customization and possibilities.