The unprecedented coronavirus pandemic has severely affected every nook of the global economy. Like every other industry, restaurants are also tremendously hit and saw an abrupt downfall. Before the coronavirus attack, the food industry was one of the fastest moving business. According to reports, the market size of the food service industry in 2018 was approximately US$ 3.4 Trillion. It was expected to touch the US $ 4.2 trillion by 2024. However, due to the unforeseen circumstances, the industry had sharply plummeted. The measures taken globally to tackle COVID-19 have forced people to change their dining habits. In Latin America footfalls at cafes and restaurants had dramatically dropped by 75%, whereas in North America and the Middle East, a drop of 90 % was witnessed by the end of March. Amidst the pandemic, several food joint giants like McDonald's, Pizza Hut, KFC and Starbucks had to shut their chains, observing the worsening COVID-19 situation. In this crucial time to keep the business afloat, having an online presence can be the best help. We at Evince are proactively working in the direction to help the restaurants to speed up the recovery. Our team of experts developed on-demand food delivery app & customisable restaurant app that can help your restaurant business in recovering quickly.
Do you think the world after COVID-19 will remain the same? Well, it's quite unlikely, as people will gradually adapt to or develop a new culture. One such culture that will broadly impact the restaurant business is social dining or eating out. With shutting down of brick and mortar food joints for more extended period, people will extensively rely on food delivery apps. The trend to eat online was already on the upswing, but with the pandemic, it will grow faster. With EvinceDev's technical assistance, anybody can quickly set up an online food delivery business.
What's next?
Slowly & Steadily, the countries are moving ahead to relax the restrictions of the lock-down to stabilize the global economy. In the UK, govt. has already eased out various restrictions by allowing offices, salons to re-open and now plans to resume food services with the strict guideline by July 4. Whereas, the French govt. is also set to re-open cafes, restaurants, bars, museums and gardens by June 2 with a slew of stringent measures. Several states of the US have also relaxed the lock-down regulations.
Even as the restriction begins to lift, the restaurant who earns a razor-thin profit margin will continue to remain under threat. The new regulations about social distancing, limitation on-premise seating capacity and extra efforts to maintain hygiene and sanitation will hurt more to the meagre profiting food outlets. But by having on-demand restaurant app at an affordable cost, you will be able to serve the broad audience.
One of the significant changes the restaurants may bring is contact-less dining experience. Customers from entering restaurants, ordering food until checking out may face minimum intervention from restaurant staff. Dine-in customers would choose to book a table online in advance, place an order and then pay the bill via an app. A custom restaurant app can allow you to add various features easily.
How to re-open your restaurant?
Firstly, the restaurants and others in the food industry will have to reinvent their business model and frame strategies for how will they survive in the disruptive supply & chain market.
1. Tweak your offerings
As the price of veggies and other vital ingredients have gotten expensive due to shortage, restaurateurs can choose to re-work on their menus to suit the availability of products in the market. They can add dishes whose raw ingredients are relatively cheap. With dynamic menus, restaurants can offer a variety of dishes without investing much.
2. Equip & train staff
The restaurants will have to prep up their team for maintaining hygiene and social distancing. They should equip their Cooks, waiters, housekeeping staff, delivery executives and accountants with sanitizers, masks and gloves. All the staff should undergo thermal screening to ensure safety. The staff that comes in direct contact with customers, primarily, the waiters and delivery executives should be taught on how to maintain contact-less delivery.
3. Re-crafting recipes
The chefs can work on re-imagining their recipes to avoid the challenge of short supply of a key ingredient. Chefs can replace the unavailable or expensive ingredient with substitutes that are readily available in the market.
4. Eliminating wastage
Restaurants should switch to minimum wastage mode considering the disrupted demand and supply chain. The best way to control wastage is to buy products in smaller quantity instead of ordering in the large amount at one go. Using this method will lower restaurant operation cost.
5. Put up safety guidelines poster throughout the restaurant
While your staff may have complete training to deal with the re-opening, your customers may not. Putting up posters or playing a short video on how to maintain social distancing at the restaurant may guide your guests and lessen transmission chances.
6. Scale-up by going online
Both small and big scale restaurants can easily have a digital presence with the help of food delivery app development company. The online delivery model has serious perks. According to reports, around 63% of young adults use food delivery apps. Switching to this business model will increase the customer base & reduce the budget strain on offline outlets.
Will it be easy to resume the restaurant business now?
Undoubtedly, this a big question that will strike every restaurateur. The recovery from the post-COVID-19 impact will be a challenge for every segment of the industry. The reality of coronavirus is that the world has never seen this magnitude of a human tragedy, and nobody knows how long will it last. If the reports are to be believed, in India, around 40 % of restaurants may not recover ever. However, reinventing business model and optimizing digital presence may bring some relief.
Challenges that businesses may suffer initially after re-opening
1. A sharp decline in Footfalls at restaurants and cafes
Post lock-down, the restaurant business won't run in full swing, as the threat of exposure to coronavirus will still linger in customer's mind. Due to massive job cuts and salary deduction, even loyal customers may show reluctance in stepping in at their favorite food joint. To ensure your business catches speed, try to attract customers by re-working on your pricing strategy. Secondly, start serving online with our food delivery app development solution; this will facilitate your customers and maintain brand loyalty.
2. Limitation on Capacity
In several countries, the new guidelines restrain eateries from running in full capacity, observing the rapid transmission of coronavirus. To maintain social distancing, the restaurants will have to half the number of tables, chairs and host to fewer guests at one go. Adjusting to the COVID-19 sensibilities will have a lasting impression; however, with technological assistance, the restaurant industry can bloom once again. With our on-demand food delivery app development service, your business can boost its outreach at a minimal cost.
3. To regain customer's confidence
Bringing back customer's trust would be the biggest challenge ahead of restaurants. Post-coronavirus, the restaurants would cater to a completely different audience. For customers, high standards of hygiene and quality of food would remain the utmost priority. Businesses can highlight what all steps they take to serve hygienic food via posting pictures and videos on social media to gain the confidence of customers back. Additionally, the restaurant can set their business online with our online delivery app solution for catering to new-generation customers.
We have a solution to your problems.
Every crisis opens the new door of opportunities. Similarly, COVID-19 pandemic has invited a wave of opportunities for the restaurant industry. As we anticipate, the food industry, especially the dining-out, will go through significant changes in operation. Technology & AI automated services will play a vital role in backing up the F&B sector. From booking a table till check out, everything will be channelized online.
1. Cost-Cutting
With our online ordering app development service, your restaurant can scale up its profit by expanding the customer base. There is a massive demand for online food ordering as it adds comfort and convenience to customers. Considering the current situation, you can save up a lot because it will directly reduce overhead costs, such as employing extra staff and hefty expenses on maintenance. Allocate your focus and money on keeping the customers happy by offering a variety of dishes, rest the app will take care.
2. Online restaurants generate sizable revenue
The COVID-19 has landed us in a situation where meeting ends is difficult for many. Restaurants are facing the same issues. But by having an online ordering system, firstly you are cutting on expenditure and facilitating your customers with luxury. Your customers won't be in a rush while ordering. Hence they can explore more food options available in the menus and read the reviews. Generally, restaurants with apps tend to generate higher revenue.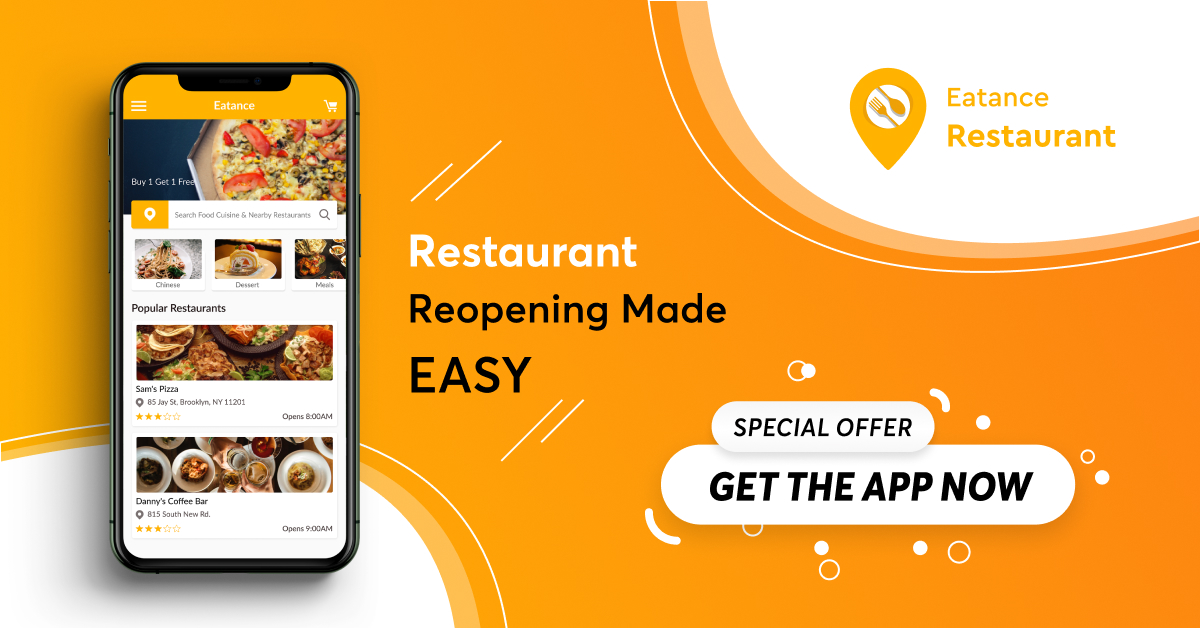 3. Visually appealing online space
Restaurants can own attractive online apps by having a customisable app development. We offer tailor-made app designs and features. Restaurateurs can have menu outline of their choice, multi-location order feature, calories display and color options.
Eatance food delivery app is one of the brilliant product of Evince development. The app is running successfully with 1 million downloads. It was built using the latest technology and is highly interactive in nature. A customer can quickly navigate food in the search option, conveniently order and track the parcel in real-time. The restaurants associated with the app enjoys sizeable revenue. The app ensures the proper presentation of restaurants on the platform, making it appealing & allowing simple operations.
Summing up!
There is an evident change in buying behavior pattern of people amid lock-down. Initially, when COVID-19 pandemic hit the world, suddenly people started panic shopping. Now after three months, instead of stockpiling tissue papers, sanitizers and pasta, people are switching to buy ready-made dough in the US. In UK, sales of baking product saw a steep increase by 49 %. Whereas, the US saw a 243% increase in sales of frozen pizza kits & pizza crust mixes. It won't be wrong to say that patrons around the globe are missing pizzas and desserts more than ever.
If you have noticed, there is an evident rise in food articles and video blogging. Indians, Americans, French are trying their hands out cooking a variety of dishes at home as well as shooting it.
Hit the iron when it's hot!
As you see the rising demand for restaurant food, it's the right time to hit the market once again. Currently, the restaurants are witnessing sales growth of 3-6%. A restaurateur can grab this opportunity to cover their losses. However, the re-opening of businesses should be entirely under the guidelines of authorities to ensure the safety of customers and staff.