People's shopping habits are constantly evolving in tandem with the advancement of technology. In addition, with the ever-emerging technical breakthroughs in recent years, eCommerce platforms have seen fast expansion. According to one estimate, the eCommerce sector will be worth $5 trillion by 2022.
For online business entrepreneurs, new technologies provide criticality. Keeping up with ever-emerging technology is crucial for eCommerce companies to grow. Headless hosted eCommerce platforms are a specialized option for online shop owners. Since they want to keep up with new developing technologies and the ever-evolving touchpoints that come with them.
If you operate an eCommerce store or are thinking about starting one, you should know about headless eCommerce. In addition, the top headless eCommerce platforms for 2022 are given below in this article.
What Is Headless Commerce?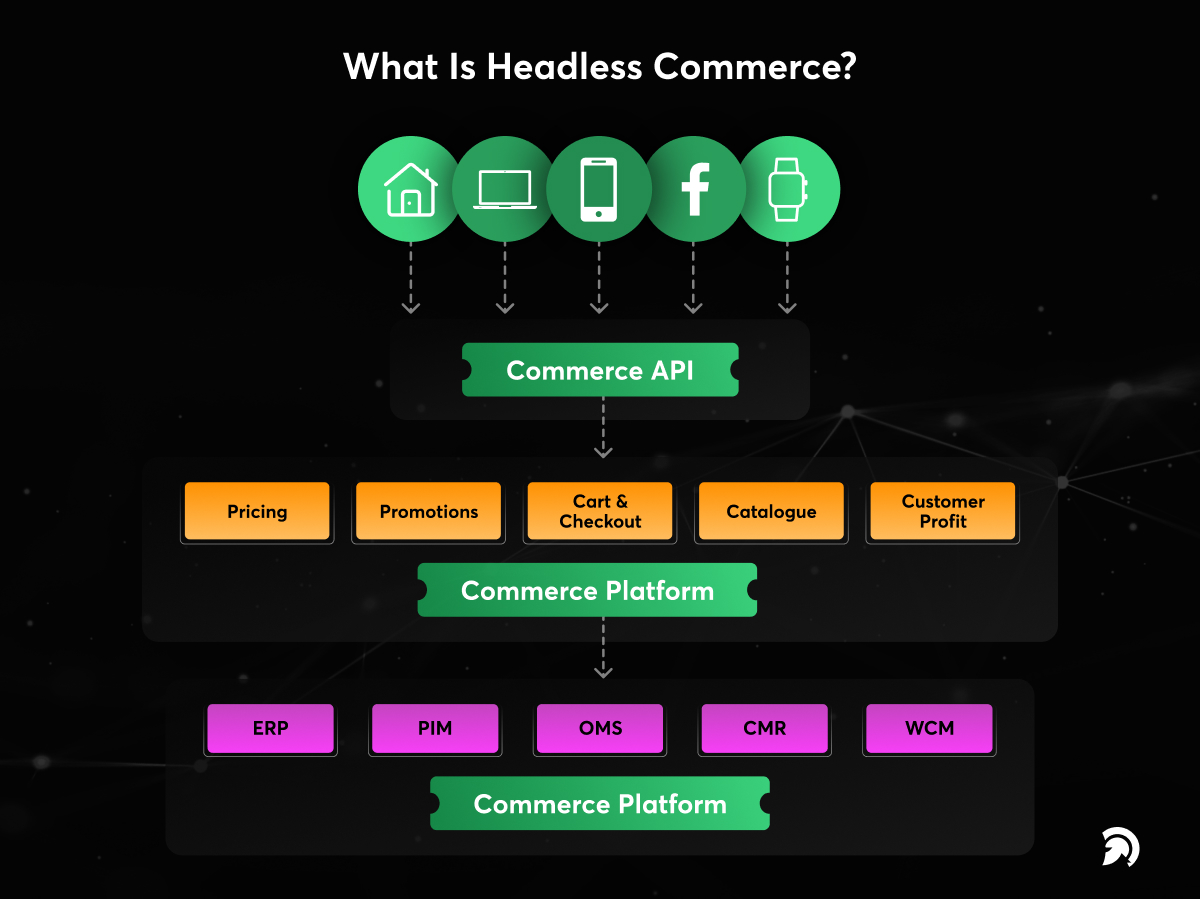 Headless commerce is an eCommerce platform where stores maintain and provide content without using a front-end delivery stack. A headless commerce platform decouples and removes the front end (or "head"), usually a template or theme, leaving just the backend.
Developers may then utilize APIs to send offers, blogs, and customer reviews to any device. At the same time, front-end programmers can work on showing that material using whichever framework they choose.
Generally, users can handle any system functional elements (such as forms, posts, banners, and products) dynamically. It involves developing and managing the content components.
In other words, headless commerce architecture is designed for the Internet of Things. On the other hand, traditional commerce platforms have their heads screwed on tight, implying they have a preset front-end tightly linked with the backend. The platform is solely meant to serve content in websites and maybe native mobile applications, even if there are several customization features and unlimited access to code.
A headless commerce architecture provides a platform with a backend data model with commerce cloud infrastructure through a RESTful API. eCommerce businesses can distribute content, services, and payment gateways to wearables, kiosk panels, Alexa Skills, and everything since the platform is not closely connected with the backend.
How does Headless Commerce work?
A headless eCommerce system functions similarly to a headless CMS. It passes requests between both the appearance and application levels using web services or API calls.
When a user taps a "Buy Now" button on their smartphone, the headless eCommerce system's display layer. It sends an API request to the application layer to start processing. The application layer makes another API request to the application layer to display the customer the status of their order.
You might be interested in Reading
8 Little Changes That'll Make a Big Difference with Your eCommerce Website Redesign
Read Here
What are the benefits of Headless Commerce?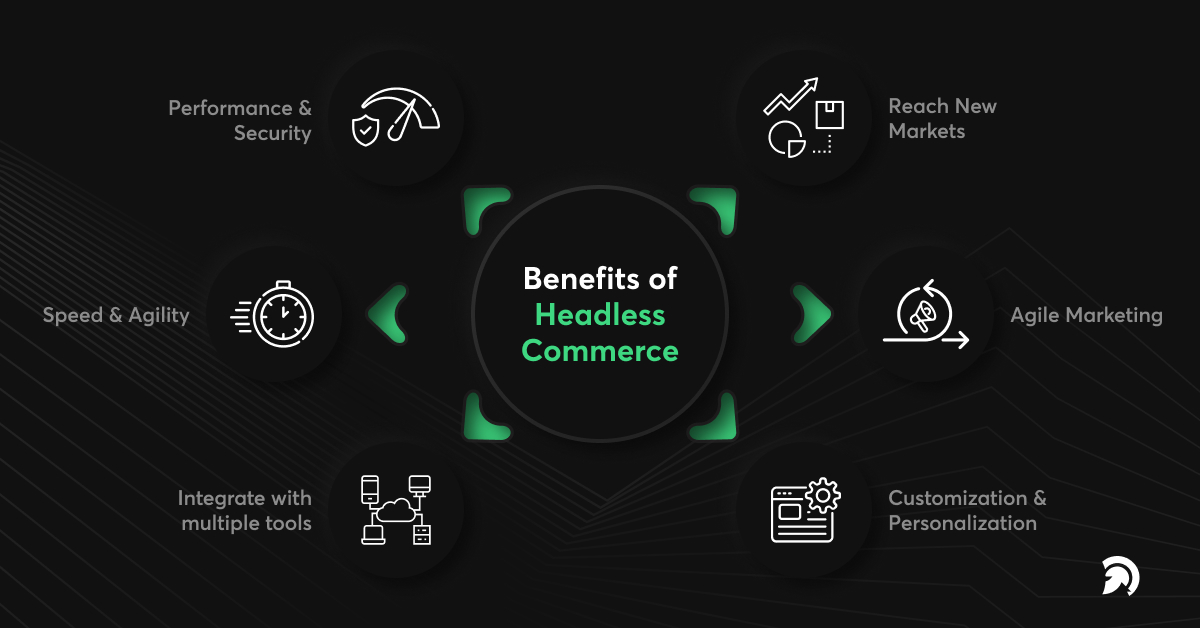 Bigger businesses with significant development and IT teams and a DIY mindset are the early adopters of headless commerce. It makes sense because the specific programming required to build a different front end & back end may be time-consuming.
These businesses have months-long development lines and enthusiastic creative and marketing teams to try new front-end designs, text, and templates. With the current health crisis hastening business change, businesses must embrace innovation. As speed-to-market is typically linked to boosting revenue flow, every hour of development time is valuable.
If you're thinking of changing to headless commerce, the five advantages are usually worth the effort. They can help you grow your business.
1. To go genuinely omnichannel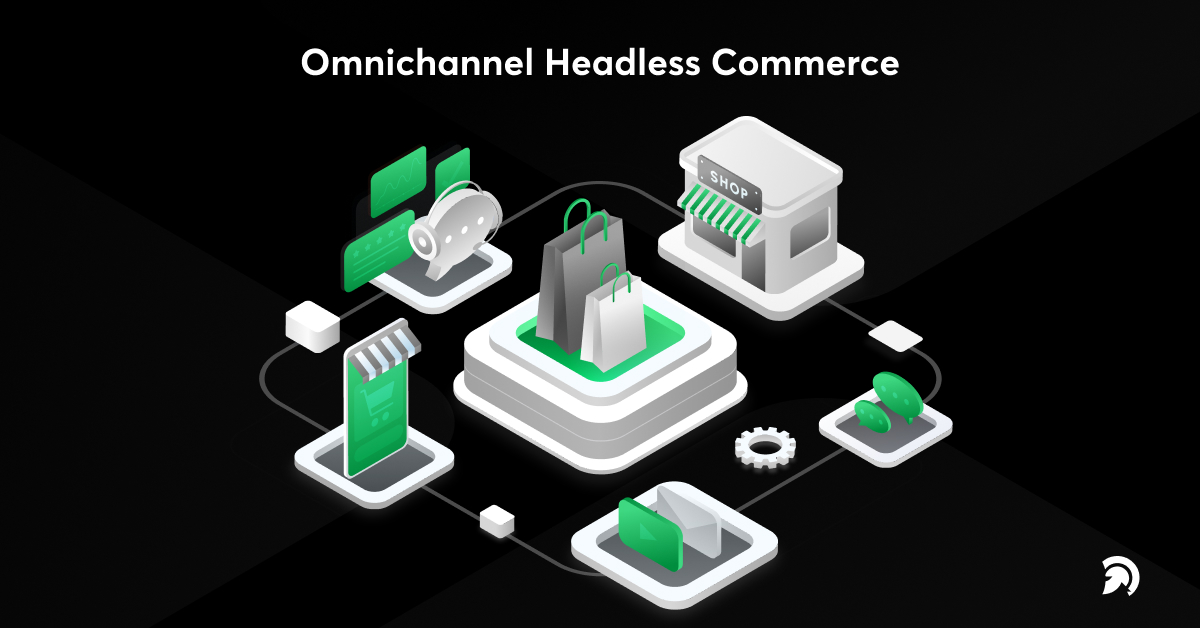 First and foremost, a headless content management system assists you in getting your content to where it needs to go. An eCommerce business includes supplying items, product videos, and weblogs to any new or emerging channel.
Prepare to sell using Alexa Skills, signage, progressive web apps, and even interactive refrigerators.
You shouldn't have to re-architect your platform to publish across channels if you use a natively headless commerce platform. And it's all one of the same comprehensive, future-proof products.
2. For agile marketing
A headless commerce platform can adopt new technology as it emerges. When creating new consumer experiences, it's ideal. It puts marketing teams back in control, allowing them to launch many sites across multiple brands, sectors, and portfolios.
Now, marketing teams can build up a new site in days rather than months, owing to the flexibility given by a headless commerce platform — just like our customer's brand that cut the time it takes to start a campaign from several weeks to a few days.
3. To provide a more personalized and consistent consumer experience
Customers should get a compelling customer experience across all devices and platforms, even if their demands vary over time.
People also want to buy from eCommerce companies aware of their demands across all platforms. It's more than just "those who purchased X also purchased Y." The backend is already known of what a customer has purchased, and this information is used to power customization engines on CMS, mobile applications, and social media platforms.
4. For seamless integrations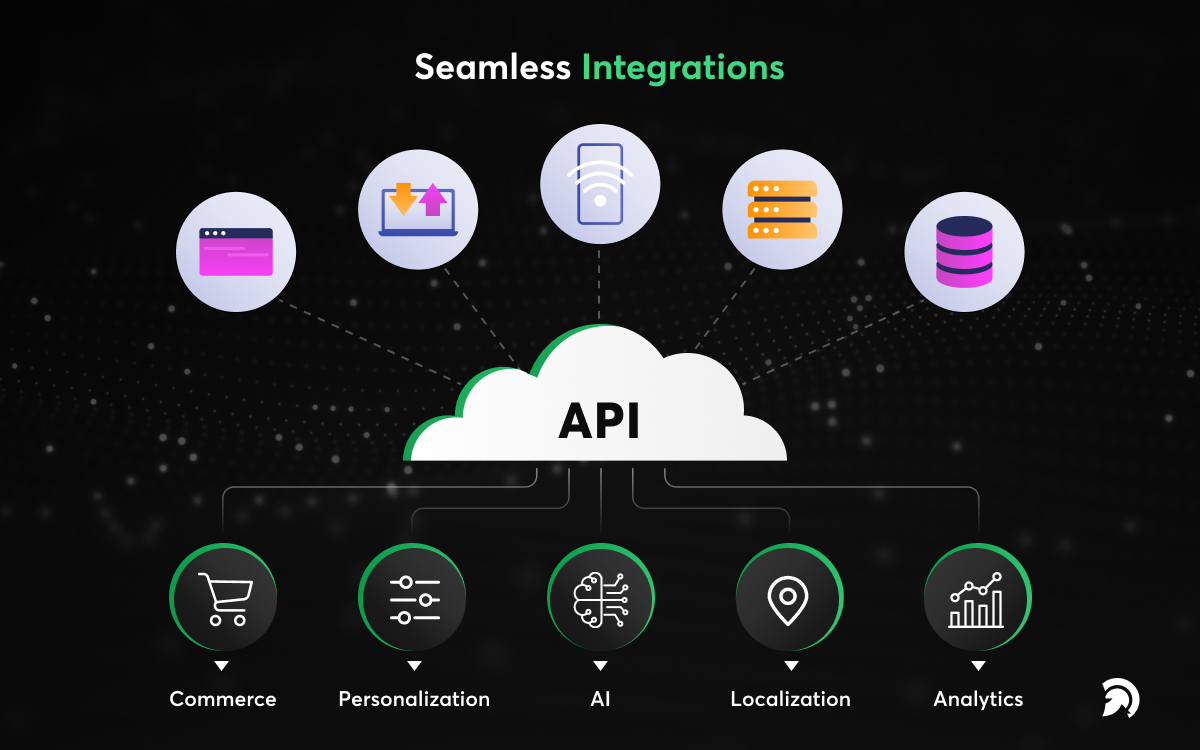 An API is required for a headless commerce solution, making it easy to incorporate and interact with other platforms. You may add your brand on any new device, increasing your prospects and reaching out to new customers. In addition, integrating your commerce platform with a new device will take hours rather than months.
5. To improve conversion optimization
You may experiment with numerous layouts and eCommerce cloud solutions once headless commerce is in place. For example, while running the exact front-end search, you may try different backend search solutions.
Consequently, headless commerce enables you to perform continuous tests & optimization cycles, allowing you to gain a more profound knowledge of your customers while learning faster than other businesses.
These are some reasons businesses may wish to go from traditional to headless eCommerce. Companies who want to improve their user experience must also understand how headless may help them achieve even higher customer satisfaction levels.
Headless commerce vs. Traditional commerce
If you're still plucking your mind, consider the following difference between headless and traditional commerce. There are three significant differences, in our opinion:
1. Flexible front-end development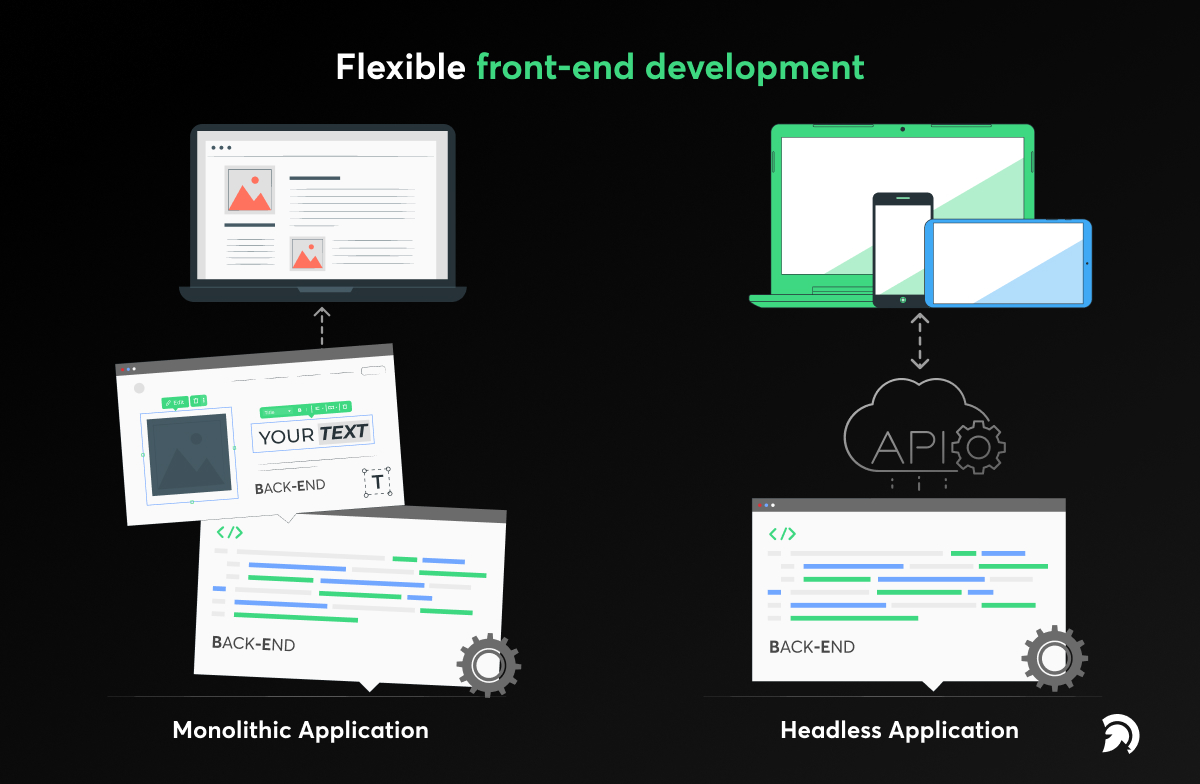 Traditional commerce: When it comes to structuring and the whole process, front-end developers dealing with a traditional commerce system have a lot of challenges. Any modifications would need significant effort to update the database, coding, and front-end platform. Developers are likewise restricted in what they may update and alter without risking the warranty or prohibiting future improvements.
Headless commerce: Headless commerce allows front-end developers to build a user experience from scratch that matches their primary business goals by removing the established front-end platform. Front-end developers don't have to worry about changing databases in the backend because all they have to do is contact an API. In other words, front-end programmers are no longer bound by the constraints of a traditional commerce platform.
The main cons are that, because there is no front-end presentation layer, front-end programmers can develop everything from scratch, from product websites to landing pages. And getting the appropriate eCommerce web design is no easy task, and that's why a decoupled solution is far better than a headless solution; however, more on that later.
2. Personalization and customization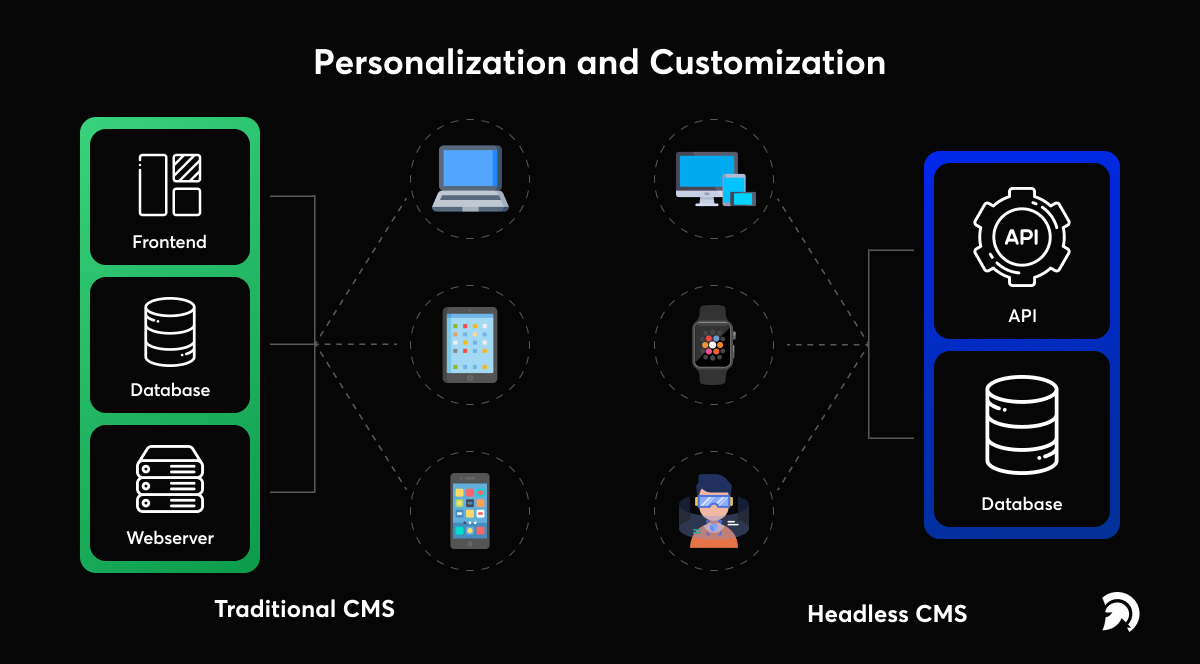 Traditional commerce: Traditional platforms provide a preset experience for both your customers and administrators. However, these platforms offer limited possibilities for personalization or customization. More power to you if you're satisfied with the experience given by these established platforms.
Headless commerce: Developers and customers constrain traditional commerce systems' view of what constitutes a good user experience. Because there is no front-end with headless platforms, developers may build their own user experience. You have more power and control over the appearance and feel of your commerce platform and the UI experience for both users and administrators.
3. Adaptability and flexibility
Traditional commerce: The front-end is highly integrated with traditional solutions' backend coding and infrastructure, and it leaves very little room for personalization. Developers must update numerous layers of coding between the front-end and the database layer hidden in the backend to make a single tweak.
Headless commerce: As headless commerce has already separated the front-end and back-end, there are many options for customization as needed. All you need is a skilled front-end programmer to make any adjustments. With a headless commerce architecture, small or large adjustments, such as building a custom checkout process or adding a new field to a user's account, are simple.
Top Headless Commerce Platform
Although headless commerce is still a new concept, several eCommerce platforms provide APIs that enable a decoupled or headless approach to eCommerce. Here are four names to think about in this area:
Shopify Plus
Shopify is a well-known name in the eCommerce industry. According to one source, as of May 2021, it was powering over 1.7 million eCommerce shops worldwide. For various reasons, Shopify plus is one of the most preferred headless eCommerce systems for online business owners in 2022.
With Shopify's headless eCommerce platform, eCommerce shop owners can turn every digital screen or device into a sales channel. It is based on Ruby on Rails, enabling flexible store building across devices. Shopify Plus is used by some of the world's most innovative businesses for headless eCommerce solutions that provide a consistent consumer experience.
Magento commerce
On the ranking of the top headless eCommerce platforms, Magento is one of the most well-known brands. It is well-known for its ability to create robust and adaptable stores. Magento business version allows you to create API-based headless business solutions that are useful across multiple devices and channels. Various Magento extensions help increase the functionality of the Magento store.
It enables online businesses to develop a highly flexible and adaptable storefront experience by leveraging powerful APIs that provide a consistent experience throughout all touchpoints, irrespective of technology. Magento also has an open-source version that has fewer features and support.
BigCommerce
Another well-known brand in the eCommerce platform market is BigCommerce. BigCommerce's business edition enables the building of a headless eCommerce platform with robust and highly scalable storefronts. It comes with advanced APIs that are useful to integrate with any environment across all touchpoints.
BigCommerce platform is a dynamic commerce engine based on PHP, Python, and Ruby that can give a smooth and lightning-fast API-driven experience through your DXP application, CMS, device, or bespoke front end.
Ecommerce Conversion Hacks That'll Double Your Conversion Read Here
Headless Woocommerce
You separate WooCommerce's user interface from its back-end using a headless WooCommerce (database). Instead, you link the WooCommerce store to a bespoke UI developed in multiple programming languages like ReactJS.
The WooCommerce REST API makes linking the store's customized front-end and backend easier. Aside from REST API, GraphQL is a new technology gaining traction in the industry, and it activates REST API capabilities by dividing data requests into little parts.
You can use headless WooCommerce to:
Develop a current technological stack for your WooCommerce site's front-end,
carry out all previous commerce functions, and
Make use of the core platform's features for endless customization.
Future of Headless Commerce
Although a headless commerce solution addresses many issues, it also introduces others, as stated above. You'll understand why the future is decoupled, not merely headless if you've read this article carefully.
In the same way that a headless system decouples the front-end and backend, a decoupled commerce system does. Unlike a headless CMS, a decoupled CMS does not simply eliminate the front-end delivery level from the equation.
This architecture provides marketers back control over content creation and reviewing while offering the brand the freedom of headless to send content to various devices, apps, and touchpoints via APIs simultaneously.
You might assume that a decoupled CMS provides you with the best of all worlds, so we believe that decoupled eCommerce is the way of the future.
So you might argue that eCommerce has gone crazy. On the other hand, a decoupled commerce system offers the simplicity of use similar to a typical commerce system with the flexibility of a headless system for individuals who are not tech-savvy. It's a win-win situation.
Examples of Headless Commerce
Nike
All have heard of Nike, the world's most renowned footwear retailer, but not everyone is aware that Nike has turned headless. The company desired a mobile-first strategy that would best align with its broader plan to increase mobile customers' sales. React SPA, in conjunction with Node.js backend for frontend (BFF), looked like the preferable option, and it did not disappoint. Nike gradually gained market share from Adidas, creating the Headless campaign a more massive success than first expected.
Lancôme
Lancôme, the French luxury perfumes, and cosmetics company saw possibilities in Headless Commerce and joined other big businesses in boosting the user experience by Progressive Web Applications as one of the world's most valuable brands in 2019. It observed a 17 percent gain in conversion after using the Headless method, which isn't a vast rise but is something to consider with a company this enormous.
United Airlines
United Airlines picked React Progressive Web App for the most fantastic app-like experience possible in a business that relies on booking experience. They saw a significant increase in user flow with this method, making it a seamless experience from arrival to booking.
Concluding Thought
Creating, organizing, and distributing great content is critical to becoming a competitive competitor in any sector. By selecting the most suitable headless commerce solution for your business, you can provide a customized experience for your consumers. As a result, this headless eCommerce guide will assist you in choosing the best and most appropriate option for you.
EvinceDev, a leading Headless eCommerce development company, specializes in customizing and designing headless platforms. And we are here to help you select and customize any headless eCommerce solution for your business. Contact us for any of your eCommerce requirements.
FAQs
Why is headless commerce now more important than ever?
Headless commerce is becoming increasingly important as customer expectations rise. Online sales are booming, but so are competitors. Customers need a reason to pick one brand over the other, and their digital experience on a specific company's website may make a significant difference in conversion rates. Headless allows businesses to provide unique experiences that customers have come to demand.
Do I need a developer for headless commerce?
Yes, frontend developer resources will most likely be required to develop your headless site. If you do not have an in-house team, you may outsource this part to a developer agency.
Is headless commerce flexible?
Headless commerce offers greater flexibility since a business does not have to rely on a single technology to meet all of its requirements. Instead, they may combine several frontend display technologies and match them with an eCommerce system on the backend. Frontend options include content management systems, digital solutions platforms, progressive web applications, and highly customized solutions.
What steps do I need to adopt a headless commerce solution?
To use a headless commerce solution, you must first select an eCommerce platform that can handle it. It implies it must be capable of handling a significant rate of API requests for the frontend & backend systems to connect. Upon selecting your eCommerce platform, you must select the frontend set of alternatives to be used with it. If you are already familiar with or use a specific technology, this can be an excellent first step. Once you've decided on your technology, you'll most likely need the assistance of a development agency to create and develop your site.