EvinceDev has been awarded among the top service providers in the world by one of the country's fastest-growing organizations for evaluations of IT, marketing, and business service providers.
As the year's end approaches, Clutch announced its annual Clutch 1000 Global ranking. We're honored to be listed in that category again, featuring the top 1% of clutch top agencies.
Clutch evaluates each business on the platform based on how well it can perform within its service line, which is based on the following four essential criteria:
Total number, quality, and most recent verified Clutch reviews

Choices of clients and work portfolio

A strong company profile that features competitive expertise and a plethora of experience

Strong industry recognition and brand awareness

Executive Summary
EvinceDev has

placed among the top 1000 companies

worldwide once again, according to Clutch.

With over 27,000

clutch top B2B companies

listed in over 500 categories, Clutch is the world's top-ranking B2B services agency.

We have an increasing number of Clutch accolades, and this is just the most recent. Among our accolades are Global Leaders in Top Web Development companies, Clutch Top Web Developers, Top eCommerce Development Companies, Top eCommerce Developers,

best eCommerce Development Services

, and more.
There is more to the announcement. We've also been listed on Clutch's sister websites, the Manifest & Visual Objects.
The Manifest is a source of business knowledge that offers featured lists to assist businesses in gaining more attention. On the other hand, Visual Objects is a resource for showcasing portfolios highlighting a top service provider in almost every possible sector. By both resources, we have been recognized as a top web developer!
We are truly grateful to have received this honor again. Recognition encourages us to strive harder while also rewarding our work.
See what our clients say
"Quick turnarounds and quality development work are expected of the talented team at Evince Development. Their affordable prices and excellent customer service set them apart from other providers." – Ross Piggott
"Evince Development has helped clients receive a 100% satisfaction rate from their customers. Their flexible team comprises seasoned developers, enabling them to handle every challenge. They also showcase excellent project management and clear communication via Skype and Slack." – Sarah Pohlig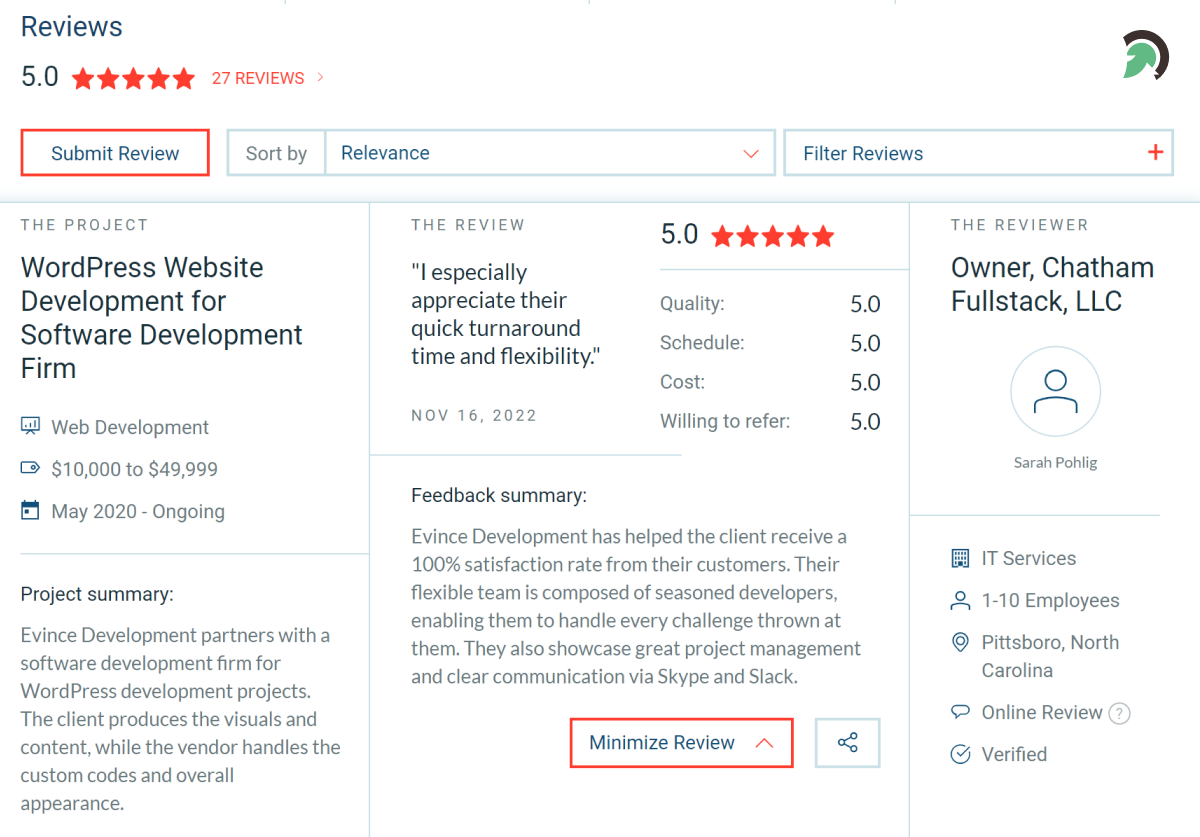 Employ the top eCommerce and web developer by Clutch to speed up your project.
At EvinceDev, we work to provide ambitious businesses in Europe, the Netherlands, Sweden, Belgium, Denmark, Finland, the USA, Canada, and other countries with the custom web development solutions and innovative development approaches they need to realize their full potential.
We anticipate achieving more success for our clients in their specialized domains. To make the magic happen for businesses, our best IT service providers continually push the limits of technology and design.
Are you interested in working with us? Contact us now, and we will set up a consultation to assist you in achieving your ideal solution!