Food trucks have always been a place to relish street food and try local cuisines by customers who are experimental with their taste buds and prefer meals that are affordable than restaurants.
Mobile kitchens have allowed the restaurants and chefs to discover the new horizons of their business and serve their myriad creations at events, festivals, anywhere they want to.
The food truck business is such a hit in America because of its unconventional dining style, affordable menu compared to a restaurant, unique food concept, and easy accessibility. They are kitchen on wheels so you can find them standing in downtown areas, festivals, and parades, where there is a crowd. Food trucks are also seen standing in the weddings, parties, and reunions catering yummy meals.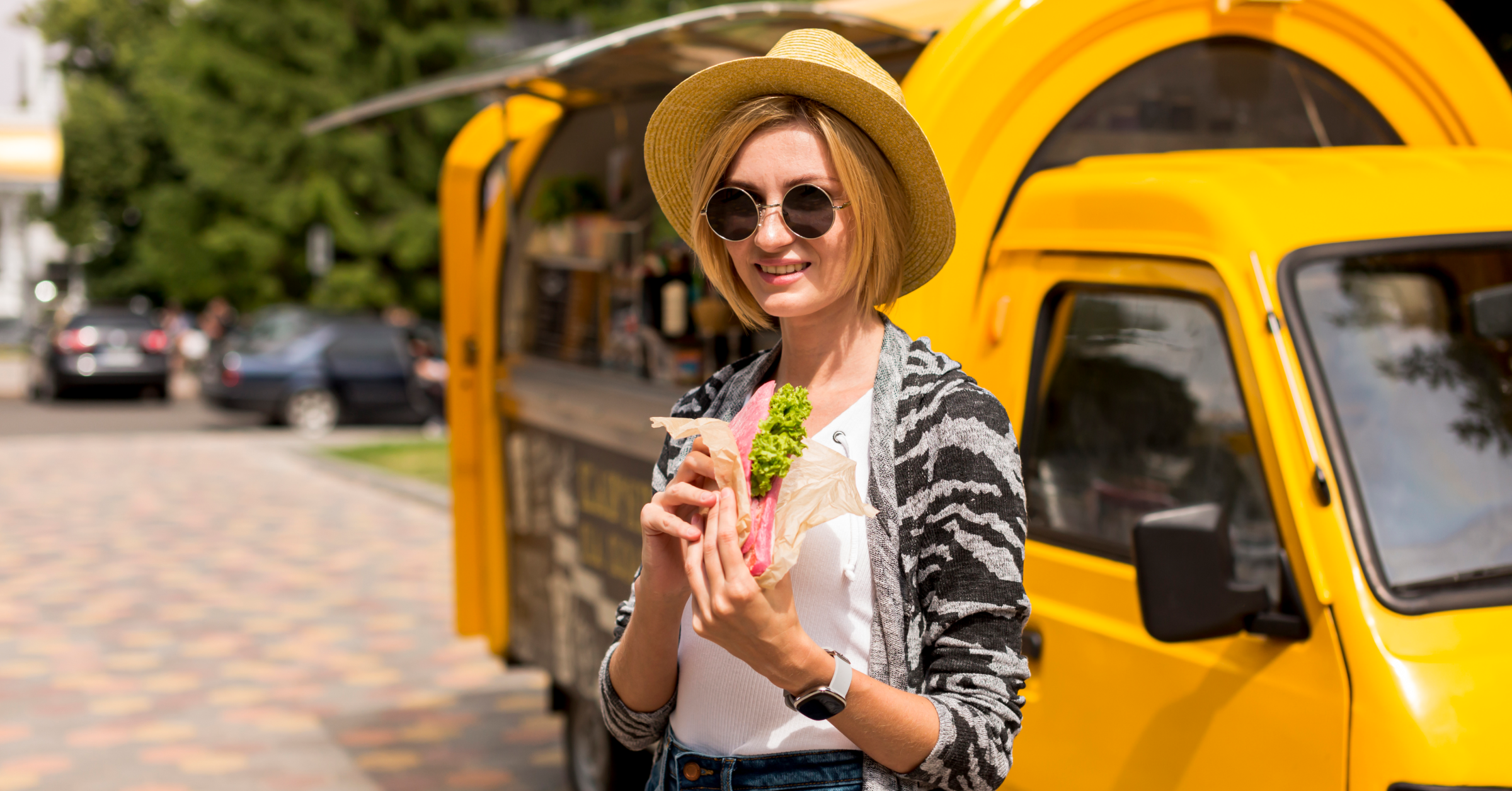 Food trucks list unique offerings in their menu like a fusion dish of traditional & modern dishes, street-style burgers, pizza, waffles, pancakes, etc.
Food Truck Business in New York
Food trucks have been a popular part of American food culture, especially in metropolitan cities like New York. They are very popular because people like affordable & fresh meals, unique dining styles. This makes the market appetizing for entrepreneurs to invest.
According to a Food Truck Empire survey on truck owners in New York, California, Texas, Florida, and Oregon– a full-fledged food truck earned up to $100,000 as annual gross revenue.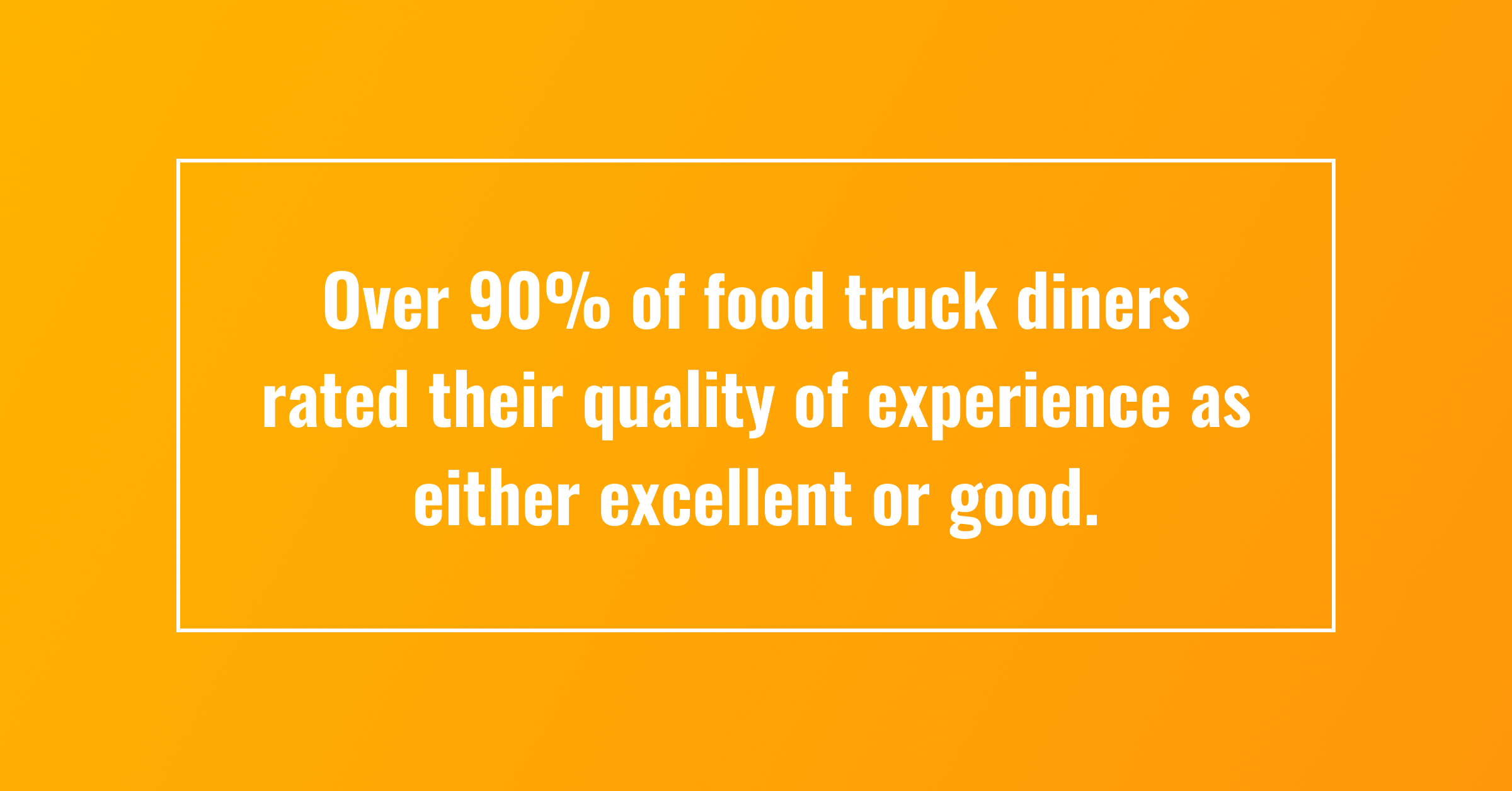 Source
The Food truck business in New York is very lucrative. An average food truck business has a profit margin of around 6 to 9%. However, it depends mainly on factors like labor costs, food waste, the weather, commission, and parking fees at particular events.
A typical food truck, including fast food trucks in New York, offers sandwiches, hamburgers, hot dogs, French fries, onion rings, fried chicken, tacos, and pizza. One rule of thumb rule any food truck owner is not to offer too much or too little. A basic mobile eatery must have no fewer than six items and not more than twelve items on the menu. The fewer items help in specializing and allow maintaining high standard quality. After all, good quality food is what makes a customer loyal.
Food Truck Set-up Cost in New York
Since food trucks are micro-restaurants on wheels, one might think, the opening would cost a fraction of that of a traditional brick and mortar restaurant. To some extent, the notion is correct, but it is not inexpensive especially in New York City.
The initial cost of starting a food truck in the U.S. would cost between $28,000 to $114,000 to get business off the ground. It includes the truck or cart's cost, inventory products, licenses, permits, registration, and miscellaneous expenses. The investment budget may vary depending on the city, local regulations, type of truck you buy, whether brand new or second hand and restrictions.
List of the additional cost you might encounter at the time of food truck launch (vary with location):
Insurance – $2,000 to $4000 per year
Initial Product Inventory – $1,000 to $2,000
Payment Processing – $200- $1,000
Commissary Fees – $400 to $1,200
Permits and Licenses- $100- $500
If you already own a food truck and want to expand your business, you will need to indulge in planning and paperwork again. Additionally, plenty of factors would need to be kept in mind while growing -from marketing to menu choices and permit requirements. A bigger obstacle in the expansion is the permit for another truck and the time it takes for approval. Furthermore, an additional $70,000 to $100,000 would be needed to buy the truck with kitchen equipment.
Would it be a smart idea to expand your food truck business by buying another truck? We would say NO as it would not help in fulfilling the growing demand for your food. The audience would still be limited, and location would still be a barrier.
Instead of buying another truck, it is wise to invest in attaining the digital identity of your business.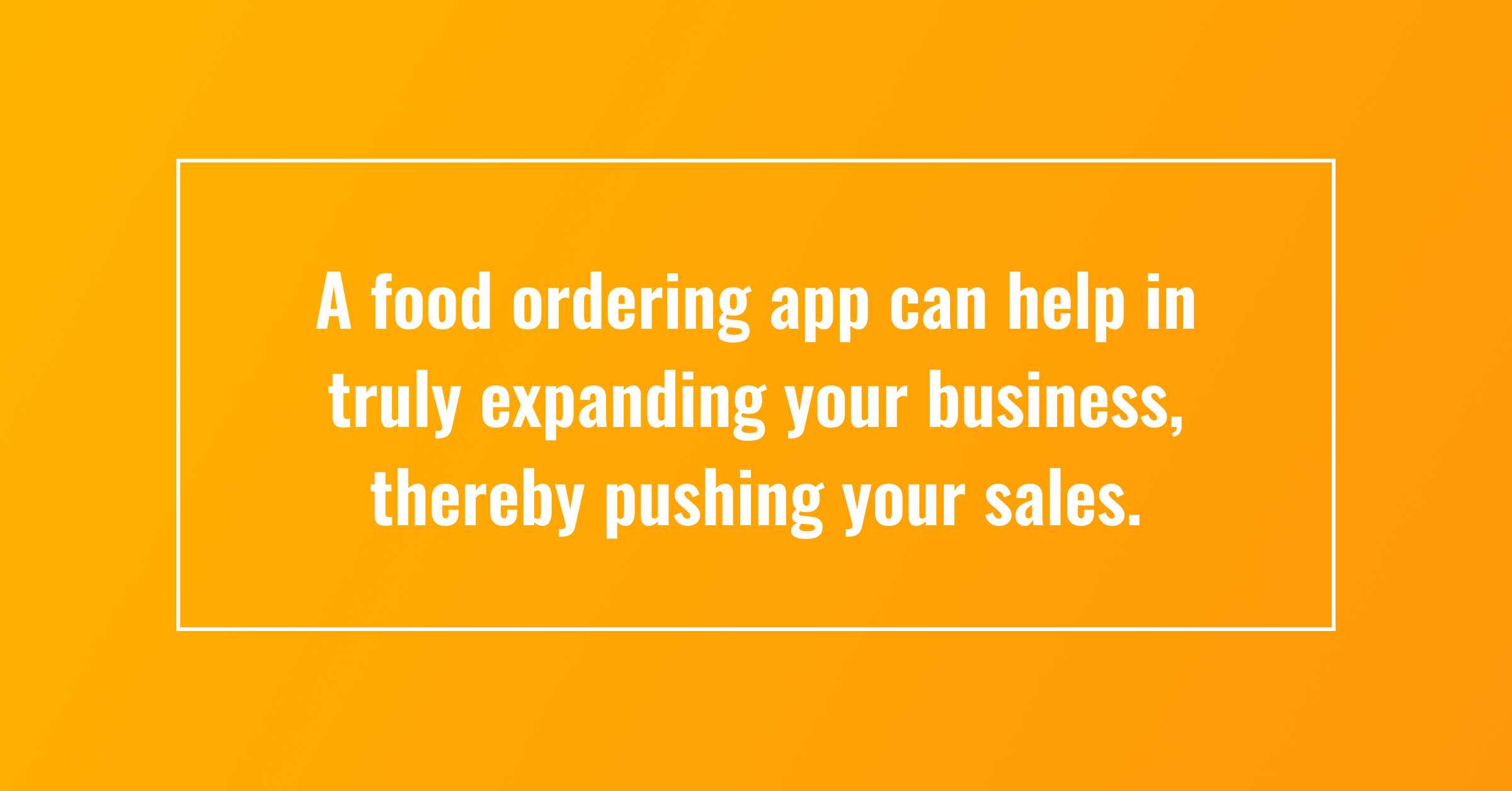 We can help you in expanding your digital footprints with Eatance Restaurant & Food Delivery App.
How can you Scale-up your Food Truck Business using Mobile App?
A food truck app will solve several challenges and enhance customer convenience, ultimately accelerating your business.
Challenges of operating Food Truck without App:
1. Location
The mobility feature of food trucks comes with its own set of challenges. A single food truck cannot be present everywhere. Henceforth, the number of customers would always be limited. But with the food truck app, the location wouldn't be the barrier as customers will be able to order their favorite meal at any time of the day, and the order will be delivered at their doorsteps.
2. Limited Customers
Food Truck, without an online presence, will have a limited reach to the audience. But apps for food truck owners will help them enter the untapped market. Basically, it allows the business to be discovered by customers irrespective of where customers live or places they visit.
3. Communication Channel
A mobile app for your food truck may help customers locate your truck's area and work as a communication tool to help market your offers and manage internal processing.
4. Customer Loyalty is a Challenge
As food trucks are mobile eateries, customers don't find the same mobile food joint so easily when they want to reorder their favorite dish. Retaining customers for longer is challenging if a business only has a physical presence. However, if a business has its app, customers will have the luxury to order their favorite meal through the app at any time of the day. In this way, the business will stand a chance to retain customers and maintain customer loyalty.
Role of Eatance Restaurant & Food Delivery App for Food Truck Businesses
Eatance Restaurant & Food Delivery App is a digital business expansion asset for small to medium-scale food truck owners. It is an on-demand food delivery app, enabling the food truck owners to set-up their online delivery business with a cost-saving of up to 85%. With comprehensive features & scalable qualities, the app allows its owners to stand above the competition. The app supports up to 7,000 orders per day and has a bespoke design to keep the audience engaged.
The app is integrated with three panels, admin, customer, and driver panel. Every panel is designed to quicken the food ordering process.
Importance of a Mobile App in Food Truck Business
1. Convenience – Door Step Service
There is no need for your customers to dress up and come out looking for your food truck. The customer can simply unlock the phone, open the app and order their favorite dish sitting at home. Doorstep delivery enhances the overall buying experience and instills customer loyalty.
2. The Menu at Your Tips
Customers can swipe through the menus and have detailed information about the food with the dishes' mouth-watering images. The price list and menu can be accessed via mobile phone.
3. Digital Payments
Mobile POS in the app allows the easy transaction and facilitates mobile payments. Digital payments make the whole process fast for both customers and food truck owners. Order placing becomes much more comfortable and quicker.
4. Enhance User Experience
A mobile app with user-friendly features enriches the buying journey of the customer. They add brand value and are a channel to always stay with your customers.
5. Reduced Operation Cost
Apps reduce the need to have a large workforce and automate the internal operations, which lower the cost and quicken the processes. A food truck app can help you save another thousand dollars required to expand the business.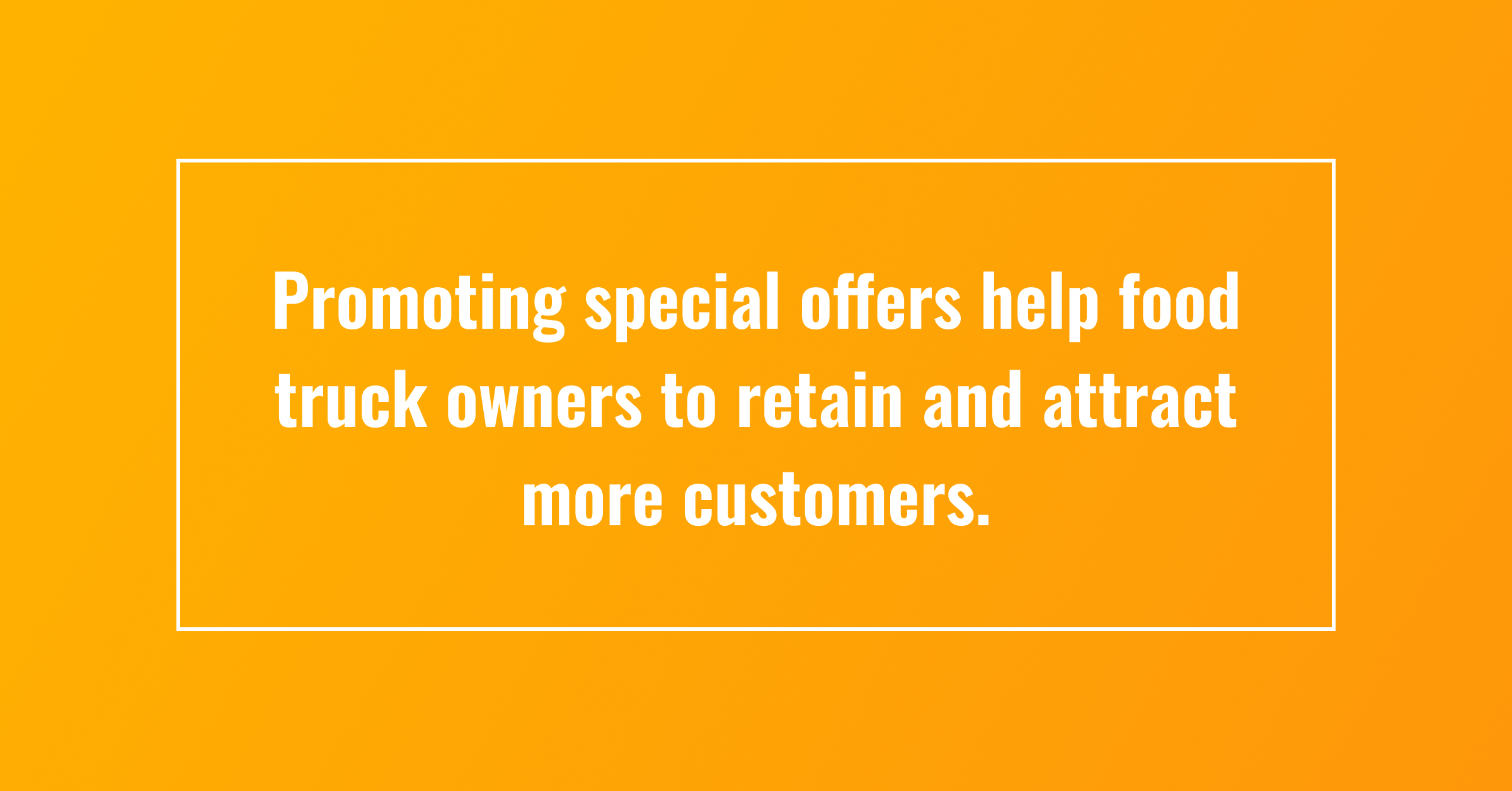 Features of Eatance Restaurant and Food Delivery App
1. Manage Profile
Admin can manage the profile of the customers
2. Multiple Addresses
Customers can add multiple locations as addresses for food delivery. Additionally, drivers can also manage multiple deliveries on the app.
3. Search Option
It's easy to find different types of dishes offered by a food truck using the filters.
4. Popular Items
Admin can highlight hot selling or popular items on the app to attract customers.
5. Order Summary
The customers can view the items, quantity, and total in the order summary.
6. Order History
To ease the reorder process, the app remembers the order history.
7. Book Event
Customers book a food truck for celebrations, events, or parties from Eatance online food ordering system.
8. Review & Ratings
Customers can leave feedback about their food experience on the app via reviews and ratings.
9. Social Share
Eatance Restaurant and Food Delivery App is shareable on social media. Users can leave feedback on social media as well as an app store.
10. Multi-Language Support
The app supports multiple languages to cater to a broader audience.
11. Multiple Currency
The app supports multiple currency transactions as per the country.
Summing Up!
Irrespective of your Food truck business scale, an app is a must for mobile eateries' growing popularity. As today's generation live a hard and fast life, they prefer products and services easily accessible which don't require much of their time.
To fulfill the needs of 'on the go' customers, a food truck app is necessary. Apart from innumerable benefits of the food truck business, the food truck mobile app enables the business owners to manage their business effectively. It also brings customer convenience and helps in generating attractive revenue.
So, launch your app to get started with your mobile cloud kitchen. Eatance provides the best food delivery app, which is highly interactive & engaging features for your business.
Moreover, the app can be customized to match-up with new business expectations.