Medicines are one of the essential items that everyone requires at some point in their lives. Sometimes, people face multiple inconveniences at a physical pharmacy store, such as long queues, unavailability of medicines, not knowing the price, etc. ePharmacies addresses this issue by providing medicines at the doorsteps of the customers.
So if you are planning to scale or start a pharmacy business online and have been looking for a quick yet powerful solution, then you're in the right space. This blog will guide you about cost estimation, duration and answer most of your app development queries.
Benefits of Owning a Pharmacy Delivery App
Mobile Apps have transformed nearly every aspect of life. Everything is at your fingertips, whether it is ordering food online, communicating with friends, banking, or ordering essential medicines.
A pharmacy delivery app lets customers have easy access to essential drugs, the convenience of ordering them at any time and getting them delivered at doorsteps.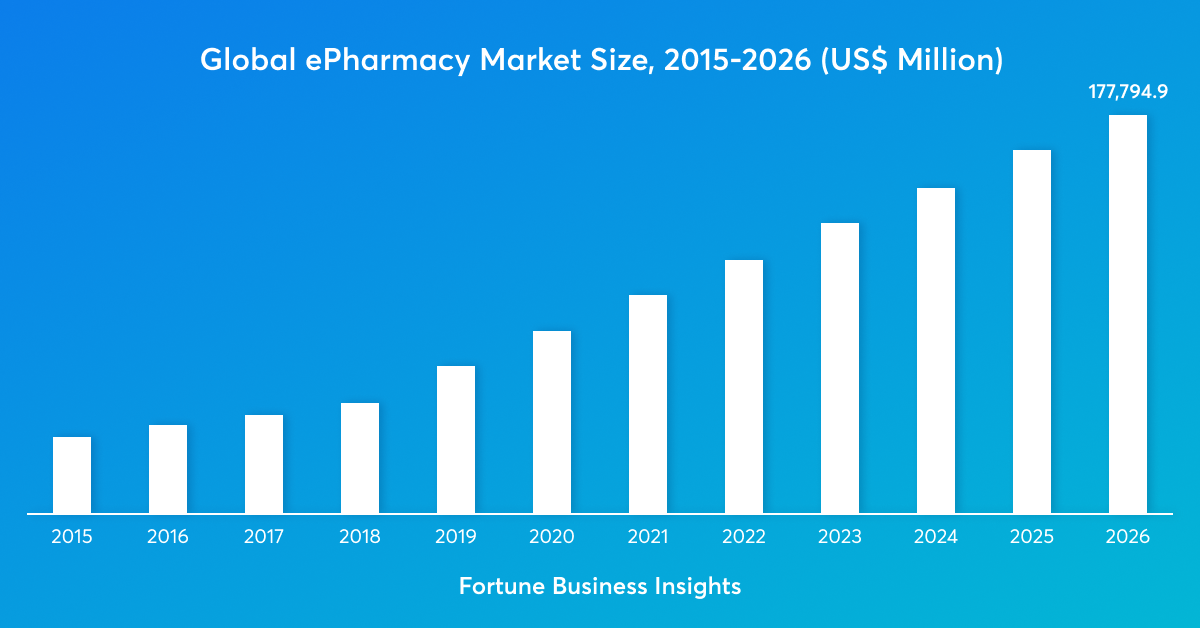 Pharmacy app helps the start-ups & small scale vendors to start the online pharmacy business with relatively low investment & accelerates the business growth. The global e-pharmacy market size was valued at USD 49,727.7 Million in 2018 and is projected to touch 177,794.9 Million by 2026.
The figures reveal huge demand for online pharmacies and an amazing opportunity for entrepreneurs.
Below are some of the Benefits of Owning a Pharmacy Delivery App:
Gaining Customers

The pharmacy app not only fulfills customers' needs from time to time but also builds a relationship. With a pharmacy app, you can maximize interaction with the users through push notifications, share time to time information about discounts and promotions, and in return, gain customer loyalty.

Innovative Marketing

Pharmacy Apps work as an effective marketing and promotion tool for businesses. It is the main reason why you should have an online medicine delivery app. You get a platform where you can advertise your pharmacy and what your customers like and dislike. This helps in the overall improvement of your products and drugstore.

Better Inventory Management

The Pharmacy app is integrated with the admin panel for efficient management of the inventory. Owners/managers can remain updated about stocks whenever they start running out of some medicines.

Upload Prescription

An online pharmacy app lets customers upload prescriptions, allowing them to acquire the right medicine. This is an important feature.

Low Operation Cost

Operating a physical store requires heavy investment and a huge staff. It involves expenses like the salary of staff, store rent, and other maintenance and operating expenses. But the online pharmacy app reduces most of these expenses as it lets you operate through business online, and there is no need for a vast workforce.

24×7 Convenience Customers

An online pharmacy app allows the customer to order essential medicines at any time of the day or night. This adds convenience for the customers.

Revenue Maximization

Transforming your business with a digital identity enables you to widen your reach, discover new customers, and generate more revenue.
Essential Features for Pharmacy Delivery App
The pharmacy delivery apps have dramatically revolutionized the way customers shopped medicines, significantly helped elders and those with a medical condition. However, to meet the customers' growing needs and scalability, a pharmacy app has to be rich in features and high on performance.
Here are some must-have Pharmacy Delivery App features:
Customer App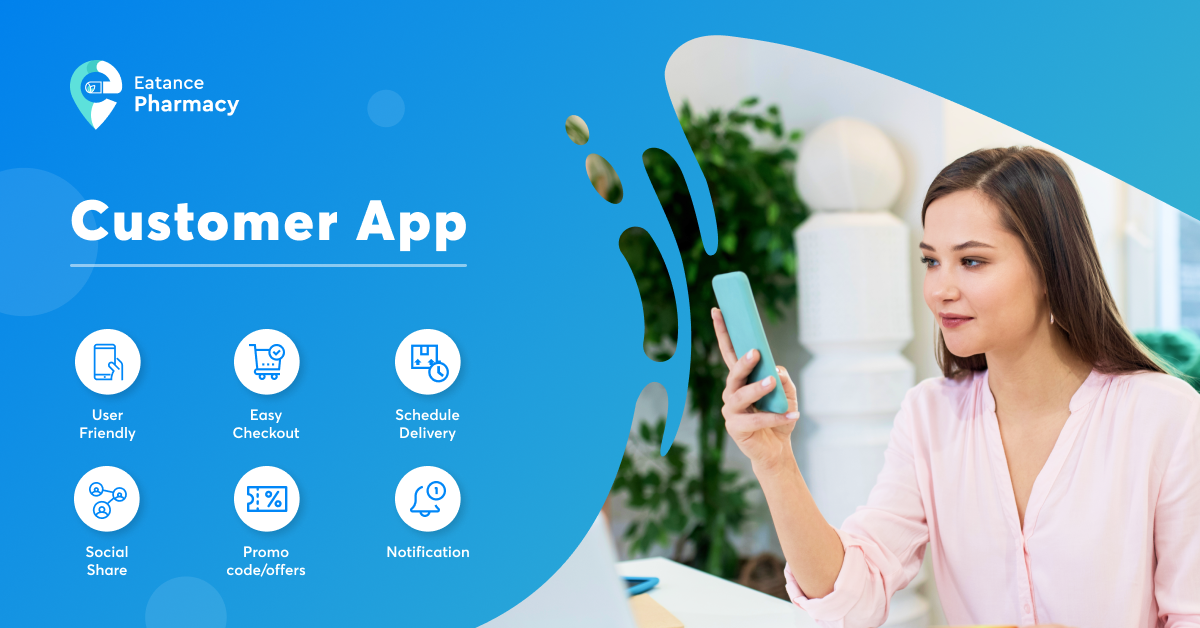 User-Friendly

An ideal app must be simple and easy to use. The app must load quickly and should be able to navigate the products.

Multiple Payment Options

To make the transaction easier for owners and customers, an ideal app must accept online payments at checkout and that too with multiple methods like debit, credit, e-wallet, POD, COD, Apple Pay, etc.

Attractive Design

What attracts the customer in the first instance is the graphic and design. The suitable color scheme, placement of features in the app is essential to draw users' attention.

Push Notification

Updating customers about offers, deals of the day, and other engaging activities via push notifications keep them interested in the app.

Smart Find

Users may not like getting lost in the products on the app. So, a smart filter and sort option is a must for quick navigation of the products.

Real-time tracking

Real-time tracking is an unmissable feature to have in your app. This feature allows the customer to track their package in real-time.

Customer Feedback

Good and bad- both reviews help the businesses to improve the services. This feature allows customers to rate and review products on the app.
Driver App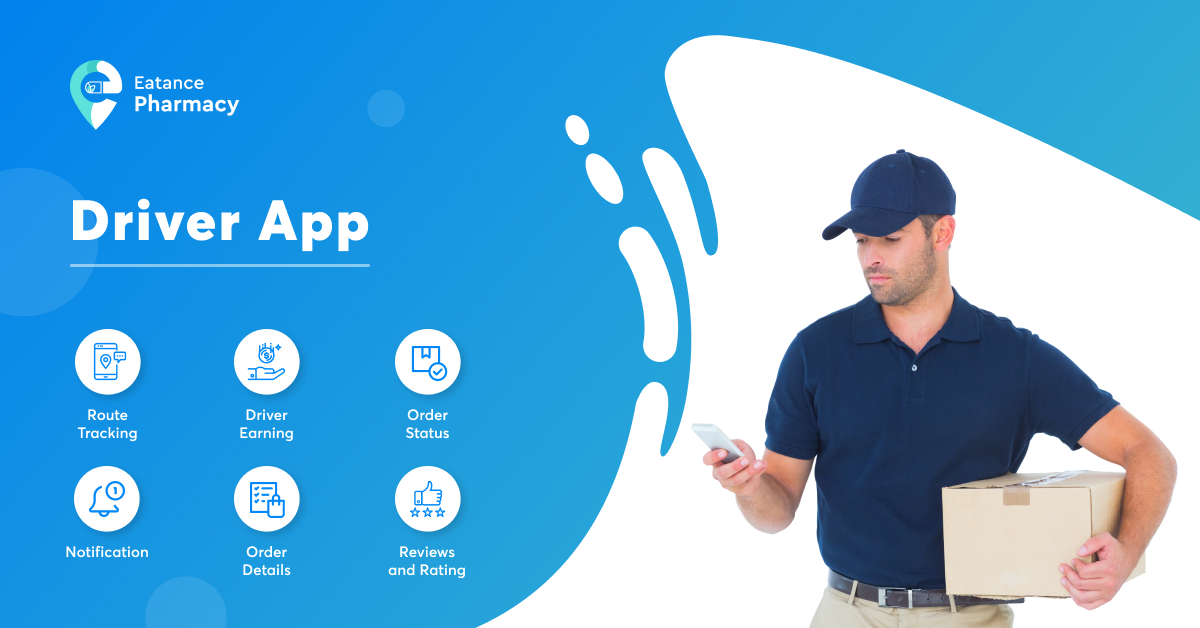 Multiple Deliveries

A pharmacy app must have multiple delivery options for being able to cater to a large customer base with efficiency.

Track Route

For speedy deliveries, a driver app must be equipped with a route tracking feature.

Accept/Decline New Order

Various circumstances might not always allow the delivery executive to accept all orders. Therefore an app must have an accept/decline option.

Live Tracking

This feature allows both customers and the admin to stay updated about the location of the delivery executive.
Admin Panel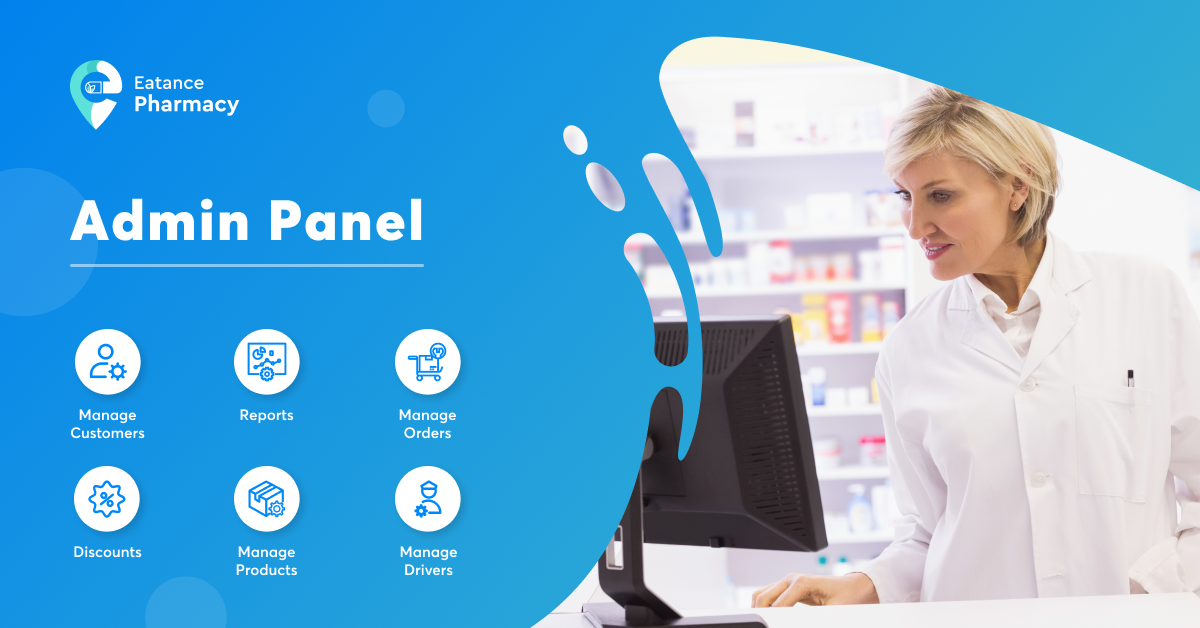 Manage Products

This feature allows the owner/manager to categorize & sub-categorize products and manage them as per the demand and availability.

Manage Customer

Admin can always access the customers' data, reviews, and preferred outlets to customize offers for them.

Create Multiple Users

Admin can create multiple accounts to ease the business operation and management.

Custom Notifications

In order to push sales, you need to remain in touch with your customers. You can send customized notifications to users.

Manage Feedback

Some reviews are irrelevant and hence can make your platform look in a bad light. Admin panel allows you to manage the feedback of customers and delivery executives.

Manage Discounts & Offers

The owner can offer special discounts & offers for users and other partnering or self-managed pharmacies to optimize business reach to attract customers.

Insights/ Reports

The report section lets you gauge the traffic, sales, etc. to your store & helps you make data-backed decisions.
How Much Time Will it Take?
Before estimating the time needed for pharmacy app development, there are a lot of factors that need to be considered. It is necessary to understand what kind of application you want for your pharmacy business.
Do you want to go with a custom pharmacy delivery app or an on-demand pharmacy app? Next is how many platforms you want to launch your app on- Apple App Store or Android, or both.
After all these factors are considered, the time is estimated for designing, developing, and testing the app. We have listed below the time needed to build a pharmacy delivery app for iOS, Android & web applications. We would be able to tell you the exact cost after you tell us your requirements.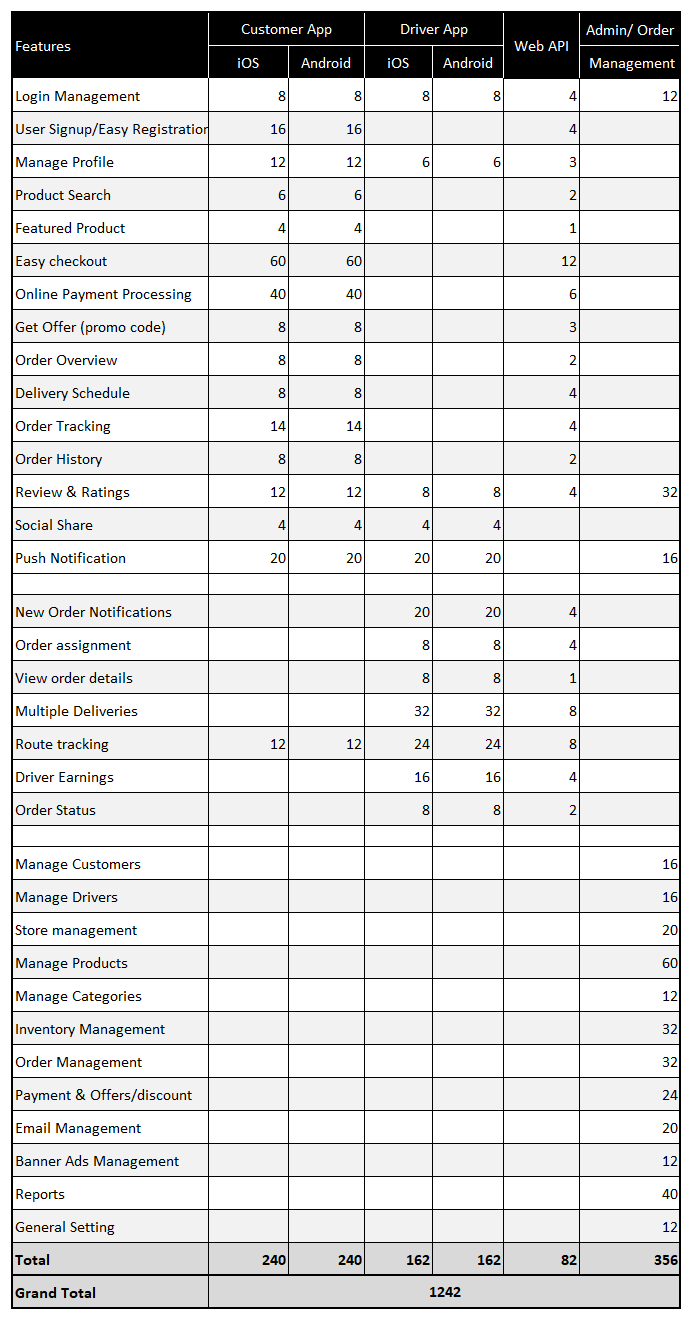 How much does it cost to develop an on-demand Pharmacy Delivery App?
The time & cost for developing a pharmacy app varies from country to country. To give you a clear idea about the budget, we have listed cost estimation of different countries as per hours.

However, if you don't want to pay hourly-based costs, skip development efforts, and thus time, you can opt for an On-demand Eatance Pharmacy App. It is a bespoke and easy-to-customize app that lets you have comprehensive features at a cost saving of up to 85%.
What is the Eatance Pharmacy App?
Eatance Pharmacy App offers one of the reliable pharmacy delivery solutions for start-ups, small vendors, and multiple pharmacy store owners to optimize their business reach with bespoke pharmacy app. It also offers a tailor-made solution and saves up to 85% on set-up costs. Eatance lets you take bigger steps to achieve your desired goals faster than custom development.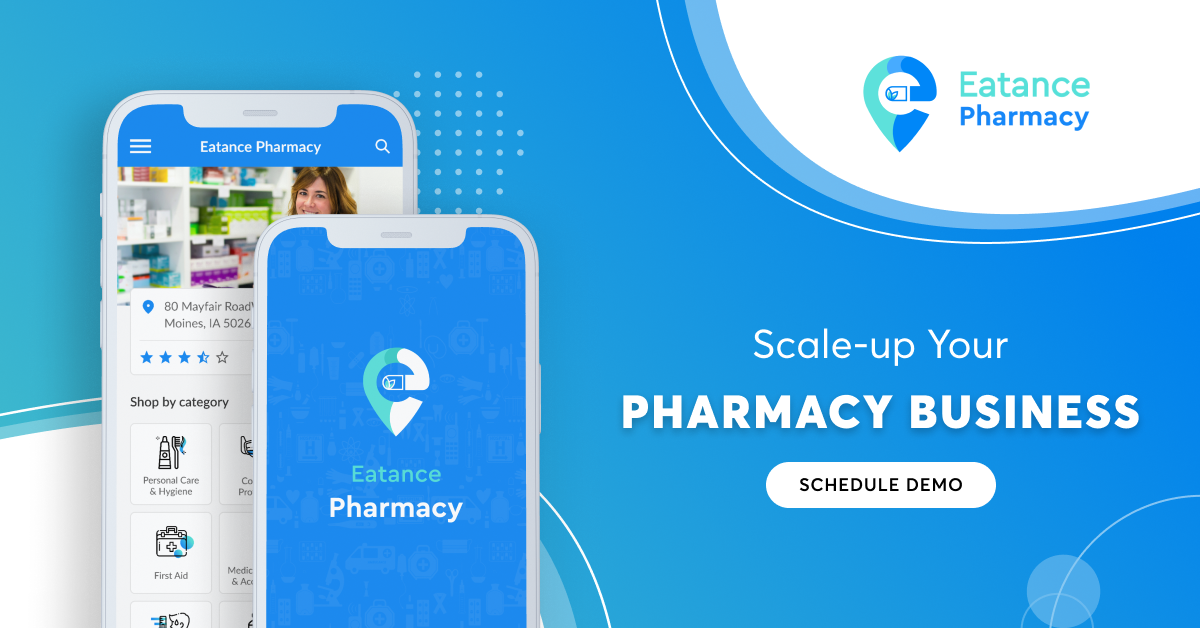 Here is the list of what makes Eatance Pharmacy App different.
Tested with 7,000 orders

The on-demand pharmacy delivery app can withstand up to 7,000 orders per day.

85% Cost Saving


You can save 85% overall development cost by choosing Eatance Pharmacy App.

Cutting Edge Technology

The app is built using the latest technology by a highly skilled team of developers.

Scalable Quality Code

In order to support easy modification, the Eatance Pharmacy App has a highly scalable code quality. This makes the modification process faster without having to worry about the existing lines of code.

Appealing Design

The app has a bespoke design with an aim to offer a smooth user experience and engagement.

Customization

The Eatance Pharmacy App is highly customizable to meet time-to-time changing business requirements.
Summing Up!
Delivery options for meeting essential needs are readily available, and pharmacies are not an exception. If you are just starting up with a pharmacy business or planning to scale your existing business with online pharmacy delivery, then Eatance Pharmacy App will be the best option to set-up your business with a cost saving of up to 85%.
To help you solve complexities, our team of experts provides detailed consulting to set up your online pharmacy app quickly.