---
Mobile apps have facilitated us to carry out day to day activity more conveniently. From booking movie tickets to ordering food online, everything is just a matter of pressing a few keys on a smartphone. One such domain which has garnered a lot of traction in recent days is grocery delivery apps. 
Online grocery stores like Amazon Fresh are a boon to the 21st-century generation, where the lifestyle is hard and fast/ fast-moving. Delivery of essential commodities at doorsteps adds convenience to customer's life and builds a relationship of loyalty. The grocery app also saves time and money for customers and enhances their overall shopping experience.
So, if you have already zeroed upon starting an on-demand grocery app and have been looking for the right developer and app development estimation, then you're at the right place. This blog will walk you through the budget estimation, duration, and answer most of your app development concerns. 
Benefits of owning a Grocery Delivery app:
With a fast-moving lifestyle, customers are relying heavily on apps to avail products and services. According to the Techcrunch report, apps like Instacart, Walmart Grocery, and Shipt have seen a rise in downloads by 218%, 160%, and 124% respectively in March 2020. The figures showcase the demand for grocery apps in the market and a golden opportunity for aspiring entrepreneurs.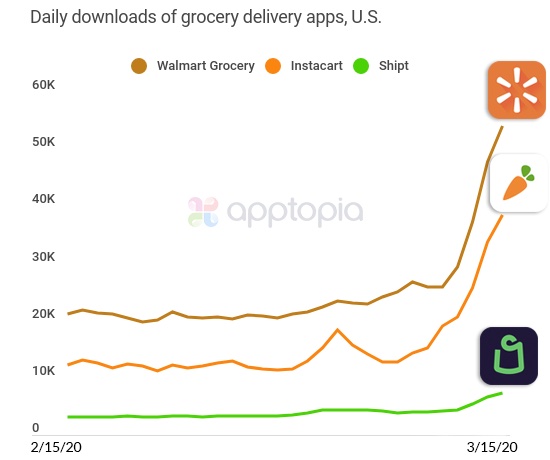 There are multiple benefits of running a grocery delivery app
Cater to a large audience

An on-demand grocery mobile app allows you to cover wide expanse customers. Since online business is not limited to only customers living nearby, you can go extra miles ahead to make new buyers. More shoppers, more revenue!

Offer a wide range of products

Give the luxury to your customers to choose a product from a wide range of options. Offer essential commodities of multiple brands on your app and keep your customers happy and satisfied.

Better inventory management

The grocery app is integrated with the Admin panel, through which the store manager/owner can easily manage the inventory. Moreover, the admin can set a notification on stocks so whenever the items start running out of stock, it will notify the store manager.

Hassle-free


Online orders with grocery delivery software can drastically save time, boost efficiency, and bring ease in managing customers, staff & stocks.

24×7 Convenience for customers

The grocery delivery app facilitates the customer to order essential items at any time of the day or night.

Overhead cost Reduction

Running an offline grocery store is a cumbersome and costly affair. It involves multiple expenses like staff salary, store rent, and other maintenance costs. But the online grocery business cuts down most of the expenses- you won't need a store or a lot of staff to run your business.

Revenue Maximization

Expanding business online will create a pool of new opportunities. Online grocery stores will let you cater to a wider customer base and generate an attractive sum of money.
Essential features for Grocery Delivery App
Since the online grocery business has a massive market, the business has major players. To identify your business and achieve profits, you need to provide app features that are advanced and suit the needs of the modern-day customers.
Customer App: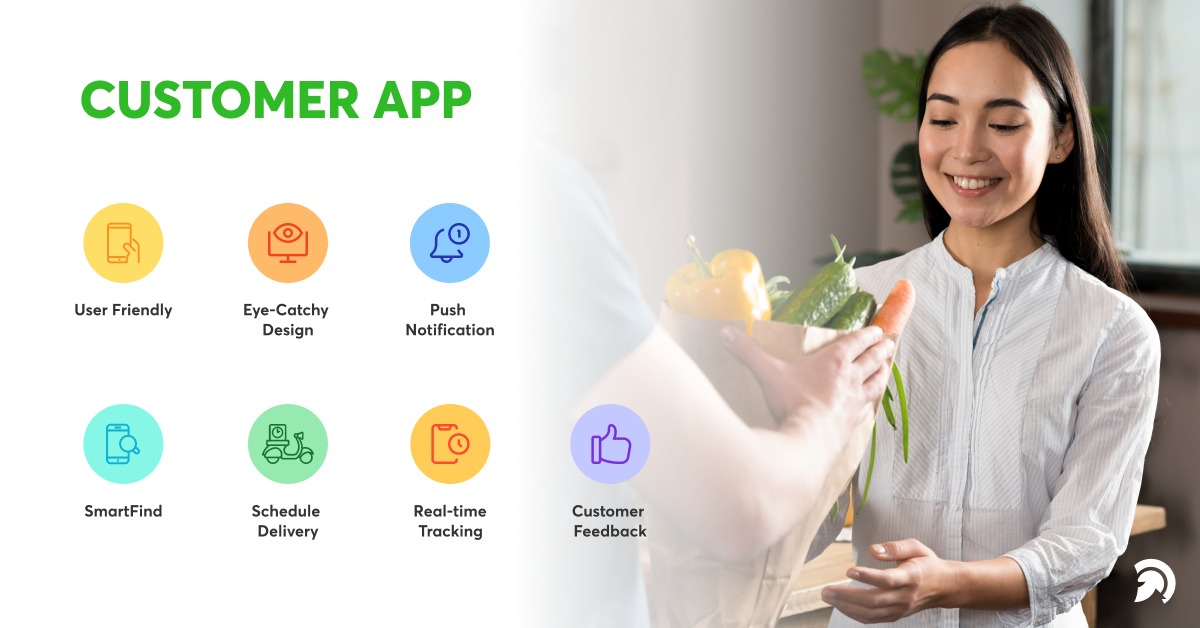 User Friendly

Customers usually look for grocery apps which are easy to use, quickly loads, and on which navigating products is easy.

Multiple Payment Options

With increasing online payment trends, customers go for apps that offer multiple payment options like – debit, credit card, e-wallet, POD, COD & other payment gateways.

High Speed

No one likes waiting, particularly when they are looking for something eagerly. If the app takes too long to load, then the customer may seek a better option. The speed of the app can make or break the success of the app.

Eye-Catchy Design

Appealing design and graphics attract customers to use the app more often. The Colour scheme, placement of features in the app, etc. also defines usability and success.

Push Notification

Sending personalized notification about the products customers are interested- in the form of text, graphic, or combination of both keeps them intrigued.

SmartFind

Equipping customers with a filter option for quick navigation of products allows them to place an order in less time.

Schedule Delivery

Having this feature in your app will allow the customer to choose the date and time of package delivery as per their convenience.

Real-time tracking

This is one of the essential features that the grocery app must-have. It allows customers to keep track of the package location in real-time.

Customer Feedback

Feedback allows the customer to rate and review different products on the app and helps them in making the right buying decision.
Driver App: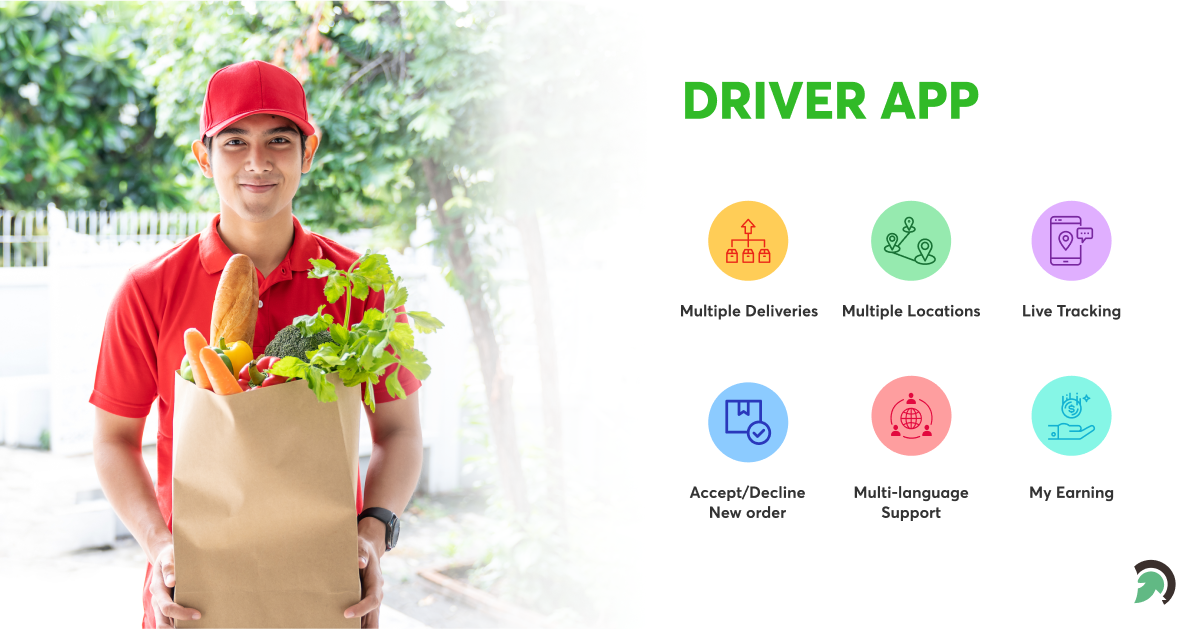 Multiple Deliveries

A grocery app must have multiple delivery options for being able to cater to a large customer base with efficiency.

Track Route

To boost accuracy and fast track deliveries, an app must have a GPS track location feature.

Accept/Decline new order

Sometimes, delivery executives cannot avail themselves for delivery. An option to accept/decline delivery orders gives a choice to the executive.

Live Tracking

Equipping customers with the live tracking feature of the delivery executive vehicle allows them to learn how far their package is.
Admin Panel: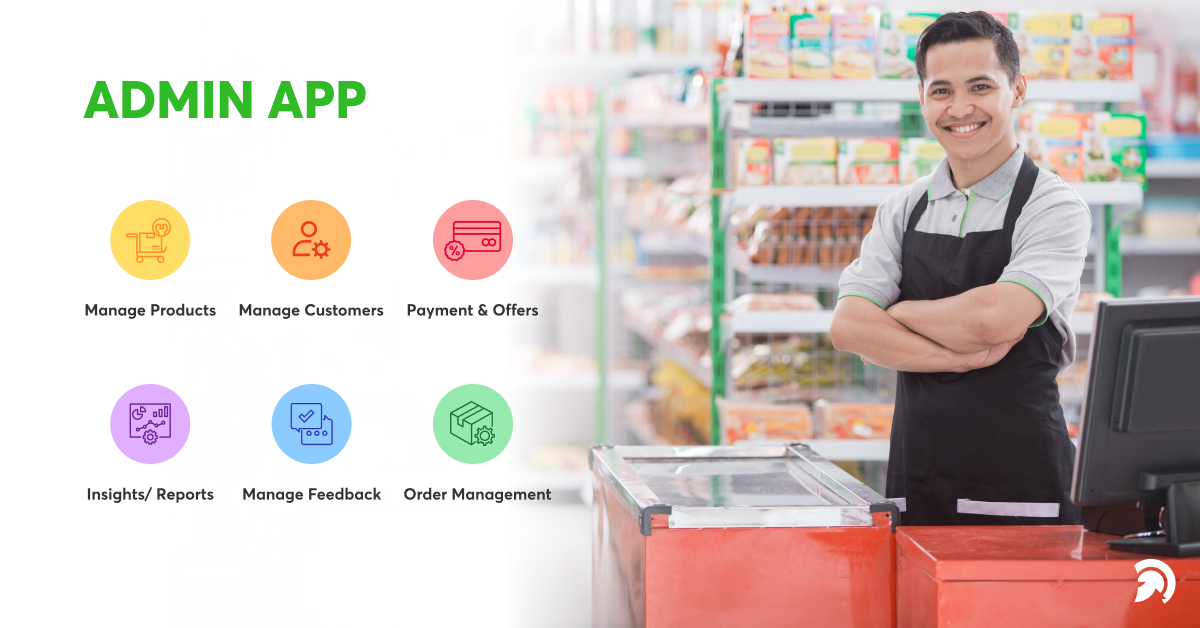 Product category

Admin must be able to create multiple categories/ sub-categories based on grocery products and should be notified regularly about the pending stock.

Order Status

To keep a tab on sales daily, an app must have order notification for admin. So, whenever a new order is placed, processed, or delivered, the admin or owner is updated.

Manage Customer

The admin must be able to track entire user activity including purchase history, transaction, comment, etc. Moreover, the admin should be able to create, edit, or deactivate the account for the smooth functioning of the business.

Custom Notifications

To update customers and partners about deals, discounts, and other offers, the admin must be able to customize notification and keep its audience engaged.

Manage Feedback

To maintain the quality of the app admin must have editing access to delete irrelevant comments posted by customer and delivery executives.

Insights/ Reports

Admin must be able to gauge the traffic, conversions, and customer satisfaction by generating reports to be able to make informed and data-backed decisions.
How much time does it take to develop an On-demand Grocery delivery app?
While estimating the development time of grocery apps like Amazon Fresh or Instacart, several factors have to be taken into consideration. First, it is crucial to have a clear idea of what kind of application you want. What would be the design and how many additional features are required? Then next is- on how many platforms you want to launch the app?
Apart from the above factors, the time and cost estimated considering the hours spent in conceptualizing and developing the app. We have listed down the hours needed to build your app for iOS, Android & Web Application (API). We will be able to tell you the accurate grocery app development COST after you tell us your requirements.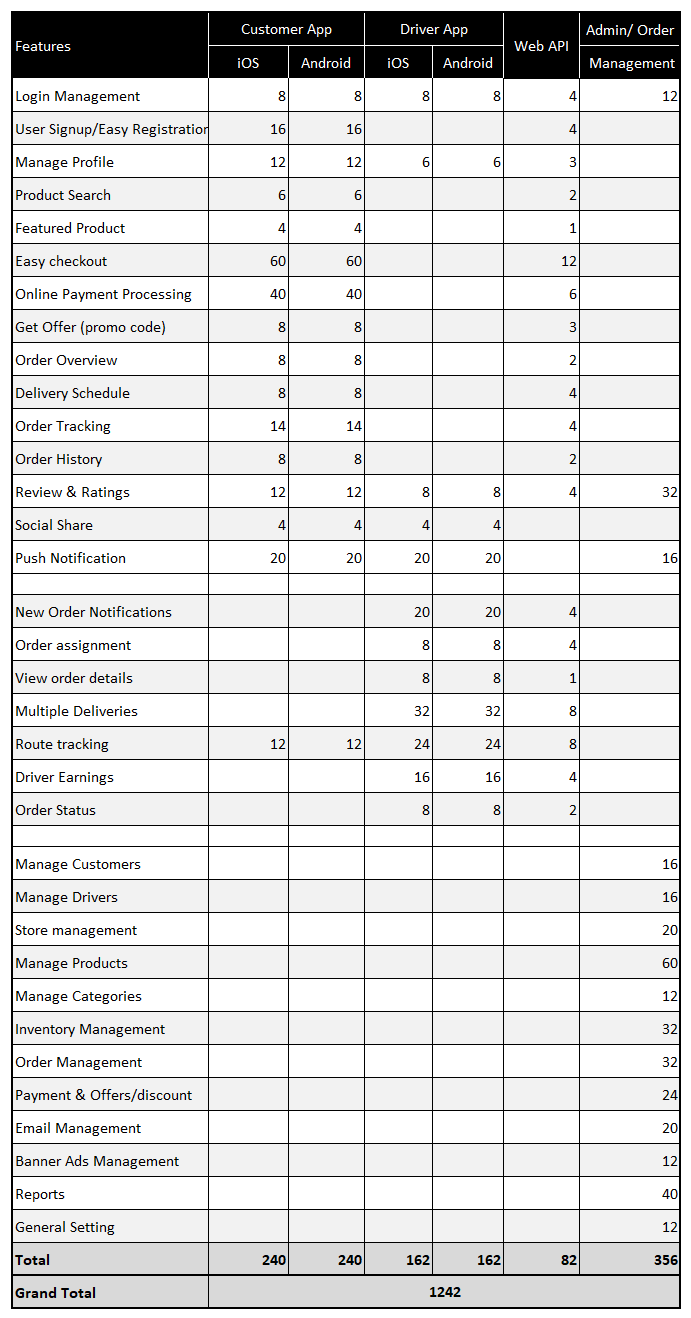 How much does it cost to make an on-demand Grocery Delivery app?
The app development charges vary from country to country- to give you a brief idea, we have listed down the budget estimation of different countries as per hours.

However, if you want to skip the hourly-based cost and terrible development efforts, you can choose the Bespoke option like Eatance Grocery App. Such a Bespoke solution provides overall listed features at nominal development costs and you can expect accuracy and fast delivery.

What is Eatance Grocery App?
Developing mobile apps can be very expensive and time taking but if you opt for On-demand services. Eatance App can drastically reduce development costs and time.
Eatance Grocery App offers tailor-made solutions for on-demand grocery app development to suit the business requirements of start-ups, vegetable store owners, and Small Vendors.  It also offers customization to meet your business model and help you save 85% on development costs. With Eatance, you can simply reimagine your business and take it to the next level.
USP of Eatance Grocery App
Scalable Quality Code

Eatance Grocery App is built to adapt modification quickly with few requirements of new coding

Tested with 10,000+ orders

The on-demand grocery app can withstand up to 10,000 orders per day

85% Cost saving

You save 85% overall development cost by choosing Eatance Grocery App.

Cutting edge technology

The app is built by highly skilled coders with high-end technology.

Appealing Design

The app is designed to consider the user-friendliness and latest market trends.

Customization

To suit your business model, we can add, update or eliminate features from your grocery mobile apps.
To Sum up!
Digitalization changed the landscape for many businesses, including FMCG industries. Irrespective of the immeasurable benefits that online grocery business enjoys, it is one of the fastest-growing industries in today's era. So why not launch your online grocery store? Our team of expert coders delivers the best apps which are robust and highly interactive.